Yesterday, I gave you the lowdown on how exactly Lilly found the opportunity to suffer paintball poisoning by eating about 130 paintballs. Today, I'll try to explain how we and the local veterinary emergency team had triage, treatment, and luck on our side … to save Lilly's life.
Inducing Vomiting in a Dog

While Tom used his computer to look up information on paintball toxicity, I ran to mine to look up information on how to induce vomiting in a dog. I knew that it required hydrogen peroxide, but I wasn't sure how much to use or how to do it.
Friends/followers on Facebook asked me to find a reliable source for that information, and I promise I am working on doing that, but for now, let me just tell you what I found, what I did.
First of all, you really shouldn't induce vomiting without your veterinarian or an ER veterinarian giving you to green light and instructions. It can make things much, much worse with certain foreign bodies and certain toxins.
BUT, based on both 15 years writing about veterinary medicine and this inducing vomiting in a dog checklist I found online, I felt pretty confident I was doing the right thing.
Our family veterinarian later confirmed this fact and that it likely saved Lilly's life (along with many other things we'll outline today and in future posts).
The Timeline
3:30-3:45 pm Lilly vomited on her own the first time. (Or at least that's when we realized she had.)
3:50 pm I gave her the first dose of peroxide (about 5ccs straight down her throat using a syringe w/o a needle) and waited with her outside in the cold and wind. She didn't vomit.
4:00 pm I gave her the second dose of peroxide and waited. Just before the 10 minute mark, which is how long the instructions I found online said to wait, she vomited a second time. Again, a rather large quantity. We were so glad.
4:10 pm While I threw on some jeans, got her crate in the car, and called both our regular veterinarian and the ER one, Tom sat outside with Lilly to see if a third dose of peroxide produced any results. (It didn't.)
Veterinary Hospital, Ho!
When I called our regular veterinary hospital, they said they were not familiar with this kind of poisoning and that we she run Lilly to the 24/7 ER hospital. I called them next to alert them to our arrival. I got to talk to a triage nurse and gave her all of Lilly's stats and figures, including that:
Our family veterinarian referred us.
Lilly vomited once on her own.
We induced vomiting 3 times with only 1 result.
How much she weighs.
How many we thought she'd eaten (at first we thought just 50-75)
Her breathing seemed OK
She didn't seem to be in too much distress, etc.
4:25 pm, Tom, Lilly, and I hopped in my car and headed down the canyon.
It's a good 45-minute drive to the ER hospital on a good day, but we ended up behind a big dump truck pulling a trailer, and it was RUSH hour.
Lilly seemed calm and comfortable most of the drive, but she began panting a lot right before we pulled into the parking lot. (That scared me.)
5:20 pm We arrived at the ER hospital, and they took us back right away.
By 5:50 pm they had examined Lilly, asked us a bunch of questions, and prepared to give her shots of Apomorphine, which I now call the "magic vomiting shot."
We felt fairly confident with our 50-75 (maybe 100) paintball estimate and the amount we had gotten Lilly to vomit on our own that she was nearly empty, but we had no problem with them trying to get her to bring more up.
And, boy … did she.
They took pictures because the volume of popped, partially digested paintballs that came up was astounding. With their help, Lilly vomited two more times.
The Bad News About Paintball Poisoning
Our ER vet explained the VERY scary news of what might happen:
Severe sorbitol toxicity (I'll write more about that soon.)
Leading to excessive amounts of water being pulled from Lilly's body and extreme dehydration
Leading to electrolyte imbalances (most notably extremely elevated sodium)
Which could lead to neurological problems, including seizures and even death
They told us we'd know in 12-24 hours if Lilly was going to come through this OK.
She is one of the same veterinarians who helped us the first time Lilly suffered a rattlesnake bite in 2008.
Treatment Plan for Paintball Poisoning in a Dog
The ER team also drew blood for both electrolytes and general chem panel (to check organ status, etc.). All of that looked pretty good, despite her size (35 pounds) and the higher quantity ingested.
Her sodium was at 157. The high end of normal is 160.
Her hemoglobin was a bit high, indicating dehydration.
So, the treatment plan included:
Constant IV fluids
Warm water enemas (They call it "lavage." We jokingly called in "canine colonics.")
Regular rechecks of her electrolytes
All that was to give the sorbitol response some water to draw from so that her body could keep the water it needs in organs, including the brain.
The Last Thing I Said to Lilly
As they whisked Lilly away for shots and blood draws at about 6:00 pm, I tried not to cry and simply said, "Throw up good, Lilly. Mommy loves you."
We didn't get to see her again before we left, after seeing the initial blood test results. They were already hooking her up to an IV and getting ready to blast her wazoo with water.
It's probably for the best. She would have thought she was coming home, and that would have made me sad and perhaps caused her to be an unruly patient.
As hard as it is, I think it's better for her to know that paintball poisoning treatment is starting and that these strangers are in charge now.
I warned them about her fears, her flee instincts, etc. I asked them to please praise her a lot … since she is used to that.
And, Now We Wait
We went through a drive-thru and got dinner on our way home and hoped for the best. It was a long night, but her blood work at midnight showed sodium levels dropping from 157 to 154. She never did have any seizures. She never did vomit again, and some way, some how, Lilly tolerated all the treatment and outcomes they brought with them. Seriously, ick!
I called to check on her at 10 pm, 3:30 am, 7:30 am.
I talked to our regular veterinarian around 10:30 am, and I talked to the one who took over Lilly's case at the ER hospital around 11 am.
We got the OK to bring Lilly home around 3:30 pm because her latest blood work at noon still looked good.
Why / How Lilly Survived Paintball Poisoning

This could have been bad. Really bad.
BUT, after talking amongst ourselves and Lilly's doctors, here is how luck played a part in Lilly's survival:
Tom believes the fact that the paintballs were so old (years and years) may mean that most of the sorbitol had evaporated.
I'm just glad I heard Lilly whimper and went to see what was wrong.
Our veterinarian thinks the fact that I got Lilly to throw up so much so soon, likely saved her.
Our ER veterinarian emailed me yesterday and said (in part): "I think we were extremely fortunate that she did vomit on her own which allowed you guys to discover the ingestion quite quickly and continue with decontamination before any serious fluid shifts and electrolyte imbalances occurred."
To say that we are relieved and that this is the best "gift" a girl like me can get is an understatement. The other alternatives would have been unbearable.
Just so that you can see she is doing OK (not great, but better), here is a photo from Thursday. She is subdued, but she is eating well. Mostly resting, etc.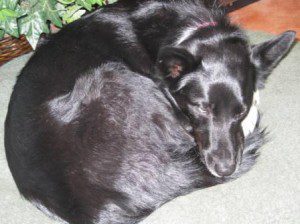 Continue Reading Our Tale of Canine Paintball Poisoning
Canine Paintball Poisoning, Lilly Hospitalized
Canine Paintball Poisoning Update 3 am
Canine Paintball Poisoning Update 4:30 pm
Canine Paintball Poisoning and The Technicolor Vomit