As a career journalist who specializes in topics in the veterinary space, I'm compelled to follow and report on the story of the Shively Animal Hospital Shooting on Mother's Day (May 14, 2023). The hospital is located in Louisville, Kentucky. One staff member, age 21, died. His name is Trent "TJ" Taylor Jr. His mother and younger brother also work at the veterinary hospital and apparently were onsite at the time of the shooting. So far, police aren't saying much, but here's what's out there right now, including a possible claim of self defense.
Also, technically, the veterinary practice is called Shively Animal Clinic and Hospital, but it's just easier to say hospital. Also, the shooter has NOT been identified.
Shively Animal Hospital Shooting
According to the police press release, "On Sunday, May 14, 2023, at approximately 6:25 PM, the Shively Police Department was dispatched to 2401 Dixie HWY on a report of a verbal altercation inside of the location. While enroute to the location, the caller advised that the altercation had become physical, and one person was shot. The person who was shot, a male in his early 20's, was transported a local hospital where he died from his injuries."
The press release goes on to say this: "Though this investigation is in the very early stages, the factors surrounding this event indicate the potential for a self-defense claim. Due to this, there will be no arrests at this time. This is not to be construed as a final decision."
In later press releases, the police department explains the lack of information released as follows: "There is currently no additional information to release regarding this investigation. This is a tragic situation. We recognize the community's desire for additional details concerning the investigation, but it is critical to preserve the integrity of the case."
[Emphasis mine]
Believe Me, I Tried to Get More Info About the Shively Animal Hospital Shooting
I emailed the following open records request to the public information officer for the police department. My request said the following:
---
Subject: Records request - Shively Animal Clinic & Hospital shooting

Major Allen – I'm a longtime freelance reporter who specializes in veterinary medicine topics. Could you please provide me all available documents and official statements about the shooting incident on Mother's Day at Shively Animal Clinic & Hospital? If possible, I'd like the incident reports, 911 call transcripts, and any official statements the department has made.

I'm also interested in better understanding the grounds for a possible self-defense scenario. For example, did Mr. Taylor also have a weapon?

I hope to publish an article on my award-winning dog site (Champion of My Heart) still this week, if the information is readily available. If not, I'd be happy to get the documents and details as soon as you can provide them.

Thank you for your help.
Roxanne Hawn
---
A Sergeant Jordan Brown replied and provided the press release quoted above, which is available on the department's FB page along with other official updates on the case so far. Sergeant Brown also attached the following PDF, saying why they cannot release the information I want (yet). It talks a lot about body cam footage (which I did NOT ask to see), but here's all the legal verbiage I received in reply to my request and my questions. 
For some reason, the text in the PDF I received (unlike the press release) cannot be copied and pasted here. It's locked or something, so I apologize for only being able to post images, but I'll link to the PDF if you want to really read the full reply. 
Shively Animal Hospital Shooting First-Hand Accounts
When I learned about the shooting at Shively Animal Hospital via a veterinary technician I follow online named Walter Brown, I found a couple of comments on his post from people at the veterinary hospital at the time of the shooting -- including Trent Taylor's mother, who posted the following:
"Walter...it was my son. I am a veterinary nurse as well as my 16 year old whom is an assistant we also work there. We watched her shoot my son and I held him while he was dying in my arms. He was protecting us because she was assaulting several front desk staff and a few nurses physically. So I had to watch my child dying in my arms on mother's days."
[Note: I've seen some other online reports and such that say the shooter is a man.]
Another employee at the hospital commented as well, saying "I am an employee of Shively Animal Clinic for almost 30 years. Thank you all for the support and prayers… we are devastated with the loss of our coworker"
Victim's Family Statement About Shively Animal Hospital Shooting
The full statement is below as an image, but it includes this description of the Shively Animal Hospital shooting situation:
"Our son died protecting his coworkers, mother, and brother (who are also employees) from an aggressive client who was assaulting staff."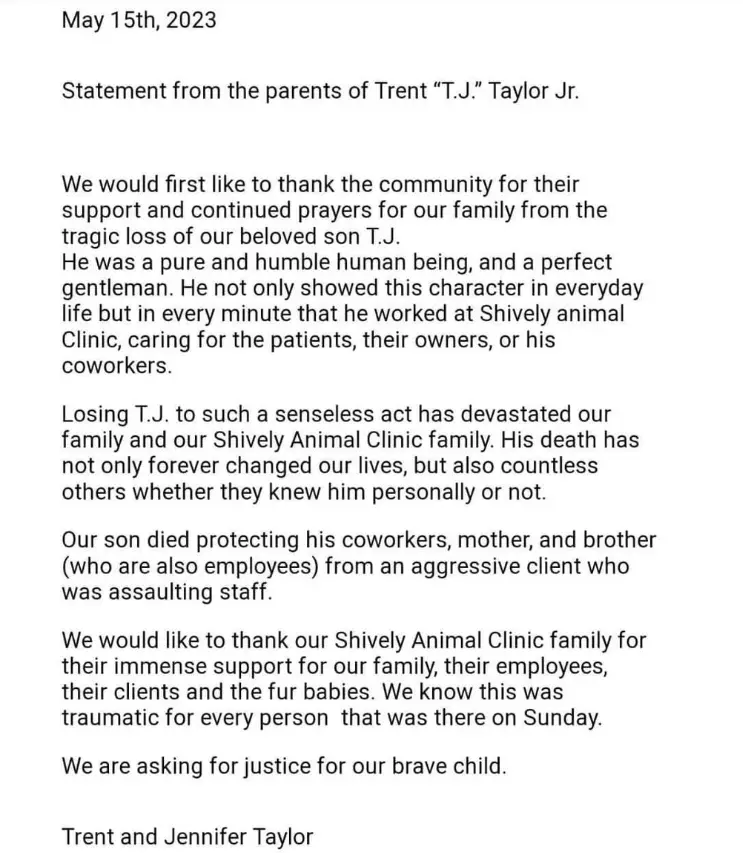 More Updates as News Warrants
I will continue to follow developments in the case, and let you know if/when an arrest gets made or more details get released.