Do not faint. We actually have dog training news to report. For the FIRST time since February 3, Lilly and I went to our advanced pet dog training class (drop-in) last Sunday. It's a miracle. I know.
The Stars Finally Aligned
When I realized Saturday night that my Sunday morning wasn't otherwise occupied, I looked online and saw that class was being held at an open space park.
It's a spot we don't know, but it sounded like the kind of place that Lilly might enjoy.
This class is held at various locations around town so that dogs learn to work in all kinds of spaces and places and amid all kinds of distractions. (To learn more about the classes we take, visit this earlier post called … The Dog Training Classes We Take.)
No One Else Came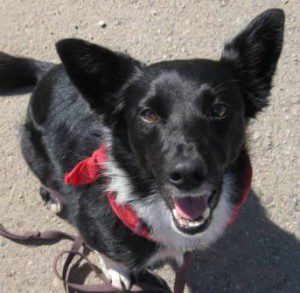 So, we schlepped our sorry selves about 40 miles north of here to meet our dog trainer Gigi Moss (when her new website is live, I'll link to it). Lilly was VERY happy to be on an outing.
Oddly enough, no other students came.
It's drop-in, so you just never know who will attend, but in all the years we've been working with Gigi … this has never happened.
So, we kind of got the chance to catch up with Gigi, which is SO nice because we used to see her at least once a week for a long time, but recent demands on my time/energy have nixed that.
BAT Work
We also had time to work on a little Behavior Adjustment Training (BAT), which was created by Grisha Stewart. Essentially, and I'm REALLY boiling things down, BAT uses functional rewards (like letting your dog move away from what scares her) to shift reactive or fearful behaviors.
I cannot do it justice in this space, but our pal Edie Jarolim did a three-part series on BAT recently. Check it out!
Our Use of BAT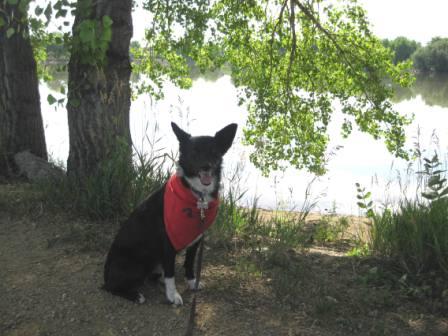 So, Gigi and I walked with Lilly around the pond at the open space, and when we saw another dog or a person, we would:
Stop
Let Lilly notice to the person/dog (from a good distance)
Wait for her to offer an appropriate behavior (looking away, looking down, licking her lips, curving her body)
Turn and walk the other direction as a functional reward
Now, since we were working in the real world, where people keep on coming toward us or lap us several times as they move around the ponds, it wasn't the perfect set up. BUT, it helped me to work through the process with Gigi.
So the key to BAT, I think, is to use very staged experiences where you have control over the trigger (whatever it is for your dog).
I've read about BAT, but I didn't want to try it on my own until I could process it with her.
Once we'd turned, I would go ahead and give Lilly some cheese as a secondary reward since it's something she is accustomed to.
Our Challenge
And, actually the fact that we've done so much other counter-conditioning work with Lilly as well as what I call work-and-cope, where I get Lilly to change sides, to look and me, and walk briskly past anything that might scare her … well, that makes using BAT a little hard for us because Lilly already knows other coping mechanisms.
I've not read all of Grisha's stuff on BAT, and I have not seen the videos, but I think the shift in thought is that the kind of conditioning work I've done with Lilly helps to a point, but often it doesn't fully fix the problem.
(Grisha, other BAT folks, feel free to weigh in.)
Our Earlier Attempts
LONGTIME readers might recall that we used something sort of like BAT (maybe more premack in nature) to get Lilly to walk confidently onto the agility field. (This was YEARS ago.)
Her reward for the approach was the chance to run back the other way.
We never got closer to the space. In fact, we made less progress because Lilly learned that the first sign of confident behavior earned her the chance to move away.
Clearly, I did something wrong, but there you go.
(I'd link to my blog notes from back then, but we have YEARS of content now, and I cannot for the life of me find the post. Sorry.)
The Off-Leash Part
The open space park has one pond where dogs need to be on leash and another where they can be off leash (There is a fence between them.)
So, we even tried going into the off-leash part, with Gigi serving as Lilly's linebacker. We saw two dogs, both of whom approached Lilly without permission. The first one was slow and easily swayed away from Lilly. The second one (a friendly, young lab) wasn't as motivated to ignore Lilly, but I'm happy to report that rather than snarking, Lilly CHOSE to wade into the pond and ignore the dog.
Good … yes?
After that, we made our way back to the leash side so that Lilly didn't get overwrought.
Happy Girl
So, for our first real training outing in frickin' ages, Lilly did great and was VERY happy to see her Gigi … as you can see here.