Product Review: Ruff Rider Roadie
Dear Sam: This is sort of a Weekly Dog Training Update, so please stay tuned … because Lilly is learning to ride in Tom's truck while wearing the newer, neoprene-lined Ruff Rider Roadie doggy seatbelt harness thing. She even went on her first real outing this week and had a ball.
If you need to catch up, read this post about our search for just the right dog seatbelt.
First a Word About Our Benefactor
HUGE thanks to Lindsey Wolko from CanineCommuter for sending me FREE samples of the top two contenders (Ruff Rider Roadie and the Solvit) so that we could try them out.
When I emailed her to say/ask:
We'd chosen the Roadie.
How much did I owe her for the Roadie?
I'd ship back the Solvit.
Lindsey said I could keep the Roadie, no payment needed, and that I could donate or give away the the Solvit. So, thank you.
I'm telling you all this for FTC disclosures, but also because I'm so, so grateful. It seems Ruff Rider is having some manufacturing and distribution issues, so it's actually quite hard to find these harnesses in stores or online (right now) … and Lilly wants to RIDE< RIDE< RIDE right away.
Our Test Drive
Before we made our final decision, Tom took Lilly for a quick trip up the road and back earlier this week. He even tried stomping on the brakes to be sure she stayed on the seat.
Remember, pretty much NO ONE recommends that dogs ride in the front seat, but in a truck there isn't anywhere else for her to be, so Tom turns OFF the airbag on the passenger side and clips the seatbelt through the loop closest to her back.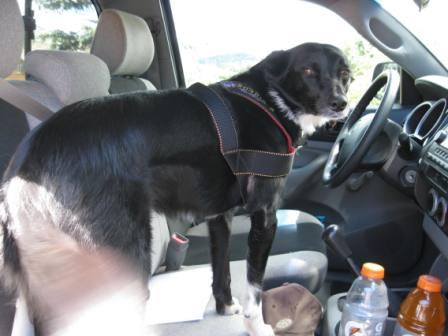 You can tell by the fact that her ears are NOWHERE to be seen that she isn't yet too thrilled with the idea of being clipped in. (When she rides in my car, she is in a crate).
Still, the blur in the lower left corner shows her tail wagging. If Lilly is completely freaked out, then she clamps her tail to her tummy.
Perhaps this video shows a little better her state of mind after her test ride.
UPDATE May 20, 2016 — Ooops! The company just contacted me to say that I have the harness on wrong here. So, rather than the photo above or this video below … this photo shows it on correctly, I believe.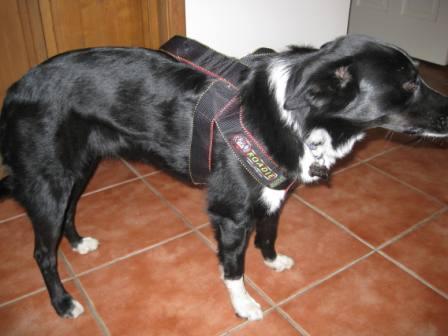 First Real Outing
A couple of days later Tom needed to run up to Boulder to pick up some bicycle parts, so I joked about him taking Lilly with him. And, he took me up on it.
I wish I could get him to write a guest post, but my second-hand report will have to do:
Lilly stood the entire ride down the canyon, but she finally figured out how to sit in the harness for the ride up to Boulder.
They had the windows down and were having a grand time. So much so, that he got her to howl at a few stoplights, which apparently amused other drivers and some nearby pedestrians.
Lilly figured out how to lay down in the harness and slept (with her nose against him) the entire ride back down the highway.
Then, she sat up and smiled all the way up our canyon (about 10 miles, 20 minutes).
The harness both kept her in place and prevented her from getting close enough to have a kissing fit. He can reach over and pet her, and she can kind of poke with her nose, but she cannot climb into his lap or anything dangerous like that.
Next Step
It'll be interesting to see if she gets excited or sheepish next time I put the harness on her. I hope she now has a good experience to associate with it. After all, she doesn't get all that much alone time with Daddy out in public.
And, for his part, Tom thought it was a hoot having Lilly along.
Remaining Struggles
Lilly still walks kind of funny and acts a bit put out when she has the harness on, and I still have a devil of a time getting it off of her when we're done, but I hope both of those things will improve with time.
***
It's hard to do a giveaway with a product that is so size specific, so … I'm taking nominations (sort of) here, on Twitter, and on Facebook.
If you know someone who could use the Solvit harness with a dog about Lilly's size (or maybe a little smaller) — around 35 pounds, about 25 inches in the chest — let me know. We'll figure out some lovely person who could use the harness and ship it off. (Maybe a new adopter or someone on a super tight budget.)