The quest to stay somewhat sane, more than healthy, and not to flabby includes eeking out time to take Lilly for our usual 3-mile walk as often as I can muster. Last week, while we stood roadside as two cars passed us (one each direction), Lilly up and killed a poor little ground squirrel. I felt terrible.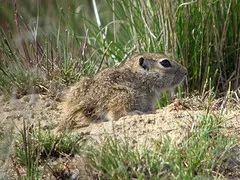 We were just standing there, waiting for the cars to go by, and all of a sudden she flew about two paces down the road bank into the tall grass. I heard a squeak, and she climbed back up with a ground squirrel in her mouth.
I said, "DROP IT!"
And, she did, but the damage was already done.
I've been weepy lately anyway, so this really topped it. Poor little guy.
Warning Signs
We've seen a LOT of ground squirrels and rabbits on our walks lately. This summer is one of the greenest on record, since we moved up here from the Denver suburbs in fall 2001. Lots of rain means lots of vegetation. Lots of vegetation means lots of rodents and other critters. (And, of course, lots of rodents mean lots of snakes.)
The road we walk is a veritable highway of rodent activity. I'm always surprised to see these little buggers pop out right in front of me and Lilly as we walk.
One day, I swear she was literally nose to nose with a ground squirrel on the side of the road. Both of them just looking at each other.
I use these walks to clear my mind from worry, so I'm confident that my own mental distraction led to this incident. I'm walking and thinking. Lilly? Well, she was on the prowl.
The poor thing had no chance.
Reeling It In
So, rather than let my mind wander, I guess I need to reel Lilly's own mind and get her working (at least a little) on our walks. Be that through an occasional WATCH ME or SWITCH/SIDE (change heel sides from behind or in front), I need to reinsert myself into our outings.
I like that for the most part I hardly have to think about Lilly when we walk. It's such a change from my late Dalmatian (Penelope Grace) who I let drag me around for 14 1/2 years.
Lilly's LEAVE IT is pretty good for things that are not moving — stray food on the ground, for example, but I guess we need to work on leaving moving things.
**
Photo Credit: Greg, The Busker (via Flickr Creative Commons)