Petfinder: Adopt-a-Less-Adoptable-Pet Week
September 17-25, 2011, Petfinder.com is hosting Adopt-a-Less-Adoptable-Pet Week and asked bloggers to take part. Big surprise … We picked this adoptable border collie in Newburgh, Indiana, to promote. His name is Marty!
All American Dawgs, the rescue group currently caring for Marty, posted this description: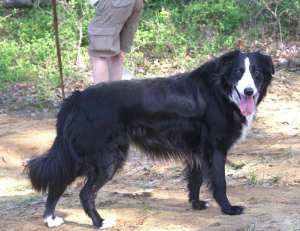 Wow! HUSBAND FAVORITE!!!! Just look at this face and the pictures tell the story! Marty is our quintessential, uncomplicated, classic gentleman. He seems so completely calm and classy and quite frankly in a league of his own.
Marty is content to just lie quietly by your side all day, no barking, bad habits, or silly antics to keep you hopping! He simply relishes being talked to and having his face rubbed. He will stand by you and look into your eyes all day if you talk to him.
This guy is completely housebroken and is quiet as a mouse. He leads most excellently on his leash, he knows, sit and NEVER EVER JUMPS UP ON PEOPLE.
He is absolutely the most perfect dog!
While he is wonderful in the house, Marty can still "kick it" with other dogs. He will run and play as long as you will let him, but he does not roam or wander and has excellent recall. He gets along famously with all of the other shelter dogs but he thinks the Sheltie is here for him to herd!
Marty does have an old ACL injury that gives him absolutely no problem at all, but we keep him on Glucousamine Chondroiton just to ensure that he continues to run and play. The cost for the tablets are about $15 a month.
Marty is neutered-housebroken- rabies vaccinated-microchipped, heartworm negative, and current on vaccinations. He is a keeper!!!!
All American Dawgs, Newburgh, IN
(Roll over the bullet items to see links … I don't know why they don't show up.)
So, if you know of someone in the area of Newburgh, Indiana, Marty deserves the best family ever.