Patron Saint of Confined Dogs?
Ginko is still having pretty consistent trouble with his right knee (we assume). Right leg, at the very least. We keep swearing that we'll keep him quiet, that we won't let him run, and so on, but it is very hard with so much else going on. Since Feb 1 was conveniently on a Monday and since Feb 14 is such a BIG day (for so many … not so much for me), I hereby declare a renewed commitment to Ginko's rest.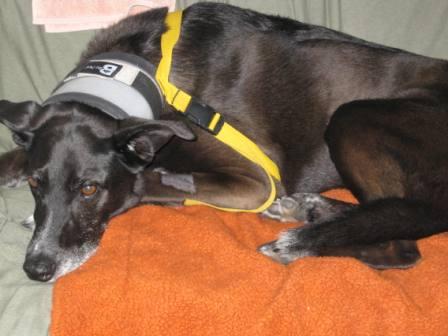 And, if that doesn't seem to solve the issue, then I have some bigger decisions to make about possible diagnostics and or treatment for his two already-bad knees.
I'm not particularly the praying kind, as many of you know, but if I were to pray, to say … the Patron Saint of Confined Dogs … it might go a bit like this:
Please grant me the wisdom and patience to confine my injured dog as long as necessary for recovery. May I find the self-discipline to stick to a proven routine and not fall for his I'm-all-better-let-me-play ploys. And, may I discover the serenity to put up with all the whining, pacing, and fussing likely to occur without blowing my top.