When a vaccine essentially ruins your dog's brain, you can expect some dog behavior changes too, assuming the dog survives the initial brain inflammation.
Deep inside Lilly remains Lilly — despite the brain and nervous system trauma caused by her adverse reaction to a rabies vaccine earlier this year. Her emergency treatment and ongoing treatment for meningoencephalomyelitis / meningoencephalitis, however, required she go off (cold turkey) the meds we gave her for years to treat her fears / anxieties. So, how has that turned out?
Surprisingly well, actually.
Dog Behavior Changes Related to Adverse Vaccine Reaction and Life-Saving Treatment
I joked online while Lilly was still critically ill that maybe there would be a silver lining to all this … since some dogs do experience positive dog behavior changes after a brain trauma like this.
Even without the twice daily chlomipramine and the as-needed xanax, Lilly seems like Lilly. She will always be fearful and anxious, but going off the medicines so suddenly doesn't seem to have made anything worse.
It isn't like all of a sudden we lost 8 years of behavior modification and dog training work.
So, that's good news … yes?
Loss of Housetraining
The only weird news is that twice recently Lilly has accidentally pooped in the kitchen in the morning. Both times we were making her breakfast, and stuff just started coming out. We were able to get her outside to finish and to clean the kitchen tile well, but it's the strangest thing.
You know this girl, of all girls, knows better than to potty in the house.
Yet, it seems to sneak up on her once in a while — likely due to neurological damage.
It's maddening in many ways because in the evenings — in particular — she cries and cries and cries to go out, but then she won't "go."
Fussy, Demanding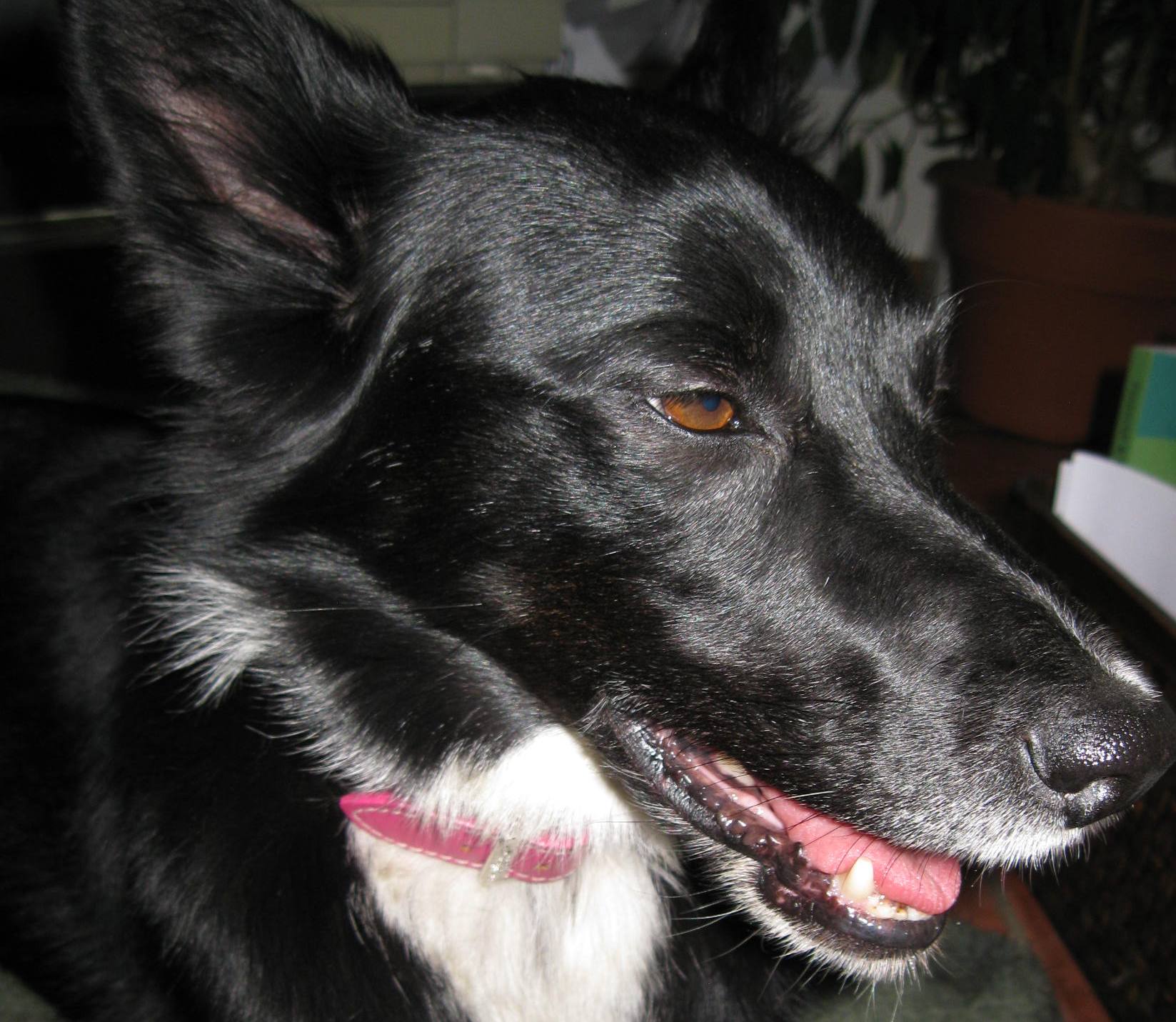 We've done our best to resume daily walks — 3 miles.
We also run a few agility laps and play at lot of fetch throughout the day, including after dinner, but Lilly remains FUSSY (we assume from the daily steroids). She takes her steroids in the morning, but she is a pacing, whining, fussy, crabby girl in the evenings.
The only solution we've found is for me and Lilly to lay on the bed in the master bedroom and watch old TV episodes on the Kindle Fire via Netflix.
(Started with Downton Abbey, but ran out of streaming episodes at the end of season 1, so started watching season 1 of Mad Men.)
If I do that, she'll most often snuggle all evening.
If not, then she is up and down the hall about a 1,000 times a night.
She won't settle if I watch TV in the living room. She won't settle if I watch something on the Kindle in the living room.
Only the bed works. Maybe it's sound level since I use headphones with the Kindle. Maybe it's temperature. Maybe she just wants to snuggle.
I'm not sure.
But it works, so I'm not complaining.
***
She is less fussy during the day, which really helps my concentration on work, so I guess by nighttime she is ready for some undivided attention.