Canine Colors and Dog Matching
So, you know those management training seminars and tools that try to help people understand each other and communicate more clearly on the job and in life? A fan of Myers Briggs, am I. But there are others, like DISC and even True Colors. It's this last one that has been adapted for use in better matching people and dogs. They call it Canine Colors.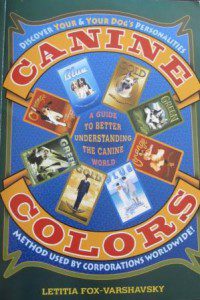 Sometime before all hell broke loose around here, I took some time while relaxing outside with Lilly and Ginko to take the test for both ME and LILLY to see how we are suited (or not) for each other.
And, we can put any doubt about our soulmate status aside because BOTH of us tested out as BLUE personality types.
I'm not sure how I feel or what I think about that. I don't know this personality system well, but I'm not sure it told me anything I didn't already know.
Oddly enough, border collies typically test out as GREEN, not BLUE. When I balked at that online because I fear slanting the results somehow, those who gave me the book replied: "The breed colors are a starting point…doesn't lock a particular breed into a color. I think the fact you are both blue makes total sense…you are both caring, compassionate individuals who probably crave one another's company (lots of cuddling, I'm sure!)"
We ask ourselves a lot around here whether we conditioned Lilly to be SUCH a cuddlebug or whether she just naturally loves to snuggle up. I guess this test would say that it's in her personality to want that attention and close contact.
The Process
There are questions and cards for people

There are questions and cards for dogs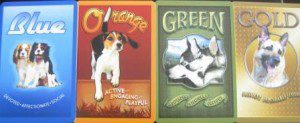 And, then the book explains how we can better provide what our dog wants and needs from us. Everyone has a bit of every color, I guess, but most of us (dogs included) lean one direction or another.
It says BLUE dogs' strength lies in giving affection. The card lists many of the toy breeds as BLUE dogs.
Interestingly, all dogs test more BLUE as they age.
My Canine Colors Vote
As entertainment, Canine Colors amused me, but I'd be curious what those of you in the sheltering world think about it. My gut tells me that it does not have the oomph of the ASPCA's Meet Your Match system, which also uses colors to identify dog personality and needs, so that adoption counselors can better match people's expectations to dogs who can deliver.
Give Away!
Based on a random drawing of those who comment on this post before midnight, Sunday, June 27, 2010, I'll give away my review copy to the winner so that you can try out this system and see what it reveals to you.
I'll contact the winner on Monday, June 28, 2010, to arrange for shipping of the book.
***
FTC Disclosure: I received a free copy of the Canine Colors book from Brenda Tassava who works for Broad Ripple Animal Clinic & Wellness Center in Indianapolis, Indiana. She brought me a copy of the book, when we hooked up at BlogPaws in April. I was under no obligation to review the book or to say anything other than what I really thought of it.