Canine Chemo Dry Mouth
While we use cytarabine — a chemo drug with good anti-inflammatory properties for our needs — at lower doses than would be required for cancer treatment, Lilly still suffers from canine chemo dry mouth after her injections every 3 weeks. Her nose is also CRAZY dry (more from the steroids than the chemo), but not nearly as bad as in February, when she developed massive nosebleeds. Here is a recap of our solutions.
Don't use human chemo dry mouth solutions for canine chemo dry mouth problems
Via Facebook, I asked my personal friends (many of whom are veterinarians) if Biotene is safe for dogs. It's a product human cancer patients often use for dry mouth during treatment. The answer was BIG, BIG, BIG no … because  human Biotene contains xylitol, which is a sweetener that is CRAZY TOXIC to pets. 
There is a veterinary version of Biotene, but it appears to be more for people who don't brush their pets teeth … not so much for dry mouth.
So, on the advice of my darling husband and several friends, I turned to good old VASELINE. I've started putting some on Lilly's lips after each meal (and any other time I think about it), and it's helping a lot.
The sores I found a week after Lilly's first series of cytarabine injections stumped me. The sores mostly improved on their own the first time, but I fear a cumulative effect.
I mentioned them to our neuro team last weekend, during her second series of cytarabine injections, and our technician pointed out that her lips were likely getting stuck on her teeth, causing the sores.
I really watched Lilly early this week, and that's exactly what was happening.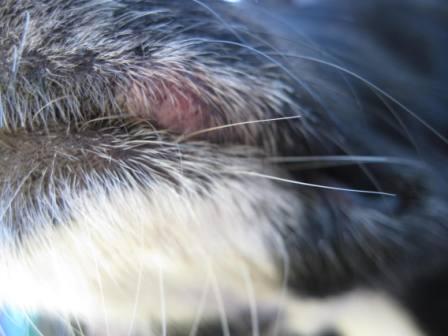 So, I'm greasing up her lips — the edge and a little inside. Lilly tolerates it really well and hardly licks at all. And, it seems to be helping.
The sores haven't completely gone away, but they have NOT gotten any worse either.
As for her dry-dry-dry nose, I'm using plain chapstick on her firmer nose flesh (again, several times a day). So far, it is keeping her nose from cracking and bleeding.
Have you found at-home solutions to common veterinary treatment side-effects that might help others? Please, chime in.