Canine Bloat: Learning the Hard Way
Do not worry. Everyone at our house is fine, but we are devastated to report the loss of one of our dear, sweet Great Dane friends, Belle, whose tummy twisted last week. She was only 6. RIP, darling Belle.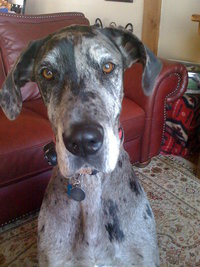 Long time readers might recall that Belle and Lilly went on some proximity walks years ago, when Lilly was learning to be around other dogs and be brave.
Sweet Belle and her partner in crime Clyde (a chocolate lab) also made the occasional unexpected visit when they busted loose from their homestead (invisible fence collars firmly in place).
Once I used sample treats someone had sent me to wrangle Belle and Clyde to safety, including having to use the universal sign for "slow the @#$#@ down" to passing trucks.
Another time, we found them running, after a particularly harrowing walk. Belle and Clyde remembered me as "that nice lady with food," so it was much easier to round them up.
Sometimes, we ended up with an unexpected play date.
All that aside, I've adored Belle since I first met her many years ago, after our friend and neighbor took her in when Belle's original family wanted to rehome her.
So imagine my sadness that on the very day I wrote about canine bloat over on my Dog Food Dish Blog for K9Cuisine.com, I learned that Belle had died from it.
Granted, it's VERY common in giant breed dogs, but still … it came as a shock.
So, if you don't know a lot about bloat and what bloat looks like and what researcher think might raise the risk, I encourage you to click through.
The BIG thing that stood out for me in the research is that putting water on a dog's food increases the risk of bloat by 320%, if that food contains citric acid (many dog foods do). That's something I've ALWAYS done for my dogs. It's a hard habit to break, honestly.