Bumbling Along – Fun With Neurological Deficits
If we get through Lilly's recovery without me or Tom stepping on and breaking one of Lilly's feet or without one of us taking a nasty fall ourselves (after tripping over Lilly), it'll be a miracle. Truly.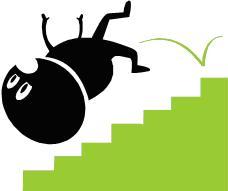 The beauty of having a dog trained from a young-ish age in agility is that when YOU move, the dog MOVES. It's a bit like dancing, where you come to anticipate your partner's position, speed, and direction.
Agility handlers jokingly refer to dogs who won't "work at a distance" as "velcro dogs." In other words, you have to be RIGHT THERE to ensure the dog does as you request.
Lilly never has been *that* clingy in the past, but these days … whew!
Right now, in Lilly's recovery, it's a bit like having a 35-pound, furry boat anchor velcro'd to my right shin. She clings to me, to Tom, to Ginko, to walls for dear life at times because her balance still isn't great.
You'd think after nearly 2 months … I'd have adjusted to Lilly's new movement patterns and habits, but I have not. Apparently, I am NOT the quick learner on our team.
That means we often:
Crash into one another
Step on each other's feet
Trip
Stumble
And, sometimes tumble
Tom jokes that we might have to consider making Lilly a bubble-wrap suit, but I think she might need steel-toed boots if I don't learn to assume she is always under foot.
So, if you continue to send us mojo, please add NOT tripping over each other to the list of requests. Thanks!