Bossy Border Collie: You Shall Not Pass
Our decision to return Lilly to the full dose of her anxiety medications came in part from her escalated treatment of Ginko. Lately, she has been acting like Gandolf.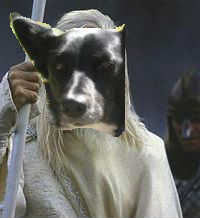 First … a really bad photo editing job of Lilly as Gandolf.
Lilly has always been "bossy" … controlling Ginko's paths when he approaches us or when he first goes outside.
It's the worst when Tom is in bed. Lilly will race down the hall or down the stairs and bark in Ginko's face if she even thinks he will try and hop in bed with Tom.
Tom, of course, thinks it's the cutest thing, so I'll never be able to completely fix the behavior. (Husbands!)
Lately, Lilly has been acting a bit too much like Gandolf in this "You Shall Not Pass" clip.