Why I Chose a Traditional Spay for My Dog
When it came time to spay Clover, after letting her go through one heat cycle and waiting for her extremely LONG false pregnancy to end, I had a LOT of questions about a traditional spay versus other surgical options. I know that seems silly considering that I've had dogs my whole life and write professionally about veterinary medicine, but I had NOT had to have a dog spayed since 1990 (because Lilly was spayed prior to our adoption), and I didn't know how much had changed. I wanted to make a good decision.
So, I asked my super-experienced pals about the surgeries they chose:
The main argument for both of those? Faster recovery.
Why I Chose a Traditional Spay
Our main veterinary hospital does NOT offer either, so that meant I would have to find somewhere else to go, if I chose either of those surgery options. I pride myself with having good, long-term relationships with our veterinary teams, and the thought of starting over with someone new for just this one thing felt daunting.
Next, I asked our veterinary neurologist (who treated our late Lilly and late Ginko) for input because long before he became board certified in veterinary neurology and neurosurgery he was also board certified in veterinary surgery.
He pointed out a few things that made a lot of sense to me:
General practitioners do a LOT of traditional spay surgeries, and most get very good at it.
The incisions made for a laparoscopic spay surgery when added up likely equal the same length as a good traditional spay incision.
Plus, given the choice between really being able to SEE inside the dog and having likely less visibility through smaller holes, he would always choose being able to see — not only for the spay itself, but also for general knowledge and confirmation that all the other organs look good.
In the end, he told me he prefers "cold, hard steel" (meaning a scalpel).
Questions to Ask
He also gave me a couple of questions to ask our main veterinary hospital before making my decision:
Do you use electrocautery? (Especially important for Clover to lessen bleeding after all her uterus had been through and because her mammaries were still bigger than normal)
Who will be doing the anesthesia and vitals monitoring? (Basically, you want the MOST experienced veterinary technician at the hospital on the job for your dog that day)
I also flat out asked our main vet if she LIKED doing spay surgeries and felt like she was GOOD at it.
Other Requests
In addition, I made specific requests for:
Pre-anesthesia blood work
Pre-anesthesia sedatives (more specifically for Acepromazine NOT to be used)
Serious pain control meds both at the hospital and to bring home
Dog-calming music for Clover before and after surgery
How the Traditional Spay Went
As you can see, Clover's traditional spay incision was quite small. It healed beautifully. Stitches were removed 2 weeks later. For Clover's traditional spay surgery, we paid about $420.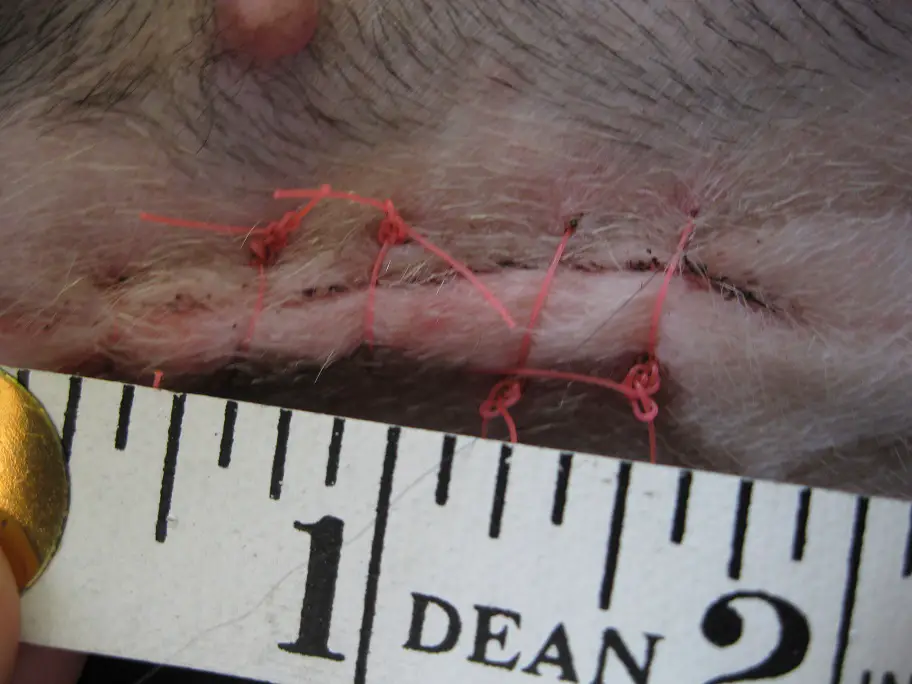 Clover's recovery went pretty well. She hated the cone of shame (Comfy Cone) that I bought her. She would stand looking straight at the ground and refuse to move. We went with a belly band (even though they are designed for male dogs) for a while just to protect the surgery site. She even wore it to agility class (no jumping) and did great. Heck, we even tried a stretchy buff. See below.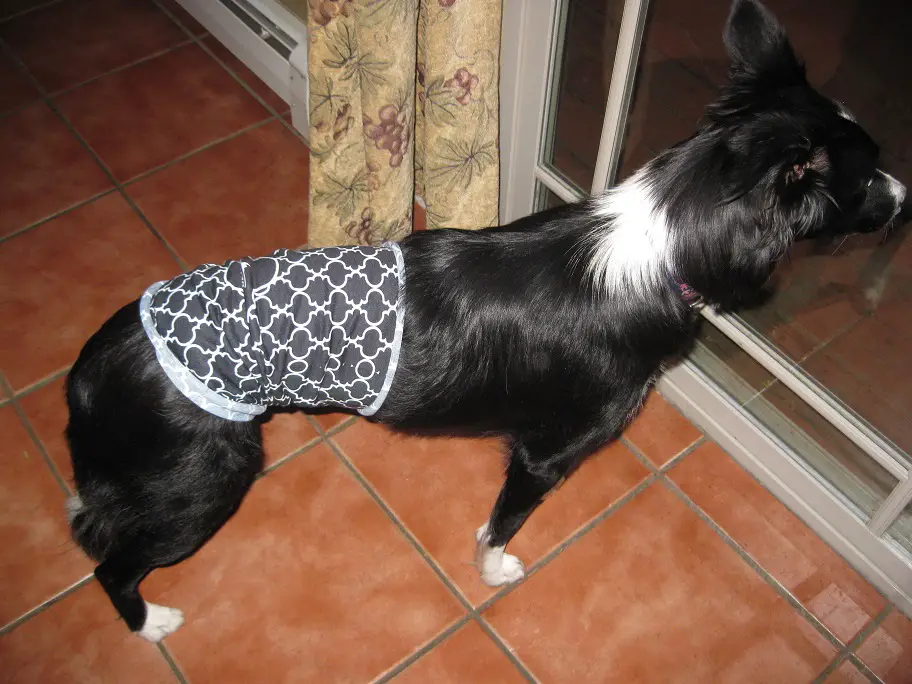 That worked really well for the first week, but the second week of her recovery, she started fussing at the incision a LOT, so we had to use the Bite-Not Collar and a t-shirt. Here you can see Tori snugging in solidarity. A lot of people are now using body suits or pajamas to cover surgery sites. Here are a couple of options that might work better for you. Be sure they have a belly panel.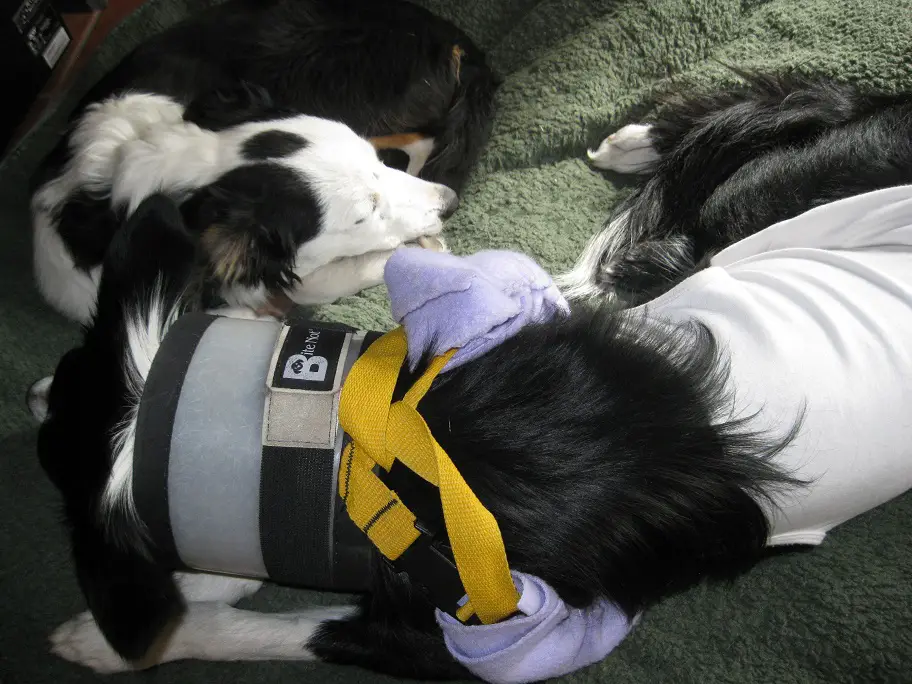 Trying to keep BOTH puppies mellow during Clover's recovery from her traditional spay was not easy, but we did it. (And, will need to do it again soon for Tori.) They were quite pleased when Clover got cleared by our veterinarian to return to normal activity back in October 2015.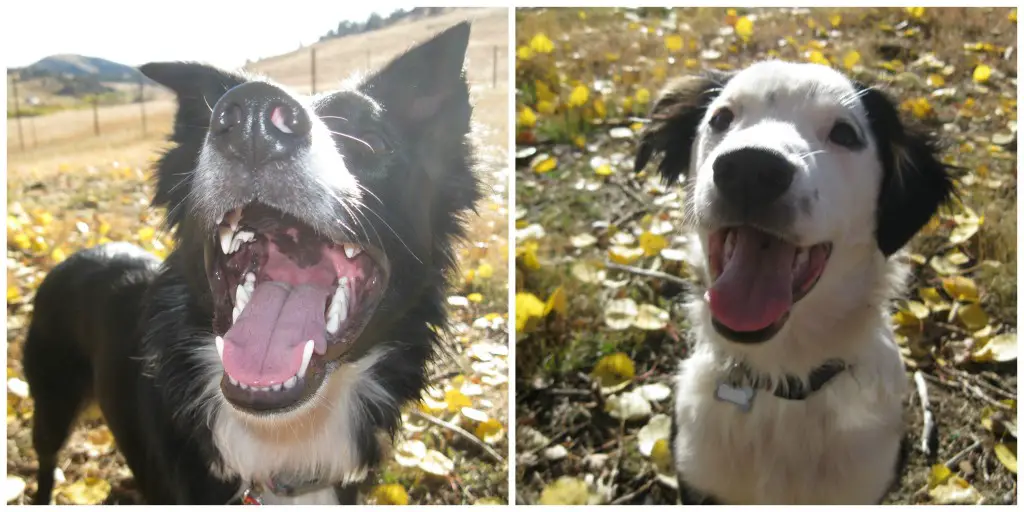 Have you had to make a spay decision like this? What did you choose?
*** Bonus Caution ***
One quick caution. A friend of mine recently had her young border collie spayed at a "low-cost" spay/neuter clinic at an animal shelter near her home. It was a disaster. In addition to the puppy being handled roughly prior to surgery, the incision looked terrible, was sewn up with outdated metal sutures, and soon after TORE OPEN. (I would show you a photo, but it's really awful.)
She has since filed a formal complaint with the state's veterinary board.
A friend of mine from the animal shelter community argued with me about lumping ALL "low-cost" spay / neuter clinics together. He is right. I know many reputable shelters and humane organizations who use the same top-notch medical standards for their low-cost surgeries as they would for any of their full-payment patients.
So, instead, I tell you this story so that if you do decide to go the low-cost route, then please ask lots of questions about the medical and surgical protocols used. Know what you're paying for, including why and how they can do it for so much less. In some cases, it's because they do the surgeries differently. In other cases, it's because the true cost of the surgery is subsidized in other ways.