The Day Ginko's Tummy Got Super Sick
This week, I'd planned on writing an update about how Ginko is doing health-wise and without Lilly. I prepared to say he was doing OK with his heart and neurological issues (several bulging discs). I intended to whine a bit about his ongoing senile barking. I planned to tell you that he does seem perhaps a little lonely without Lilly, but that he also smiles an awful lot. Then, seemingly out of nowhere Sunday, Ginko's tummy had some serious, serious troubles. Fair warning, long post.
Sunday night Ginko threw up his dinner after eating a bunch of grass, which isn't all that unusual for him. Plus, we're having to change foods because our local feed store had too much trouble with a consistent supply of the food Ginko had been eating. We've been weaning him to the new food over the last month. At first, we thought maybe it was because he is finally eating 95% of the new food.
But, then the diarrhea started too. We gave him a little more food later, but he threw that up too. By bedtime Sunday night, we were starting to see a little blood in the diarrhea.
I figured we'd see how he was in the morning and call our regular vet.
Then things got worse overnight …
Ginko woke us up around 3 am Monday morning. He seemed hungry, so I went ahead and fed him. Soon after, he threw that up, and the diarrhea (much more explosive) became almost pure blood.
Tom asked at one point, "Can't we wait until our regular veterinary hospital opens at 8 am?"
I replied, "Go look at his poop." (I feared we didn't have several hours to spare.)
Tom came back inside and essentially said, "I'll grab my keys."
Off we went to the Veterinary Emergency Room at 4:45 am. We got there at 5:30 am. They ran some tests. He was admitted at 7:30 am, with symptoms ongoing and with high white cell count and elevated liver values.
They immediately put him on IV fluids, anti-nausea meds, and strong antibiotics.
We came home to await news. They did an abdominal ultrasound Monday morning and found nothing other than some minor changes in his liver. No tumors! It was good news.
BUT, Ginko's digestive system was still in a total uproar, and his fever had spiked to 105. By afternoon, he was so weak that he couldn't really use his rear legs. By lunchtime on Monday, Ginko was getting worse, not better.
Tom is the decision-maker for Ginko, and he opted to treat the symptoms and see where that got us in the next day — rather than doing many more (expensive) tests looking for possible locations of the infection:
Because it's easy and not too expensive, they did culture his urine. We don't have those results back yet. BUT, Ginko is drinking like crazy and peeing all the time, so we'll see. They saw white cells, but no bacteria in his urine at the in-hospital lab.
We thought maybe we were seeing another bout of pancreatitis, but the diagnosis was hemorrhagic gastroenteritis (HGE). It can be deadly, especially in smaller dogs or those in poor health already. The really scary thing is the the dehydration can lead to thick blood and clots, and once that happens, there is no going back. So, if you ever see anything like this, you need to seek veterinary emergency care right away.
One of my new editors lost a Jack Russell Terrier to HGE. Her family came home, and the dog had bled out on the kitchen floor.
Visiting hours …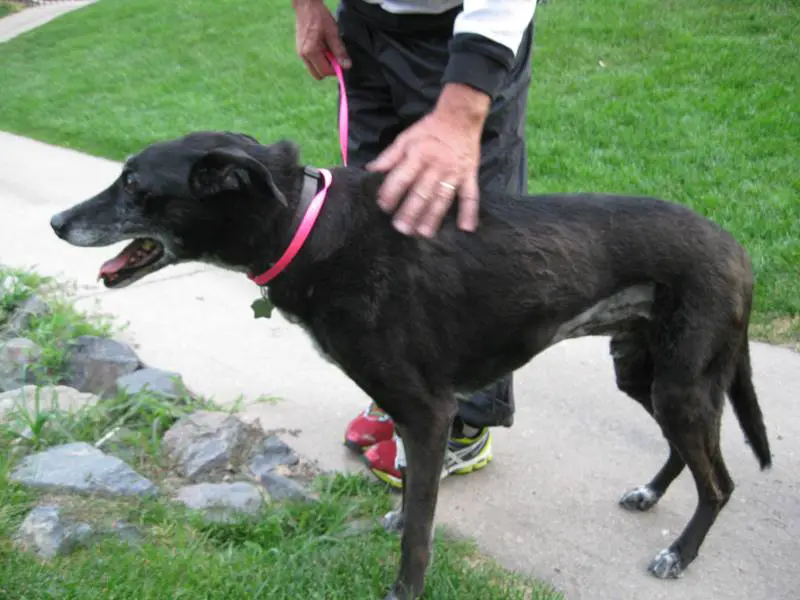 We got to see our old boy Monday evening during visiting hours. They let us take him outside for a bit to potty and stretch his legs. He walked pretty well for us. He loved it at first, but he started to look barfy again, so we didn't stay out long.
They asked us to try and get him to eat, so we did. Not much, but he did eat a little. Ginko seemed really old and really subdued. It broke my heart.
Coming home …
Ginko's fever finally broke around noon on Tuesday — back down to 102.5. He also hadn't vomited or had diarrhea since Monday afternoon.
Ginko is NOT a great patient. He was upset and cranky with everyone at the hospital on Monday, so we were anxious to get him home just as soon as it was safe to do so.
Because it's me, and they know what I'm capable of doing for home-care, Ginko got to come home late Tuesday afternoon.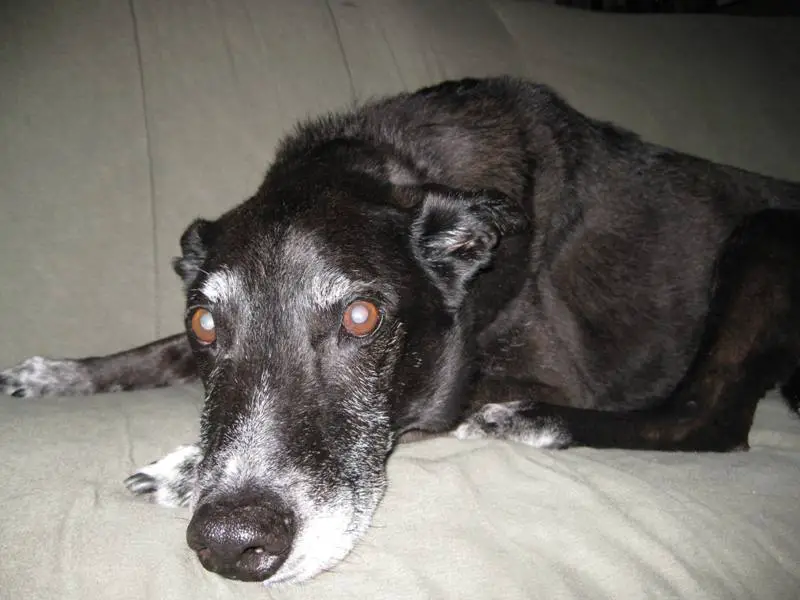 So far so good …
Mornings are rough. We have a hard time getting Ginko to eat, and Wednesday morning he was frantically eating grass. He never did throw up again, but Thursday morning my creative ways of convincing him to eat led to another brief bout with diarrhea. (I mixed the special food with cheap canned food for flavor, after the baby food on top stopped working.)
So, for now, I'm cooking him chicken and rice at home. I mix that with a little bit of easy-to-digest canned food. Once he is ready for regular food again, I'll have to find something else because I fear a relapse if we continue with the food we had been transitioning.
Ginko's appetite improves around lunchtime, so he is getting 3 meals a day and several little snacks.
He is down to about 56-57 pounds. Normal for him in his old age is 60 pounds. In his prime, Ginko weighed about 68 pounds.
He needs to pee a lot at night, and he wants snacks, so we aren't getting much sleep. Often he is too weak to jump onto the sofa, so we have to lift him, which he doesn't like because of his personalty and his spinal pain.
Because of the IV fluids in the hospital, he peed a lot in his cage, so I put some of the washable pee pads on the sofa when he came home. Good thing too. He did have one accident while sleeping that first day back.
Since then, any time he wakes up or hops off the sofa, we run him outside. Sometimes we even leave the dog pen door so that he can come and go as he likes.
No more accidents since then.
Gratitude overflowing …
I'll be honest. I worried this was it and that we might lose Ginko while still greatly mired in our grief over Lilly. For such an old boy (he turned 14 in May), he is in decent shape — even with his various health problems. He is a big, strong boy.
For now, he plans to stick around.
That one night he was at the hospital was one of very few nights since 1990 that we didn't have a dog in the house. It was strange and felt super lonely.
Ginko sleeps a lot and doesn't play much anymore, but not seeing him ensconced on the sofa was tough.
We're glad he's HOME and seems to be doing OK.
Have a great weekend!