Look Before You Leap – Dangers to Enthusiastic Dogs
Now that Clover is a year old and demonstrating more maturity, we're giving her a bit more SUPERVISED independence — like letting her run around a little bit in our front pastures. This independence nearly landed her in the Emergency Room over the weekend. I'm still astounded she didn't get hurt. When you see the photos, you'll understand.
Here's how it went down … Clover and I had just come back from our usual, daily, 3-mile walk. Once inside our LOCKED gate, I asked her to SIT and WAIT, unclipped her leash, then gave her release word FREE … letting her race around the front pastures while I walked toward the house.
I'd just reached the edge of the "parking lot" near the house, when she jumped a new embankment.
In her enthusiasm to run around loose (on our fully fenced property), Clover leaped from between those 2 trees, and her feet didn't touch the ground again until the green grass below.
Clover crash landed, rolled, and popped right back up and kept running. She never limped, winced, or cried. I felt her all over to make sure she was OK and found nothing. She seemed 100% fine.
As I watched her fly (in what felt like slow motion), I thought, "Oh, crap!" I fully expected her to dislocate or break something on landing, but she tumbled and just kept going.
The next day on our hike, I watched for any signs of trouble. Clover did decide to lie down on the trail below the peak (our usual turnaround point), so she had a little drink and a rest, and we headed back down the mountain. As you can see, she seemed happy, but I'd never seen her stop like that on a hike, so I honored it, and we headed home.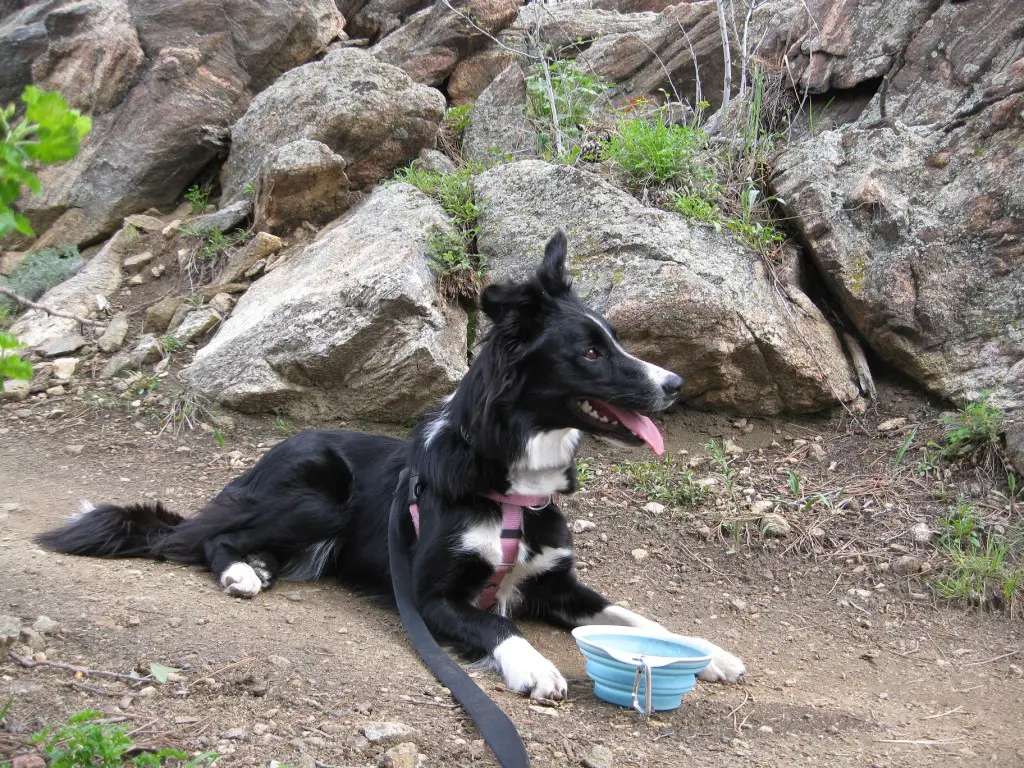 On the way back down, we met a border collie named Leo and his family. He also is about a year old. Very sweet guy. Great build. Great temperament. So, Clover was happy to meet a Brother of the Flock as part of the day's excitement.
I have to say, it's really nice to hike and NOT worry about other dogs … since Clover is so friendly and social. Lilly loved to hike, but she often stressed about other hikers and other dogs on the trail, so I felt like I constantly had to protect her. I'm careful with Clover, of course, but she is usually thrilled to see people and dogs on the trails.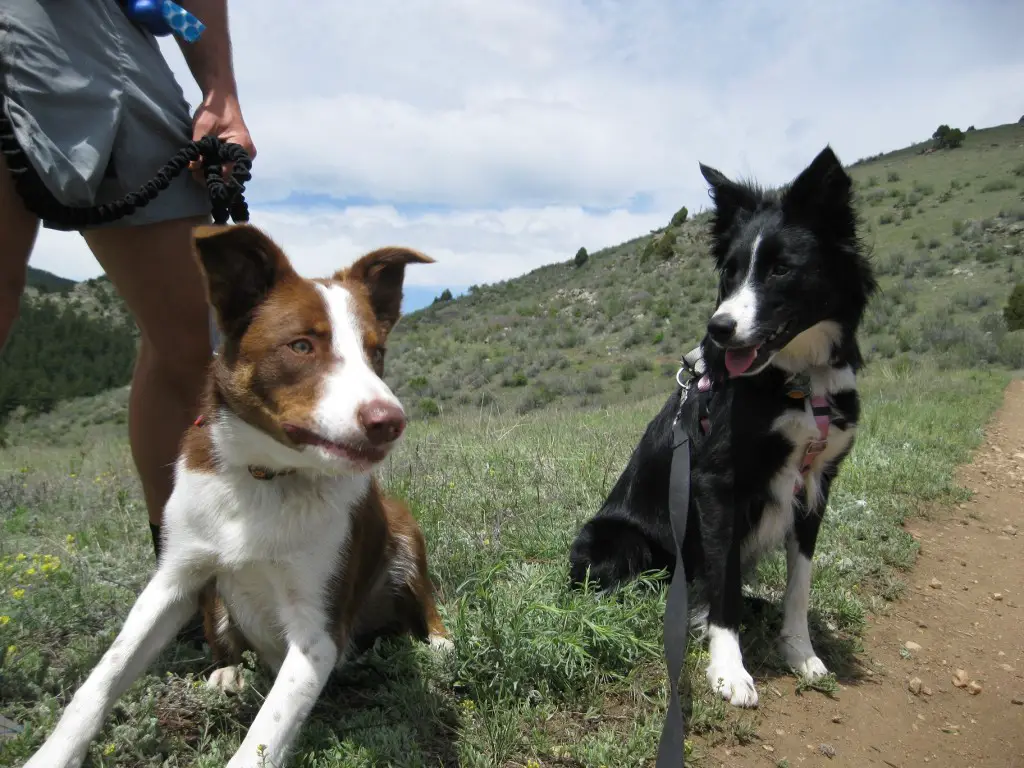 I'm happy to say that we didn't need the Emergency Room, despite Clover's wild abandon and crazy jumps.
Alas, I'm recovering from a badly sprained ankle that happened at home after our hike. It'd twisted it a little on the mountain, so it was probably primed to roll the wrong way, but I completely missed the top step of our deck, and when my right foot landed, my ankle went the VERY wrong way. I tumbled down a couple of steps, bounced off a raised planting bed, and thumped to the ground. Clover barked at me initially, then she was super sweet and sat with me until Tom could come help me inside.
It hurts and features impressive bruising and swelling. No ER visit for me either. The former first-responder in the house declared it NOT broken. It's already a tiny bit less painful, but it will still greatly curtail our adventures for at least a week … while I let things heal.
I'd post a photo of my foot, but nobody wants to see that. (wink)