Lilly vs. Rattlesnake (part 1)
Saturday afternoon (8/30) around 4:30 – 5:00 pm, it seems Lilly got a rattlesnake bite right in the face. Tom and I were both outside most of the day. We did not see anything. We did not hear anything – no rattling, no barking, no cries of pain, no urgent need for comfort. Just all of a sudden she seemed to have a fat lip. We assumed it was a bee sting, until an hour later when the swelling had spread to nearly the whole side of her head. Here are more details and some photos.
This is how Lilly looked right after it happened. (At this point, we're still thinking bee sting.)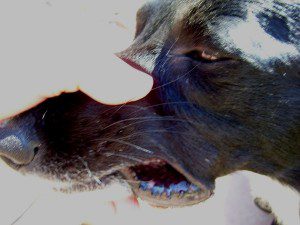 But, by 6 pm, things got 4-5 X worse. The swelling moved up her cheek, down her neck and got so big and heavy it drooped down off her face. She looked normal on one side and like Fat Albert on the other. She seemed like she was in pain, and we were very worried about her breathing. So off we went to the ER. Forgive me, I'm sure you will, for NOT taking photos at that point.
We took her to Wheat Ridge Animal Hospital, which has a 24-hour emergency/critical care service. It's the closest one to us. The drive takes about 45 minutes. The place was swamped on a Saturday night on a holiday weekend. There were no exam rooms open, so the technician took Lilly straight to the back for an exam and bloodwork.
As we drove, that's when the reality of what the swelling likely was. We've only had one snake near the house, that we know of, and that was last summer. We learned then that Ginko has good snake smarts. We learned yesterday … Lilly doesn't.
The veterinarians agreed. Apparently, bee stings tend to cause all-over face swelling. This kind of rapid swelling means SNAKE. And, around here, that means a rattlesnake bite.
One of the first things veterinarians look for are spikey red blood cells. That's a sure sign of a snake bite, but if they are NOT there and all other symptoms point to snake, then it's still snake. It simply may mean that not as much venom got released, which is a good thing.
Lilly's first blood draw showed NO spikey red cells.
TREATMENT
They are giving her fluids, strong morphine-based pain meds, antibiotics, and antihistamines. We're hoping for the best. I know dogs who have survived a bite. I also know dogs who did not. (A friend of my friend Sharon lost her dog a day after being released from the hospital after a rattlesnake bite.)
So … while I'm anxious to get Lilly home, I'd rather they keep her as long as they need to.
It's been a bad snake season here in Colorado so there is NO anti-venom pretty much in the whole state. The hospital used their last dose Friday night (wouldn't you know it?). There were at least 2 other dogs at the hospital last night with snake bites, so we were not alone.
WAITING ON MORE NEWS
10:25 pm
The emergency resident on duty called us about 10:25 pm Saturday night to say that Lilly ate like a champ when they offered her canned food (something she never gets at home) and that she seemed content to be in the cage with her IV hooked up, etc. They moved her from the ward where we got to visit her before we left. They decided to put her in a cage right in the large treatment area where doctors and nurses could keep a closer watch on her.  Apparently, after a rattlesnake bite, a dog's blood pressure can crash pretty fast.
1:30 am
Dr. Ashbaugh was nice enough to take and send me some photos. It looks to me like the swelling might have gone down some since her cheek, up toward her eye, doesn't look as puffy.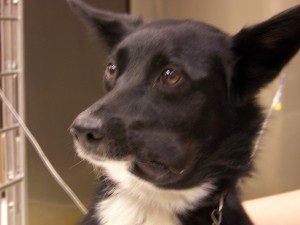 3:45 am
I could not sleep, so I asked Tom to call and check on Lilly. He found out that Lilly looked "bright and alert," but that she had not slept at all yet. Considering the major drugs, that's a surprise, but it also means the poor sweetie is likely frozen in an anxiety attack. There's a reason she's watching and responding to everything. She's likely being hyper-vigilant. Any guesses on how far back this will set our training?
8:00 am
I emailed our neighbors last night with a snake warning, and our friend Monica (across the street) called first thing to say she indeed saw and heard Lilly barking wildly late yesterday afternoon up near our gate.
9:30 am
Just talked to the doctor on duty … Lilly is doing pretty well. The swelling is not getting worse, which is a good sign. They're going to draw more blood and check her red cells again. Her blood pressure is much stronger than when she first arrived, so that's good. They're going to wean her off IV meds and onto the pills she'll come home with. We're leaving NOW to go visit her.
So … more updates as news warrants.