Lilly Herding Lesson #2, What Went Well
Last Thursday, Lilly and I hauled ourselves out to Valdemar Farm for our second official herding lesson. This I know … I'm probably the worst goatherd on the planet. Lilly loves bossing goats around.
Because no one could come with us and because we don't (yet) have a TV crew following us around (ha!), I have ZERO video to show you. I did take a couple pictures, and I'll again to my best to convey the outcome.
Today, I'll explain what went well. Tomorrow, I'll tell you what didn't go so well.
As a participant, rather than mere observer, it's MUCH harder for me to tell you everything that happened because I'm often in a holy-cow-what-just-happened? mode … trying to watch the goats, keep an eye on Lilly so that I can praise and/or pressure Lilly (through verbal corrections and use of space) when required.
The Herding Scene: The Weather
We awoke to a full-on blizzard on the mountain that morning, but the weather cleared in time for our 1 pm lesson. While temperatures neared 50 degrees out on the Colorado plains some 50-60 miles away, the wind howled. So, I was VERY glad that I had worn several layers and brought my wool hat. I needed every stitch of clothing I had to be comfortable in the weather.
Other than the wind, which can sometimes make Lilly a bit unnerved, the cold didn't seem to faze her.
The Plan: Stay Calm but Be Excited
I know. That sounds completely crazy.
Based on my chat with our behaviorist about Lilly shutting down a bit during our first official lesson (the one a few weeks after our herding test), I made a few changes to our arrival plan:
Bring higher value training food (cheddar cheese)
Immediately go into Relaxation Protocol mode upon arrival at the farm
Break the hour-long lesson in shorter working sessions with Relaxation Protocol breaks as needed
At the same time, our herding trainer recommended that we do everything we could to get Lilly excited about the goats. This probably sounds weird, but getting the herding drive to kick ON is a bit like getting your dog hooked on the drug (Adrenalin) working stock provides. They sort of "get high" from it.
So, a couple days before our lesson, Tom and I took turns asking Lilly if she was looking forward to "herding goats" and encouraged her to be excited about it.
The morning of our lesson, we did this a lot and got her VERY jazzed to get in the car and GO-GO-GO.
Every time we stopped at a light on our drive to the farm, I turned around from the driver's seat and asked her if she was "ready to GO HAVE FUN!"
The Herding Plan in Action
So, as soon as we arrived, I repeatedly asked Lilly to sit Relaxation Protocol – style, and I gave her treat after treat after treat … until she could take them without being a shark (our way of telling how in control Lilly really is of her emotions).
Then, once she saw the goats, I quietly asked her if she was ready to work, ready to have fun, etc.
This is a photo of Lilly waiting and watching while Ben (one of our trainer's dogs) cleared the bigger working pen of sheep and left us just a few goats. This very INTENSE down is the closest we've seen to a stalking posture. She might be simply TRYING to be good even though she was SUPER excited to see the goats.
Once before we entered the pen after a break, she crouched like this just outside the gate. Cathy's assessment? "Well, that's new!"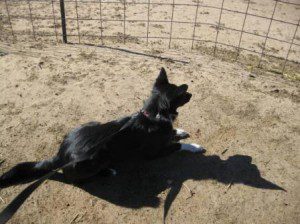 Goat Herding: What Went Well
WAIT. While I cannot yet get Lilly to do a DOWN when actually working the goats, she will wait either in a DOWN or a standing STAY/WAIT until I give her the cue (AWAY) to go fetch me those goats.
In other words, I can open the pen gate and keep her from rushing the goats before I'm ready to pay attention to everything that's going on. This might come as instinct to her, but for me … it's a boatload of things to pay attention to … especially when I'm so used to paying attention to Lilly, and Lilly alone.
STOP. We've also found a good movement + hand gesture that means "We're done." Cathy wants me first to get Lilly to STOP. Stop moving. Stop engaging the goats. THEN, I can call her off the stock and actually leave the pen. We're getting better at this.
No Mosh Pit. For both of our sakes, we used just 7 or so goats, like we did during her herding instinct test, rather than the much larger group from our first official lesson. The visual and mental acuity required to watch the entire dynamic is exhausting.
The good news is that with a smaller group of goats, I didn't get nearly as jammed up and trapped by the goats. In fact, they most often followed behind me in a straight, horizontal line with me on one side and Lilly on the other. We made a sort of division sign or percent symbol.
÷ or %
Fun. Rather than 3 working sessions and just 2 breaks in the hour-long lesson, we broke it up into 4 pretty short working sessions, with 3 breaks. Lilly hung in there for 3 of the 4 working sessions … only konking out mentally about 45 minutes into the lesson.
For those of you who know the book Control Unleashed, my strategy on Thursday was a bit like that on/off game, where you WANT the dog to ASK you to work again. It's a way of building enthusiasm.
This is Lilly refusing to look at me and ONLY staring back at the goats, hoping she'll get to work them again. She is smiling.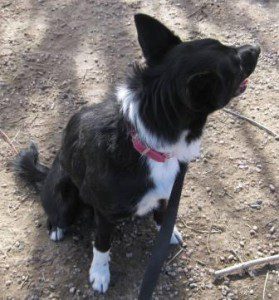 Several times, Lilly leaped at high as my head when I asked if she was ready to herd goats again, dragged me back to the training pen, and even made what we call "monkey noises," which signify how excited she is.
So, while the actual herding WORK wasn't stellar, Lilly's sense of fun was MUCH better than last time. Much better.
Correction/Pressure. I pretty much suck at correction timing after all these years ONLY focusing on the behaviors I want and can then mark/praise/click. I'm not fast enough with my voice or my body to deliver a positive-punishment/pressure correction with real precision yet.
[Translation: HEY! + Stepping into Lilly's space so that she backs off the goats enough to relieve her pressure on them. Her reward is immediate access to the goats again, when I relieve my pressure on her.]
Our trainer says it's a bit like having a split personality — you have to flash the pressure, then release it just as fast so that the dog doesn't give up.
BAM! MEAN rule-setting Mommy. BAM. Back to super-supportive Mommy.
It's hard, and in the whole lesson, I only did it well once. Cathy was nice enough to mark it for me with lots of praise (for me). Let's hope I can do it more often.
***
If you've come to our herding stories already in progress, you can catch up via these posts:
Lilly's Herding Instinct Test, Part 1
Lilly's Herding Instinct Test, Part 2
Lilly's Herding Instinct Test, Part 3
Lilly's Herding Instinct Test, Reflections
Lilly's Herding Lesson #1, Part 1
Lilly's Herding Lesson #1, Part 2
Lilly's Herding Lesson #1, Part 3
Lilly's Herding Lesson #1, Part 4
Lilly's Herding Lesson #1, Part 5
Lilly's Herding Lesson #1, Reflections