Dog Product Review: ThunderShirt, Part One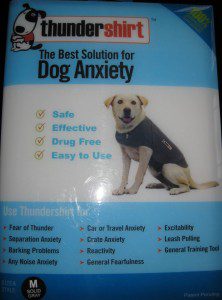 Rather than write a single comprehensive dog product review of the ThunderShirt, I'm going to write a series of reports over time so that, together, we can work through the ups and downs for our fearful canine heroine.
After last Friday's post, where I first raised the question of ThunderShirt expectations and results, a helpful discussion got underway both in the blog comments section and on our Champion of My Heart Facebook Fan Page. Huge thanks to everyone who weighed in with how the ThunderShirt did (or did not) help their dog.
I alluded to the fact that our real-world test of the ThunderShirt wasn't going as well as I had hoped. Here are some additional, early, details.
Putting on the ThunderShirt
As we learned when we tested this Canine Equipment Ultimate Trail Pack, as well as other times we tried tight t-shirts and anxiety wraps (using ace bandages), Lilly isn't keen on wearing "clothes." Since the ThunderShirt fabric is kind of snuggly, I hoped she would accept it more readily.
The best I can say is that Lilly tolerates the ThunderShirt, but only AFTER:
She runs away and worms across the ground, when I try to put on the ThunderShirt.
She lays flat on the ground for a bit in her classic refusal posture.
She shakes and shakes and shakes for about 5 minutes, like she just got out of a bath. (Sometimes, she'll continue to shake every 30-60 minutes while wearing it … even though we've tried various levels of "tightness.")
She slinks around the house for another 10 minutes with her head round and low, shoulders slumped, and tail tucked.
My best guess is that it's a combination of the velcro attachment sounds and overall squeezing of the ThunderShirt that cause her less-than-ideal reaction.
Moving Around in the ThunderShirt
The first few times Lilly wore her ThunderShirt she seemed to believe it hindered her movement. It took some convincing before she would:
Walk around
Jump up onto the couch or bed
Play
Do tricks (especially ROLLOVER)
But, over time, as Lilly wore her ThunderShirt more, she began to realize that she could do anything she wanted to do while wearing it.
Conditioning a Fearful Dog to the ThunderShirt
Because Lilly is so dramatically, clinically sensitive, I was VERY careful to setup good associations (conditioning) with the ThunderShirt:
Lilly wore it at different times a day to avoid associating it only with certain times or situations.
Lilly wore it while eating, playing, listening to her calming music, snuggling, and other happy times.
We tried not to make a big deal over putting it on or taking it off. (But, we do tell her she looks "pretty" in it.)
Often, I'd put Ginko's fleece coat (which he loves) on him first so that Lilly saw it was part of our normal routine.
ThunderShirt Results
Since Lilly is having a reaction to the ThunderShirt itself, it's REALLY hard to say if it's helping her feel calmer overall.
Sometimes she seems mostly OK wearing it.
Other times, like the other night, she ran to the basement and hid in her crate after I put the ThunderShirt on. We didn't see her again for at least an hour.
Once she stood calmly (and quietly) next to me while I played fetch inside with Ginko. Typically, she barks like a mad woman when Ginko is playing.
Later that same day, though, she barked when Tom tried to do the same thing. (I tend to associate that change more with Tom, however, because he puts up with her noisy play much more / better than I do.)
Sometimes Lilly kisses Ginko instead of growling at him. Other times, she growls.
For now, all I can say is that the only notable, confirmed TREND is that Lilly reacts to wearing her ThunderShirt … or at least to us putting it on her.
So far, Lilly has only worn her ThunderShirt at home. I've not tried taking her out in public in it. Stay tuned as we continue with our ThunderShirt experiment.
***
FTC Disclosure
I purchased Lilly's ThunderShirt with my own money at a local Petco (for about $40 retail). I was not compensated in any way by the company for this review.
***