Pinpoint Timing of Puppy Vaccinations
This is the last post in the series spawned by that canine parvovirus outbreak in Massachusetts. So far we've talked about how outbreaks happen, the window of risk for puppies, and vaccine nonresponders. Today, let's look at ways veterinary researchers and veterinarians can pinpoint when is the best time to begin vaccinating puppies. It's pretty cool stuff … though, not new. It has been around since the 1960s.
Dr. Ron Schultz at the University of Wisconsin veterinary school often speaks at events hosted by breed clubs and such. He talks to them about a test and calculation called a nomagram, which allows him to pinpoint when to begin vaccinating a specific litter of puppies from a specific Momma dog.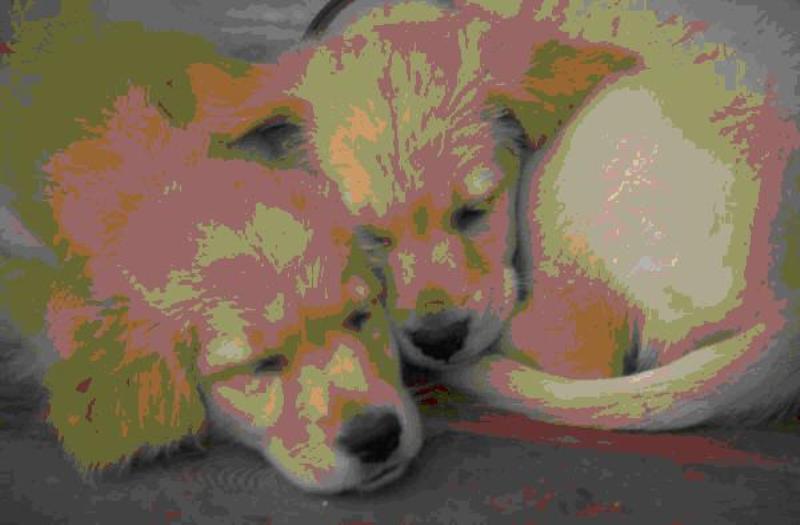 It begins with a titer test of the pregnant female dog, so that researchers know the level of maternal immunity (antibodies) she will pass on to the puppies through her milk.
Remember, these maternal antibodies can block a vaccine from working, so knowing the female dog's level of antibodies is helpful.
With just that data and the birth date of a litter, Dr. Schultz can calculate when those maternal antibodies will wane enough to allow vaccines to work.
I'm not kidding. Maternal antibodies have a predictable half-life. By tracking that half-life, he can help breeders know when to start vaccinating a litter of pups. 
Even in the most up-to-date vaccination protocols, puppies often receive 3-4 doses of the distemper / parvo / adeno combination vaccine because veterinarians are trying to cover all the bases, assuming some maternal antibody interference.
Using a nomagram calculation, Dr. Schultz and the litter's attending veterinarian can cut down to just two vaccinations with the distemper / parvo / adeno vaccine. Two (not four) sounds good to me!
"It's a graph that you draw, which is the half-life of those antibiodies, and when the antibodies fall below a certain titer, then you know that particular litter can be effectively immunized when vaccinated. It will differ from virus to virus, so the two that we test for are, of course, parvo and distemper because those two are the most important. We don't worry about adeno. That will be immunized along the way," he explains.
Unlike human infants, who receive all of their systemic protection from the blood in utero, a puppy gets less than 10% of maternal antibody protection that way. Everything else comes from the female dog's milk, during the first week after birth.
So, Dr. Schultz explains, "Usually the breeder will send me the dam's serum before she even whelps, then I can say with this particular litter you want to make sure vaccines are given on this date and this date. That's it. We use two doses, then if you want to be absolutely certain the pups have responded, then we titer the puppies four weeks after the last dose of vaccine."
Maybe this isn't news to you, but it was new to me, and I can see how it might be helpful if you want to work with a breeder about a minimal vaccination protocol or if you work in rescue that often takes in pregnant dogs.
**
P.S. I promise to tell the story of our new puppy soon. I wanted to finish this vaccine series first. Oh, and we named her Clover Lee Hawn. We still desperately miss Lilly, but having Clover around does help.