We've been busy with "hospitalized at home" protocols for Lilly since she came home Friday evening. Much to do, much to worry about, but here is a quick update from Sunday morning (1-27-13).
I've not yet had the chance to discuss these findings with our veterinary / neurology team, so I don't have clarity or context about what all this means.
The headline for Friday's primary emergency is that Lilly's bladder had NOT ruptured.
Ultrasound Results
Hyperechoic (brighter than normal) and enlarged liver
Shadowy gas in wall of urinary bladder wall (emphysematous cystitis) << serious bladder infection that's off-gassing into the bladder wall
Thin adrenal glands
Kidneys, GI, lymph nodes – NNL or WNL (Bad hand writing, hard to tell, but my medical pals say it means either Near Normal Limits or Within Normal Limits. So, good news there.)
Blood Test Results
Red cell counts and such are either normal or high.
White cell counts – some are quite high, some are quite low.
2 of 3 liver function measurements are wildly high.
Kidney function measurement is also high.
Pancreas function measurement is low.
Thyroid function numbers are also low.
Urine Tests / Cultures
Results were not back yet, but they prescribed ZENIQUIN, which is a strong antibiotic used for soft-tissue infections, especially in the bladder. They gave her injections at the hospital Friday, and we'll continue this med for 14 days … unless the culture comes back and shows another antibiotic would be more effective.
***
What Makes Me Worry
I suspect these results mean that our current treatment plan (the cytarabine injections, in particular) may be doing Lilly more harm than I realized. It's one thing to understand that we're using powerful drugs with consequences. It's another thing to see those potential consequences in real data. Yes, we're keeping Lilly's brain inflammation at bay, but at what cost to the rest of her body?
That's a question that keeps me up at night.
***
How is Lilly Doing?
Lilly is tired, but she seems otherwise OK. She is eating and drinking well. She sleeps a lot. She plays a little, if we give her a food toy. She seems bright and happy.
"Hospitalized at home" simply means that we keep a close watch on her, and we don't let her run around like a wild monkey. Saturday, for example, she slept at my side all day while I worked on knitting her new sweater.
I'm happy to tell you that Lilly's urine has gone from RED to PINK to BROWN.
Because this infection has greatly weakened her bladder wall, I am NOT expressing her at all for fear of rupturing her bladder. Normally, we cut the pads inside her diaper in 1/2, but because she continues to have super-soaker leaks, we've gone to a whole, most-absorbent pad. (Tom bought 2 big packs of the most absorbent ones he could find.)
So for now, it's status quo …
Lilly is fine, right now.
We're giving her lots of love and attention.
We're enjoying quiet, gratitude-soaked days at home.
Oh, and since Lilly neither sheds anymore nor produces new hair, her sad, little pot belly will be naked for a while.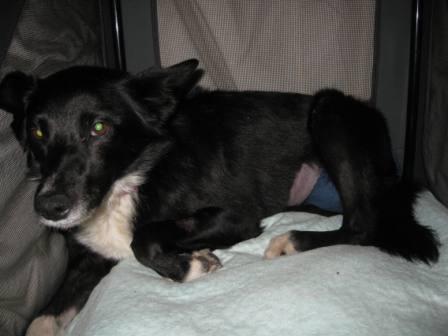 Between work demands and Lilly's caretaking needs, I may not post again until there is additional news.