Set in Baltimore, with a cast of gritty characters, Murder in the Dog Park – Bad Girl. Good Cop. Bad Dog — a novella by Jill Yesko — provides a satisfying adventure with undertones of class struggles between the Haves and the Have Nots.
Murder in the Dog Park features just enough mystery, just enough law-enforcement drama for genre lovers, and dead-on dialogue.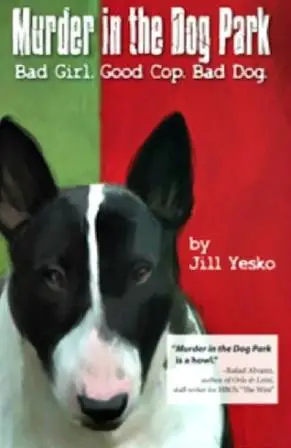 Perhaps because tough-chick heroine Jane Ronson is wrought with such raw honesty, this nice-girl reader struggled a bit with Jane's rampant anger in almost every situation.
Jane is a crabby, crabby, crabby girl. She approaches pretty much everyone and everything with a @#$@ YOU! attitude from the get-go.
However, there is a seed of something else inside Jane that we see shift as the book takes us through the what happens when Jane's cousin, a friend since childhood and only family she has, gets framed for the murder of a boy at a local dog park.
The book opens with Jane finding the victim's body at the dog park and ends when (most of) her brand of justice is done.
Typically, I am NOT a genre fiction reader. I'm more of a high-concept, 20th-century fiction girl.
That said, I enjoyed Murder in the Dog Park on many levels:
Humor
Action
Realism of character
Dogs (of course)
With all the distractions in my life, I have a hard time concentrating to read. Murder in the Dog Park grabbed and HELD my interest.
It's a quick read that's crafted well. I noticed in particular Yesko's choices of verbs and sentence structure, which give the story a certain feel and pace, when so many other books meander.
**
Murder in the Dog Park by Jill Yesko
Paperback: $12.99
At home, Yesko has a red / white basset hound named Jasper, but the book features a black / white bull terrier named Archie, so a portion of book sales will benefit a bull terrier rescue group.
**
Rather than our usual random drawing giveaway, the first person to post a comment asking for the book … gets it.
**
FTC DISCLOSURE
The author and I have a mutual friend, who introduced us. Jill Yesko sent me a free review copy of the book, but I was not paid to write this review.