Help Petfinder Adopt the Internet on March 15, 2011
In celebration of its 15th anniversary, Petfinder plans to Adopt the Internet (aka take it over) by swamping blogs, Facebook, and Twitter with adopt-a-pet enthusiasm on March 15, 2011. Want to take part? You'll find all the details on the Petfinder.com site, but here are a few ideas.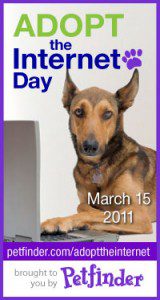 Post the Petfinder Adopt the Internet Day badge to your site to show your support. There are several options. We liked this one.
On March 15, share an adoptable Petfinder pet on Twitter with the hashtag #adopttheinternet.
Pledge to tell one person about pet adoption on March 15. Make the pledge online and enter for a chance to win one of 10 Pet Hair Eraser Vacuums from BISSELL.
Write a caption for a Petfinder adoptable-pet photo on ICanHasCheezburger! They'll post the best ones photos on March 15.
On March 15, donate your Facebook status and photo to an adoptable Petfinder pet. Simply replace your photo with one from the Adopt-the-Internet All-Stars gallery and post one of these messages:
More than 320,000 pets are waiting for homes on Petfinder.com. Help Petfinder Adopt the Internet today and find forever homes for as many as possible!
I adopted my pet from Petfinder and now I want to help get this pet adopted! If you want to help pets in need of forever homes, please repost this!
Champion of My Heart Celebrates Petfinder.Com Adopt the Internet
On March 15, we'll post something in honor of the event. We haven't decided what yet, but we'll try to come up with something good.