Off to the Food Races: More on Bloat
When we talked about bloat recently, I shared my long-standing habit of putting water on the dogs' kibble before I fed it. I didn't let it soak or anything, but I would add water and serve. And, it turns out research shows that increases a big dog's risk of bloat by 320% (when the food contains citric acid, which man dogs food do).
You can see more details on my Dog Food Dish blog:
Risk Factors and Canine Bloat
Canine Bloat: Questions Answered
Since I consider myself a pretty well-informed Dog Mom, it has really been bothering me that I thought this water thing was a GOOD idea. I'm pretty sure I didn't just make it up. I'm pretty sure someone told me to do it a long time ago, likely when I got my first dog as an adult.
I am working hard to change this ingrained habit, dating back some 20 years.
So, I'm feeling a little vindicated, after finding this statement in a scientific journal article about bloat (emphasis mine):
"In univariate analysis, many of the recommendations COMMONLY MADE to prevent GDV, such as raising the food bowl, MOISTENING DRY FOOD PRIOR TO FEEDING, and restricting water intake before and after feeding, were associated with a significantly increased risk of GDV."
Citation: Non-dietary risk factors for gastric dilatation-volvulus in large and giant breed dogs (JAVMA, Vol 217, No 10, November 15, 2000)
So, indeed, I didn't just make this up. It's been a common recommendation that research later disproved.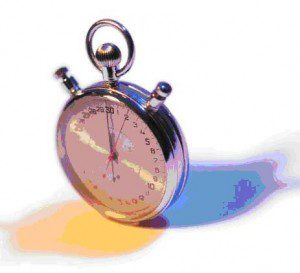 Own Study
So, one day earlier this week, I did a little experiment of my own. At breakfast, I fed Ginko a kibble meal with no added water, and I timed him. He ate about 1.5 cups of his new turkey/sweet potato kibble in right at 2 minutes.
For dinner, I added water like I've always done, and I timed him again. He ate everything in 2 minutes and 10 seconds.
That's it. 10 lousy seconds … not enough to make any difference at all really, except to increase his risk of bloat.
So, I'm feeding just kibble for now, until I can find a canned food I like to mix in with the kibble.
Either that, or I need to get him one of those dog food bowls with the bumpers that slow down the consumption rate. Do they come in stainless steel? I'm not big on plastic.
What's Too Fast?
Watching Ginko eat dry food does kind of freak me out, though. He really sucks in his sides as he is gulping down his chow.
I'm usually getting on with my day while the dogs eat, and I've never stopped to time it.
Do you think 2 minutes is WAY too fast? Can you time your dogs and report back?