File this under Entirely Off Topic, Foodie Tangent Edition. Congratulations to my friend and colleague Brette Sember on the publication of The Parchment Paper Cookbook. It features 180 fast, healthy recipes perfect for busy moms, solo or duo cooks, people with small kitchens, new cooks, or anyone who hates to do dishes — no pots or pans required. Seriously. [We have a copy to give away.]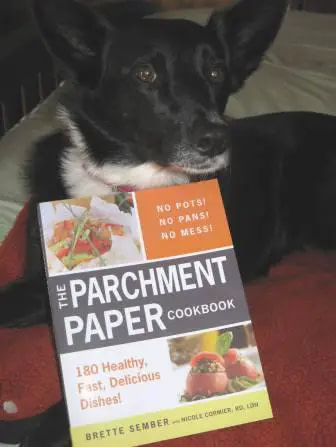 There is even a whole chapter of speedy desserts for people like me who often get a hankering on short notice for something sweet.
While it was planned and NOT a dessert emergency, last Christmas Eve 2010, I made the Baked Banana Split recipe on page 178 in The Parchment Paper Cookbook for me, Tom, and his mom.
If you like Nutella, you'll love this recipe. Promise.
In this unique cooking method, you essentially fold all the ingredients into a packet of parchment paper — one serving per packet, which is why it's so great for those of us cooking for just 1-2 people. Then, you bake the packet in the oven. You certainly can eat right out of the packet, if you like, or you can plate up your meal selection for a fancier experience.
I'm not particularly fancy myself.
The Parchment Paper Cookbook includes recipes for:
Breakfast / Brunch
Entrees divided by type of protein
Vegetable side dishes
Bread, rice, and potato dishes
Desserts
Just published in early November 2011, The Parchment Paper retails for $17.95 (U.S.).
I purchased my own copy to keep. I hope you will too. It'd make a nice holiday gift as well, if you're so inclined.
You can follow Brette online:
The Parchment Paper Cookbook Giveaway
Just in time, a FREE giveaway copy arrived in the mail from the publisher. So, we have one copy of The Parchment Paper Cookbook to give to one lucky reader / fan.
Hmmm … how about this? Post a comment and tell me your biggest / funniest / food-related disaster by midnight (mountain time) Sunday, November 13, 2011.
Tom and I will pick the one we like best. Yes, it's totally subjective, but there you go.
For example, when I was learning to make Alfredo sauce from scratch, I confused evaporated milk and sweetened condensed milk. Trust me on this … sweet + garlic + cheese is completely gross.
Top that, and you too could be the happy winner of The Parchment Paper Cookbook to keep for yourself or to give away this holiday season.
***
And, many thanks to Brette for including me in the acknowledgements. I got all misty when I read it. We do indeed have a tremendous group of writer friends. I wish YOU much success with this book and the MANY others from before and those already in the cue for 2012. You are a publishing force.