In the last 9 months or so, we've seen a couple things in Clover's body that we wanted to address right away. We're doing physical therapy or canine rehabilitation (under the direction of our rehab / chiropractic veterinarian) to build Clover's strength and flexibility to prevent injuries while she is playing agility. Check out the video of our current preventive therapy work. We're calling it "pre-habilitation."
Strength and Flexibility Therapy for an Agility Dog: Why Do It?
According to our rehab / chiropractic veterinarian, the top to injuries in agility dogs are to the:
So, in addition to Clover's specific needs, we want to build her strength and flexibility through therapy work to prevent problems. For example, we don't want her messing up her shoulders from doing weave poles (which is a weird motion for dogs). Thankfully, Clover seems to favor a 2-footed style when weaving, which is a lot less likely to cause injury than the 1-footed style (or swimmer's motion) like what Lilly used.
Strength and Flexibility Therapy for an Agility Dog: Clover's Case
Last spring, Clover seemed reluctant to jump on the couch or our bed (rocking before jumping up). That's worrisome in a dog that at the time wasn't even 2 years old. Our rehab / chiropractic veterinarian diagnosed Clover with a very mild soas strain. That's when we started doing "puppy squats" — sit to stand, first on the flat, then on a bosu.
Other than one weird crashing jump at agility class last week, we have not seen any jumping issues in Clover since we started increasing her jumping strength.
We also started teaching Clover to "sit pretty," but her core isn't quite as strong as we would like. We've added crunches … and soon we may add a wobble board.
---
TIP: Teach puppies to SIT PRETTY early to help build their core strength. Plus, it's really cute.
---
Then a couple months ago, Clover screamed while I was brushing her neck. I was sitting behind her doing her neck and back, and there were no tangles or anything, but she screamed like I've never heard her, and she whipped her head around with major whale eye. Something had definitely freaked her out.
Our vet did NOT find anything wrong with Clover's neck, but we're doing some neck movement work — just in case.
This is what our current strength and flexibility therapy plan looks like: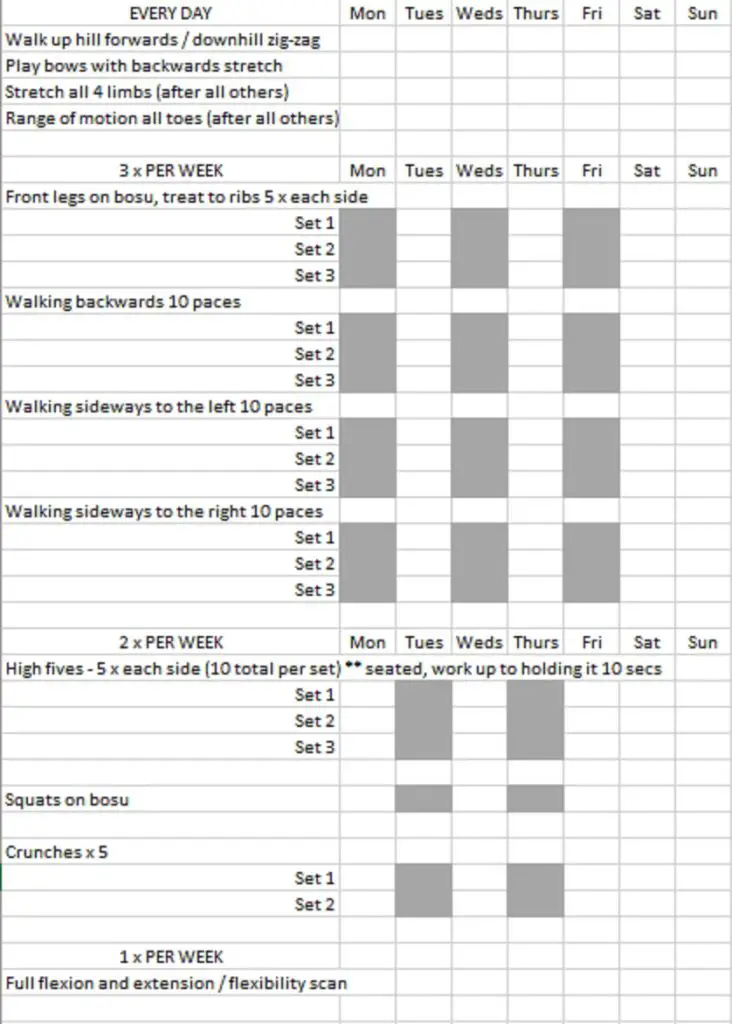 Positive Reinforcement Dog Training Makes Canine Rehabilitation Work Possible
First of all, let's take a minute to appreciate POSITIVE REINFORCEMENT DOG TRAINING (and clicker work) for making each of these weird things I'm asking Clover to do possible. Yay!
The hardest one so far is getting her to take lateral steps. I tried shaping it without much success. Basically, I waited for her to make some motion that I could reward, but that wasn't working. So, I tried stepping into her so that she would move to the side, but that made her a little nervous. Too much "pressure."
So, another agility friend recommended the spoon method (peanut butter on a spoon). You'll see in the video that I do step into her, but she is fine since she gets to eat peanut butter the whole way up and down the hall.
We also don't quite yet have the shoulder stretch quite right. Clover learned very young to do a play bow (what we call CURTSY), so it's hard to get her to stretch like that without putting her elbows down. We want more of a downward dog yoga type stretch, but right now, we're still mostly getting a play bow.
---
Help? I'm happy to hear any ideas for helping Clover understand that movement distinction through clicker / shaping work.
---
Strength and Flexibility Therapy for an Agility Dog: Video
Below is a 5-minute video showing the work described in the spreadsheet. Link to the video on YouTube, if you need it:

If you want to see just how elaborate canine rehabilitation can get, especially for dogs recovering from surgery, check out our friends at Romping and Rolling in the Rockies. They make what we're doing look like puppy play.
Strength and Flexibility Therapy for an Agility Dog: Flexibility Scan
I'll have to do another post later (and maybe video) about the flexibility scan that our rehab / chiropractic veterinarian taught me to do. She may do videos of her own and maybe even a book at some point. And, I'm hoping for a local workshop as well so that my pals can learn do do this too.
Basically, though, the flexibility scan is a way to check your agility dog each week (or before a trial) for any hints of trouble … long before any lameness shows up.
---
For the first time in a VERY LONG time, I'm taking part in a blog hop, where a bunch of us write about positive reinforcement dog training. This month's THEME is about how modern dog training is a GIFT.
In our example, it's a GIFT of good physical health … as well as being kind of fun and a major bonding experience to do this canine rehabilitation work if not every day, then most days.
If you decide to visit the others, tell them Champion of My Heart sent you.
Thanks!