Snakebite Watch 2010
Here, at last, the story of Lilly's recent snakebite. While unraveling what must have transpired before that Thursday morning when Lilly woke up with a swollen cheek, our best guess is that a snake got her sometime Tuesday or Wednesday of that week. The fact that she suffered a bite a couple years ago may explain the delayed, less-severe response this time — almost like the first bite "vaccinated" her to the venom (at least a little).
Click through here, if you want insights into our reasons for NOT giving Lilly the actual rattlesnake vaccine.
My drama-soaked brain cannot recall if Lilly began indicating pain early on Wednesday or not. If so, then the bite happened sometime Tuesday when she was loose on the property. If not, then it probably happened when I sat outside to work on Wednesday and let both dogs poke around.
Just like Lilly's first snakebite in August 2008, I didn't hear her cry. She didn't suddenly seem to need any comfort, so I have no idea when or where it happened.
(Courtesy Alert for Cathy Lester … there is a snake photo below. Delete and/or stop reading now.)
First Indication
Our first indication came when I grabbed both sides of her face to get a good smooch on, and she cried out in pain. Based on hand placement, I assumed the source lived somewhere around her ears.
So, we got out the flashlight and had a look. Considering her pointy-pointy ears serve as collection dishes for everything that blows hither and yon, I saw that a good cleaning was needed, but nothing else.
I also checked her teeth, fearing that the one broken tooth may not be alone, but again, I saw nothing … no swelling, no clear evidence of injury.
Puffy Cheeks
Thursday morning, I got the pups up as usually. Everyone pottied. Everyone ate, and it wasn't until Lilly jumped on the couch to kiss Tom that she once again screamed in pain.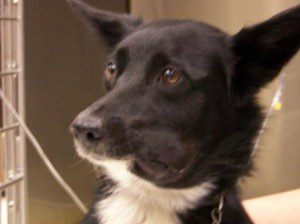 And, there it was. A big, puffy cheek on the right side. Last time, she suffered an injury to the left side. While I did not take pictures before flying down the mountain to the vet, it looked very much like this.
Our dear sweet heroine indeed turned the other cheek, and the snake took a bite.
Longtime readers might recall that I assumed the first snakebite was instead a bee sting. This round, I thought for sure she had some kind of dental abscess.
You could call it wishful thinking, but honestly … because the swelling didn't happen in the first hour, like it did with the first bite, I just could NOT fathom it being another snakebite.
On Further Examination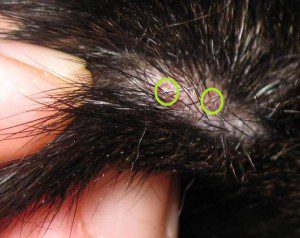 So, after one of the vets at our regular veterinary hospital checked Lilly's teeth and could clearly isolate the swelling separate from the gums and ONLY in the cheek and lip area, we went looking for injury.
And we found it.
Bruising, about the size of a nickel
Two distinct fang holes, which solves the mystery of bull snake versus rattlesnake
This is a rattlesnake bite, pure and simple.
(For the record, he said that tooth-related swelling would appear more on the upper cheek, right below the eye. So, my physiology was WAY off.)
I enlarged the area of the photo and highlighted the bite marks, which are now raised, like an inserted barb pulled the skin up and sort of inside-out … leaving a bump.
Even nearly two weeks later, the punctures remain raised and visible. They do not, however, seem to be painful … after lots of antibiotics and steroids.
Size of Snake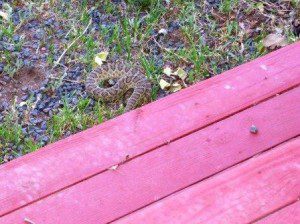 The holes in real space look just 1/4 inch apart, which tells me we're probably talking about a smaller, younger snake … and not like this big one we found out back in summer 2007.
And, if we're right, then this little guy may have siblings somewhere on our land. I certainly hope not, but that's our fear. That we have a snake den around the house. Until Tom feels better, we're in no position to go on a hard-target search for the possible den.
BUT, I dug around and found a few rattlesnake factoids:
Momma snake only cares for the babies for about 7-10 days.
Younger snakes have less venom control than older ones.
So, I guess we're lucky that Lilly either has some immunity to the venom now, after two bites, or perhaps this one did have some control over venom delivery.
Snake Aversion Training
I'll call upon your vast resources. Have you ever heard of snake aversion training that doesn't include … well, aversions?
I just cannot imagine Lilly doing well with punishment in the name of teaching her a healthy fear of snakes. She has so much unhealthy fear as it is. I cannot bring myself to add to them.
And, yet, I certainly don't want this to become a regular feature in our life, and I cannot keep Lilly imprisoned inside all summer.