"You're her woobie"
Lilly and I sat side-by-side on the new bench. The veterinary hospital just underwent a major facelift, and the new built-in benches are bigger and nicer than the old ones. I kept her to my left to protect her swollen right cheek from this most recent rattlesnake bite. While we chatted with the veterinarian who was kind enough to squeeze us in first thing (and allowed us to avoid a MUCH more expensive trip to the doggie ER), Lilly leaned over and did that thing she does when she is either really happy or really nervous. She nibbled on my head.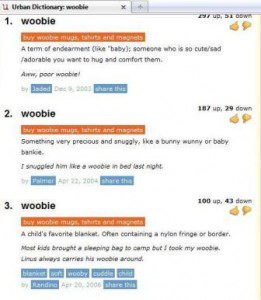 I kept talking. The doctor seemed surprised, so I added nonchalantly, "She nibbles on me when she gets upset."
He laughed, shook his head, and said, "I've never seen anything like that. You're her woobie."
Well … yes. Yes I am.
Defining Woobie
I'm pretty sure I first heard the word in the movie Mr. Mom (from 1983). One of the sons, as I recall, dragged around a filthy blanket — a la Linus van Pelt's security blanket.
Even modern online dictionaries, like the Urban Dictionary, pretty much agree that "woobie" essentially means a person or item used to derive comfort.
Being a fan of both unusual words and, you know, being of some service to Lilly in her fear-soaked existence … I'll take the complement.
Woobie, am I.