Product Review: Volume 3, Music to Calm Your Canine Companion
We're what you'd call "early adopters" of the Music to Calm Your Canine Companion from Through A Dog's Ear. I first wrote about it in fall 2008 for a boarding kennel trade magazine. So, we're so pleased to let you know that Volume 3 is now available. That means we can have 3+ hours of uninterrupted relaxation music in the house.
(My CD player only holds 3 CDs at a time.)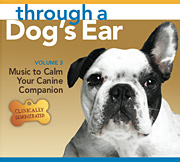 Truth? I use the music as much for my stress as I do for the dogs'. Not kidding. Especially on days when I'm uptight (hmmm …. always?) or on deadline, I'll pop the CD's on and set the player to repeat all.
The lower, slower, simpler music arrangements spoil me. These days I find other music somewhat overwhelming, but that could just be my own stress train speeding across the plains of my existence.
As a thank you for being longtime supporters, pianist Lisa Spector sent us volume 3 for free. (Lilly sends her thanks back.)
And, we love it. Our favorite arrangements from this Volume 3 CD include:
Gertrude's Dream Waltz (Beethoven)
Andante (Gluck)
Gymnopedie No. 1 & No. 3 (Satie)
Sonata Op 27 No 2 "Moonlight" Adagio sostenuto (Beethoven)
I'm not sure why, exactly, but the "Moonlight sonata" always makes me a little misty … but in a good way.
Earlier Posts About Music to Calm Your Canine Companion
Need to catchup on past posts about canine sound sensitivity and calming music?