Product Review: Petco Claw Scooper
I've always made-do with a shovel + bag or bucket for routine poople scoopling around the property. Then, I saw this claw scooper at Petco and thought, "Why not?"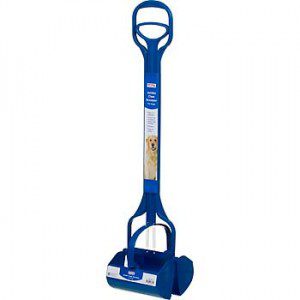 I'm happy to report it works really well:
It's light enough to use with one hand (just squeeze the handles together and the claw opens).
It opens wide enough to grab a full load, if you get my drift.
It dumps out easily, keeping the yuck factor at a minimum.
And, while we don't have any around here, I suspect the toy-truck-like element of it's scooping action might just entice kids to get the job done … pretty darn fast.
Rather than allow free-range pooping, we've been encouraging the dogs ONLY to go in the dog pen as much as possible, which is much easier to keep track and scoop as needed … versus … walking 3 entire acres looking for deposits (which is a big, fat, hot, stinking drag).
So, do tell, pals … how to you handle the dirty deed at your house? Any tricks you'd like to share?
***
FTC Disclosure
I bought this dog product with my very own dollars. I'm writing about it simply because it's a handy little tool to have around, if you have dogs who poop … which I'm assuming is all of you.