Pillars of Strength for Our Real-Life Friend K
Lilly and I could NOT be more pleased to take part in Pillars of Strength – A Special Day for K on this of all days. You see, K (who is both a real-life dog training and local dog blogging friend) is the QUEEN of all Heart Dogs. So, a tribute to her on Valentine's Day seems fitting.
All the love in the world to you, beautiful K (and your family). May all the strength and blessings in the universe rain down upon you as you fight back against the darn cancer veterinarians found in your bones.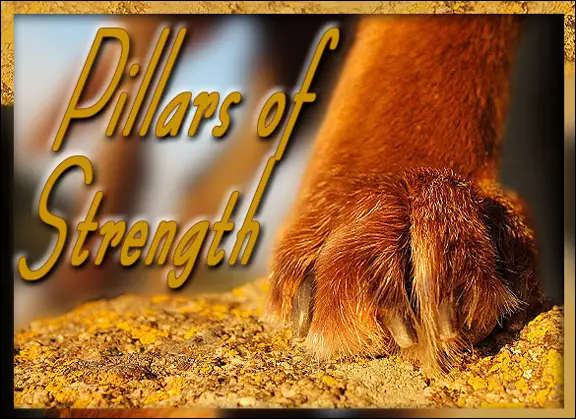 You can follow the daily hiking, mountain biking, and (now) medical adventures of K, her human companion KB and The Runner, and her canine brother R — as well as some of the best nature and wildlife photography and videos on the web — at Romping and Rolling in the Rockies.
Below via the embedded Blog Hop, you can see just how many blogs from around the WORLD are taking part in this special Valentine's Day Tribute to K.
All of us strive to be true Pillars of Strength to K today (and all days).
I'm lucky enough to know K in real life. She and Lilly are about the same age and trained together for several years. I love having the chance for Lilly to train around dogs we know and trust. It helps her feel more comfortable in potentially scary situations.
I cannot tell you how many times I made sure K (or other classmates we trust) stood between Lilly and any approaching "strange" dogs. Lilly and I knew that K would be able to intercept any interlopers before they had a chance to freak out Lilly.
We will ALWAYS be grateful for that help.
As both Lilly and K face perhaps biggest the medical challenges of their lives (and trust me … BOTH of them have had some big medical emergencies), it's the perfect time to reflect on how amazing our dog friends are every day … especially when the work and wildness of puppyhood is gone and the routine days of canine adulthood meander past us.
I hope you'll take a minute to let K and KB know that the entire WORLD of dog lovers will be Pillars of Strength for them.
We had grand plans to take photos of Lilly's strong feet and legs atop boulders as our tribute, but our sweet canine heroine isn't so steady on her feet these days, so these Puppy Toes of Strength will have to do.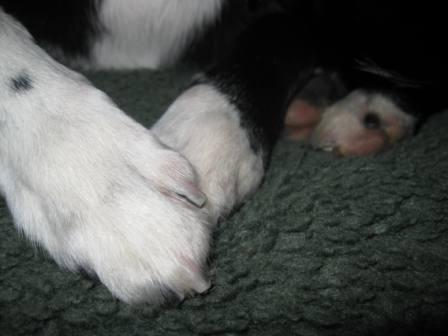 Ginko wanted to get in on the act as well. He says this:
Dear Miss K: Anytime your legs feel not-so-strong, you can borrow some of my ooph. Did you know I have bionic knees? It's true! Plus, my tail makes an excellent rudder, if you ever feel tippy.