Panning for Golden: Our Guest Post @ GoPetFriendly.com
Last week, I mentioned a Be the Change petition effort by GoPetFriendly.com to get hotels to ditch their weight-limits on dogs. Today, you can read my guest post on the Go Pet Friendly blog about the many dog-friendly spots in our "hometown" of Golden, Colorado: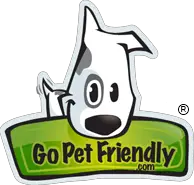 * Read all about our fav spots
* See the views from the Clear Creek Trail
* Find out what does and doesn't work, when it comes to taking a fearful dog into even a "small" town like Golden
Seriously, hop on over and read my local travel post. Rod & Amy from Go Pet Friendly would love to meet you.
And, stay tuned … Rod will be doing a guest post for us next Tuesday on what it's like to travel full time with TWO fearful dogs.