Meet Cody: A Retrospective
Since I spent most of this week overcoming a late summer / early fall cold, I have no training news to report. So, I dug out and scanned some photos of Cody, who was my second dog as an adult. He was probably a yellow lab mix of some sort. Here is his story.
We had had Penelope Grace (my dalmatian) for about a year as an only dog, when Tom decided we needed another one. Honestly, I was nervous about the idea since she was such a handful as a youngster and because I worried having another dog would mean she didn't need me as much.
BUT, off we went to the Denver Dumb Friends League. There we found sweet, shy Cody — sitting in the corner, looking very upset. Tom (Cody was technically "his" pick, his dog) fell in love.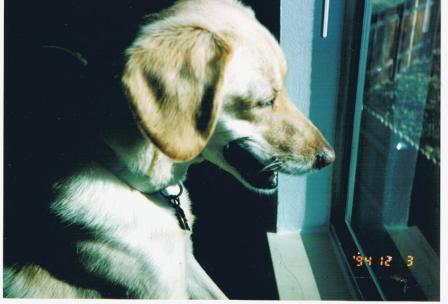 It turned out he had been dropped off because he jumped fences. He had been adopted out TWICE and returned because of the fence-jumping issue.
Penelope, who wasn't afraid of anything and was perfectly fine around other dogs, gave her approval, so after a very long, drawn out adoption process — with lots of waiting in long lines — we got the OK to adopt him. It was so grueling that I cried all the way home from sheer exhaustion.
The shelter guessed that he was a lab mix of some sort, and they suspected he was about 2 years old (in 1991).
EARLY TROUBLES
We too had trouble with him jumping our six-foot privacy fence. He never really went anywhere. We'd often find him sitting on the front porch, but we could NOT having him getting out all the time back when we were both working more traditional jobs, so we installed an electric system on the top of the fence. It used two wires, and you had to be touching both at the same time to receive a shock.
Since Cody wasn't much bigger than Lilly is, he could NOT clear the tall fence with a simple jump. Instead, he would jump up, hook his elbows over the fence, and swing his behind up and over.
It took just one zap, straight to the armpits, and Cody never jumped another fence.
Now, regular readers know that I am NO FAN of punishment training. And, let's be clear this was many, many years ago before I knew even a fraction as much as I know now about training. But, it did work. We turned off the system, and he never went wandering again.
We also worried that because Penelope was such a strong personality that she would overwhelm sweet Cody, but what we had not realized is that Penelope had ZERO dog-dog wrestling skills — having been taken from her litter early for birth-defect surgery and having lived with us alone for her first year. So, in the early days, Cody knocked the holy crap out of her.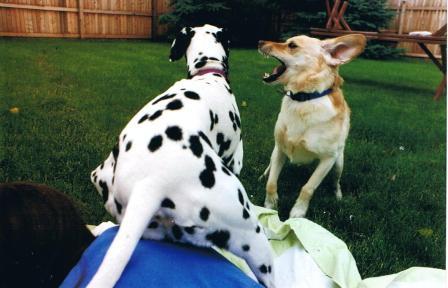 It was rough going for a about a week, but she learned to play-fight back, and they became lifelong friends.
Our first house in the suburbs had a greenbelt park that wrapped around our neighborhood. They loved looking at the window at the people, kids, dogs, bikes, and whatever else happened to be going by. There wasn't as much barking as you would think. They just liked looking.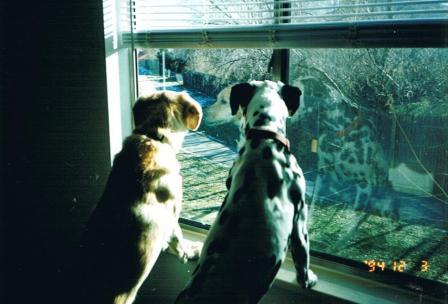 GREAT DOG, NO TRAINING
I never really did any training with Cody because he was just a really good boy. He was good on leash and good around the house. I remember him purposefully getting sick on the kitchen tile, rather than the carpeted dining room. He was so thoughtful (or he had good aim). He also made a great mountain biking buddy for Tom — back in the day when trails were never crowded.
I can remember taking a tumble on the trail, with Tom and friends out ahead. And, Cody (without any prompting) circled back and found me. He sat with me until I'd regained my moxie, despite being scraped up. Then, he stayed with me as I rode until we caught up with the group.
Once, however, Cody got in trouble in a ride. Tom suspects that Cody was dehydrated or something because he seemed really confused after a long climb. Rather than risk anything worse happening, Tom scooped Cody up and zipped him into his coat, then he rode back to the car, with Cody safely tucked inside. Cody recovered, and it never happened again, but it sure scared Tom.
Around the house, he was easy to live with. I have this photo on the dog memorial shelf in my office. It shows him laying with me in the grass while I read.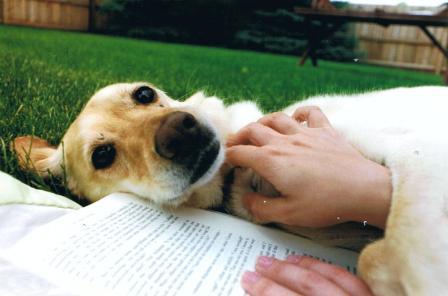 WHAT I KNOW NOW
Looking back, I see that Cody was very Lilly-like. I realize now that he showed some fears (big and small), but I still think I did a pretty good job with him, even though I had not a single clue. Today, I see his worry in these photos. (P.S. Tom showed this photo to Ginko and said, "Look how young mommy looks." *sigh* Yes, that's me 10 years ago.)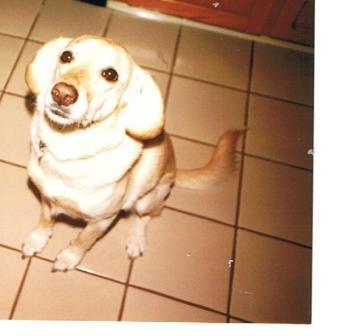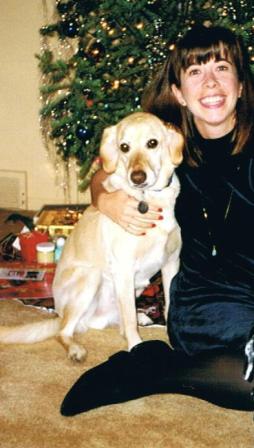 GONE TOO SOON
It's a shame Cody did not live to see our current house. He would have LOVED it here.
Sadly, we lost Cody in 1999 (around age 9), not long after the xmas photo above was taken. From the time he was diagnosed with Hemangiosarcoma until euthanasia was about 10 days. I'm forever grateful for that time to say our goodbyes, but it is never easy. By then I was working at home several days a week, and it was rough watching him soldier on even though his organs were riddled with cancer.
When Cody was sick, a local radio station played Van Morrison's song "Precious Time" a lot. It came to be my anthem for him. It's kind of sad, if you really listen to the lyrics, but considering what's what in my life right now, it's an important reminder to treasure the time we have with our loved ones — canine and human alike.
Play Song
***
So, now you've met our whole lineage of pets (as adults):
"Tom's Dogs"

"Roxanne's Dogs"

Penelope Grace (a dalmatian). Here is a tribute I wrote about her and gave as a speech before she died.

And, of course, Lilly — our regular heroine
And, our ONE exotic pet

Xena, an African, albino, pygmy hedgehog