Dog Product Review: Dog Grooming Wipes
The girls at La Fresh Group sent me a HUGE box of Wag Wash & Go / Divas & Studs dog grooming wipes. We tried some and are giving the rest away and prizes.
When I agreed to review these paraben-free dog grooming wipes, I expected a little tub or a travel pack to arrive. Instead, they sent me a tremendous stockpile. Holy cow! So, I gave a few of the products a try.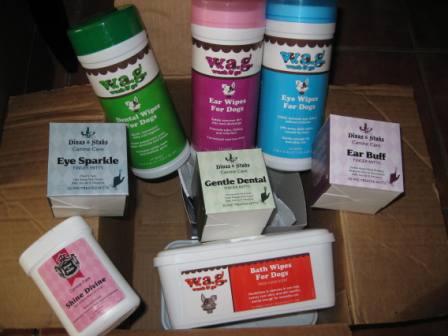 Dog Product Review: Wag Wash & Go Bath Wipes for Dogs – Dog Grooming Wipes
I tried these disposable wash cloths / wipes in two ways:
As an overall clean-up, freshening swipe at the end of a normal dog day
As an attempt to mitigate a muddy swamp beast before letting her inside
While the wipes weren't nearly as damp as I would expect, they worked well in both uses. I needed 5-6 of them to wipe down all of Ginko's large surface area, and he did indeed seem much fresher smelling, and his coat seemed much less grungy. (He hasn't had a real bath in ages.) I only needed 2 wipes to give Lilly the once-over at the end of a normal day.
BUT, when she needed more than simple freshening, after swamping around in the pond, it took quite a few more to clean her up.
The wipes did the job, but I didn't much like how my hands felt after using them. My skin felt tight and dry … and kind of oddly shiny. The dogs' coats felt OK, but not that fluffy, fresh they get after a real bath.
Dog Product Review: Divas & Studs Ear Buff Finger Mitts
Typically, I squirt a little ear cleaner in, then gently / carefully wipe out the gunk with cotton swabs. So, I gave the little finger mitts a try. Again, they came out of the container almost imperceptibly damp, but I got a good amount of dirt out of both Lilly's and Ginko's ears.
Ginko hated it and got very grumpy about me poking around in his ears … until I found the itchy spot … then he made happier grumbling noises.
Lilly took to the mitts fine, but after I cleaned her ears, she would NOT stop shaking her head. So, cleaned them again the "normal" way, and she stopped fussing.
Dental and Eye Wipes
Since I brush Lilly's teeth and Ginko merely clamps down his lips at any attempt with any tool, I did NOT try the dental wipes.
And, since both dogs are black, we don't have the eye staining issue that folks with white dogs face, so I also did NOT try the eye wipes.
Dog Product Review: Dog Grooming Product Ingredients
Lately, I'm much more cautious about what products I put on and in the dogs. So, I asked Alexandra Grabbe, a friend who runs a green B&B called Chez Sven in Wellfleet, Masachusetts, for advice on how to research ingredients. She is my go-to source for info on the onslaught of chemicals in our lives.  Thanks to her tips, I can share the following details about the ingredients used in these dog grooming wipes.
If you ever want to do this kind of research yourself, check out this "Skin Deep" database from the Environmental Working Group … to find out what things are, why they are used, and any known health risks.
Here is a chart showing what's in each of these products: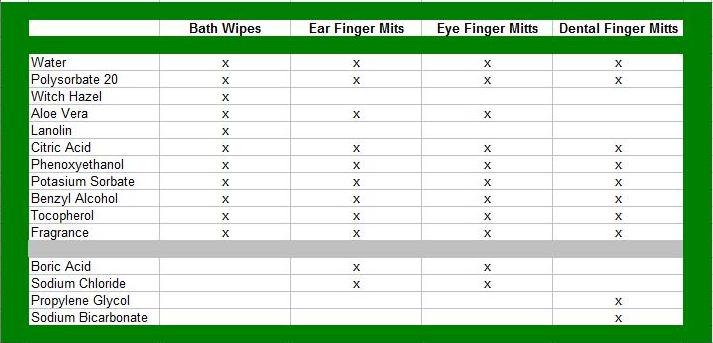 First, let's talk about parabens since these products are paraben-free. Parabens are typically used as preservatives in cosmetic products. They can mimic estrogen and cause what's known as endocrin system disruption. So, three cheers for none of that.
Here are details on the various ingredients used. You can click through to read details from the Skin Deep database:
Polysorbate 20: fragrance ingredient; emulsifying agent; solubilizing agent
Witch Hazel: astringent agent
Aloe Vera: fragrance ingredient; skin conditioning
Lanolin: emulsion stabilizer; hair conditioning agent; skin-conditioning agent; skin protectant; emulsifying agent; antistatic agent
Citric Acid: chelating agent; fragrance ingredient; pH adjuster
Phenoxyethanol: fragrance ingredient; preservative … some research shows a non-reproductive organ system toxicity and some eye / skin irritation
Potassium Sorbate: fragrance ingredient; preservative … some research shows a non-reproductive organ system toxicity
Benzyl Alcohol: external analgesic; fragrance ingredient; oral health care drug; preservative; solvent; viscosity decreasing agent … some research shows neural and organ system toxicities
Tocopherol: antioxidant; fragrance ingredient; skin-conditioning agent … One or more animal studies show tumor formation at high doses.
Fragrance: scent
Boric Acid: buffering agent; cosmetic biocide; denaturant; antimicrobial … some research shows endocrine disruption and organ system toxicity
Sodium Chloride: flavoring agent; oral care agent; viscosity increasing agent
Propylene Glycol: fragrance ingredient; humectant; skin-conditioning agent; solvent; viscosity decreasing agent … also used in "non-toxic" antifreeze
Sodium bicarbonate (baking soda): abrasive; buffering agent; deodorant agent; oral care agent
Final Word: Dog Grooming Wipes
These products absolutely perform as expected. They work. The dogs smell nice, seem clean, etc. I would probably use them on a limited basis.
My two concerns are simply these:
It seems wasteful to use disposable wipes regularly. In most instances at home, I'd rather get a towel or microfiber cloth a little damp and soapy to clean up the dogs. But, if you're running around and on the go, I can see how having a pack of these in the car or your hiking backpack can be a good idea.
A couple of these ingredients give me pause, after digging into the database. I'm sure each of them in tiny doses are probably OK, but I do worry about all the tiny exposures we have in life adding up to something big.
What do you think? Do you use grooming wipes? If so, when? Which ones?
Dog Grooming Wipes Giveaway!
I'm going to keep the bath wipes I opened and some kitty ones for Tom's mom's cat. BUT, I have a boatload of these Wag Wash & Go and Divas & Studs wipes / mitts left over, and I'm happy to share.
I've divided them into three prize packages:
The White Dog Special
(So if you have a white dog, please say so in your comment.)
Small jar of eye finger mitts
Big tub of eye wipes
Small tub of bath wipes
The Puppy Special
Small jar dental finger mitts
Small jar ear finger mitts
Travel pack of puppy bath wipes
The Big Special
Big tub of puppy bath wipes
Big jar of ear wipes
Big jar of dental wipes
Let's just do our usual thing. To enter the prize giveaway, simply comment to this blog post before midnight (Mtn Time) Sunday, August 14, 2011. I'll number up all the comments and use Random.org to chose 3 winners. Thanks!
***
FTC Disclosure
Susan Jack, La Fresh Group national sales manager, sent me all these products for free … to try and give away. Otherwise, I was not compensated in any way for this review.