Clover's Story – Puppy Adoption Across 1,600 Miles
This is the second of 5 posts, telling the adoption story of border collie puppy, Clover. In this installment, FATE intervenes. As I noted briefly in the announcement of her arrival, The Story of Clover begins with me seeing her photo in my Facebook feed. I read her adoption profile (where they called her Little Meg), and some way, some how, I knew in my heart she was born to be ours.
That was on a Wednesday (September 3). I showed her photo to Tom and asked if I could email the rescue group, which is located some 1,600 miles away in Virginia, to ask if they would even consider a long-distance adoption.
We slept on the idea, and the next morning, Tom gave me the OK, and I sent the email that started everything.
I received a quick reply from Beth, the puppy's foster mom, who owns / runs a dairy farm in the hills of Virginia. Her note said she was open to the idea, but she wanted to know more about us and our home.
I sent back probably one of the longest emails in the history of dog adoption:
Details about our home and where we live, including links to maps and overhead photos of our valley
Background on our elderly boy Ginko
Specifics about myself and Tom, including how long we've been together / married, etc.
An overview of our combined experience living with border collies
A recap of our life with and loss of Lilly, with links to her obituary and tribute video
I even admitted the following to Beth:
"Honestly, we were NOT planning to start looking
for a puppy / dog to adopt until early 2015,
but I am drawn to Meg's photo and the description of her temperament.
I very much like a smart / sensitive dog with just enough
ornery to keep things interesting."
Later that same day, Thursday, September 4, I went ahead and completed the rescue group's online application. All told, I bet I spent 9-10 hours that day on possible adoption related stuff. My whole body vibrated. I didn't sleep much.
I wanted to be sure I didn't get declined for not following the rules, so I hit send on the adoption application and hoped for the best.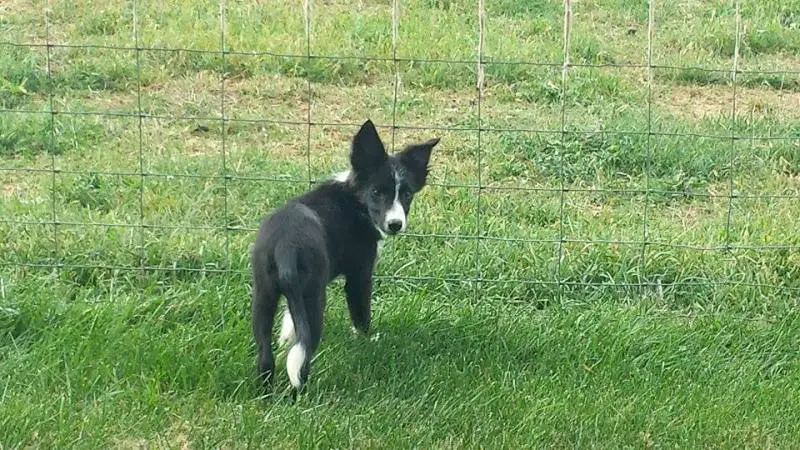 Each step in the process, I kept telling myself, "It'll work out, if it's meant to be." If not, I knew I'd be disappointed, but I hoped I would be OK. I even told them, "I know this is complicated, so if it's too complicated, just say so."
Doing that application Thursday evening, it turns out, was the best decision I've made in a long time …
If you missed the earlier part of the story, here is a link:
Clover's Story – Told in 5 Parts