Jana Rade is a dog blogger and moderator of a Dog Health Issues Group on Facebook with more than 10,000 members. She has written quick-reference guide that I highly recommend. Here is my book review Symptoms to Watch for in Your Dog: How to Tell if Your Dog Is Sick and What to Do Next .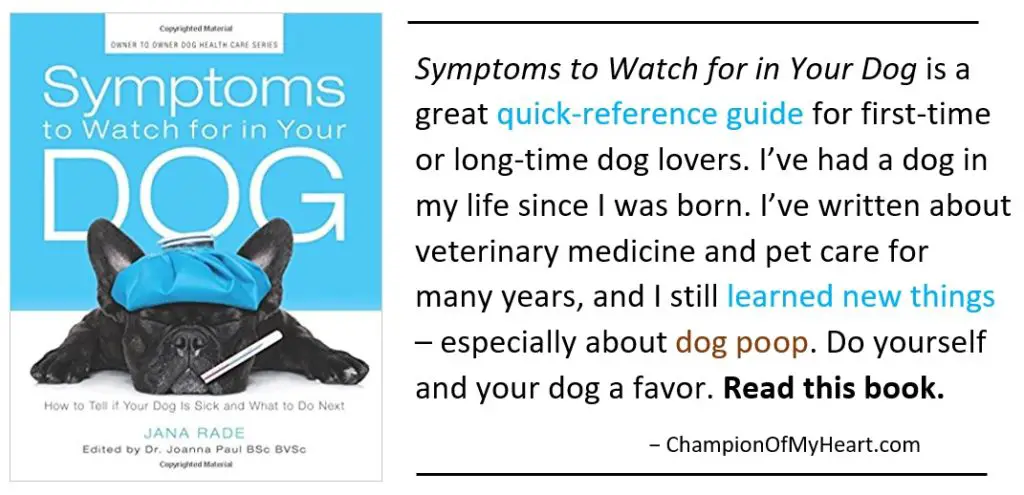 Symptoms to Watch for in Your Dog (paperback version)
Symptoms to Watch for in Your Dog (kindle version)
Book Review Symptoms to Watch for in Your Dog
I know that veterinarians get frustrated when clients go online for help. The derisive term "Dr. Google" comes to mind. There's even a song about it. Have you seen this?
There's no doubt that you can find some CRAZY pet advice online, but many of us — Rade included — work VERY hard to provide accurate information through our blogs and other contacts with pet folks online.
I can absolutely vouch for the fact that Rade is forever telling people who ask questions in her large Facebook group to TAKE THE DOG TO THE VET PRONTO.
Like me, Rade has been through a LOT with her dogs over the years. Experience is a great teacher. Good research helps too.
Not everyone has the time and ability to really dig online, so Rade's book provides solid information and advice about what to do and when a trip to your veterinarian is a must.
Inside Symptoms to Watch for in Your Dog, you'll find critical insights into these topics and more:
Drooling
Vomiting
Diarrhea
Panting
Drinking
Appetite
Licking
Symptoms to Watch for in Your Dog is a great quick-reference guide for first-time or long-time dog lovers. I've had a dog in my life since I was born. I've written about veterinary medicine and pet care for many years, and I still learned new things – especially about dog poop. < No joke!
Do yourself and your dog a favor. Read this book.
Here's a link to Rade's blog as well, if you'd like to follow her there:
Dawg Business