Purina Pro Plan and Dognition Giveaway #PurinaPartner
As part of being a #PurinaPartner, Champion of My Heart is thrilled to share the news about a partnership between Purina Pro Plan and Dognition. Plus, we have the chance to do 5 giveaways so that some of you can try out a Dognition Assessment with your dog. These science-based games reveal the unique way each dog sees the world, and if you win (or buy a special bag of Pro Plan BRIGHT MIND), you can try the games for FREE. Details just ahead.
Those of us on the VERY high end of the dog family spectrum spend a lot of time, money, and energy on keeping our dogs healthy — both physically and emotionally. I know more and more people whose dogs live well into their teens.
With that amazing achievement of AGING in so many dogs, we also need to pay attention to the changes in our older dogs that affect their COGNITION.
Many of us are just now tuning into this aspect of canine health.
Check out these stats from a recent Purina Pro Plan BRIGHT MIND and Dognition survey: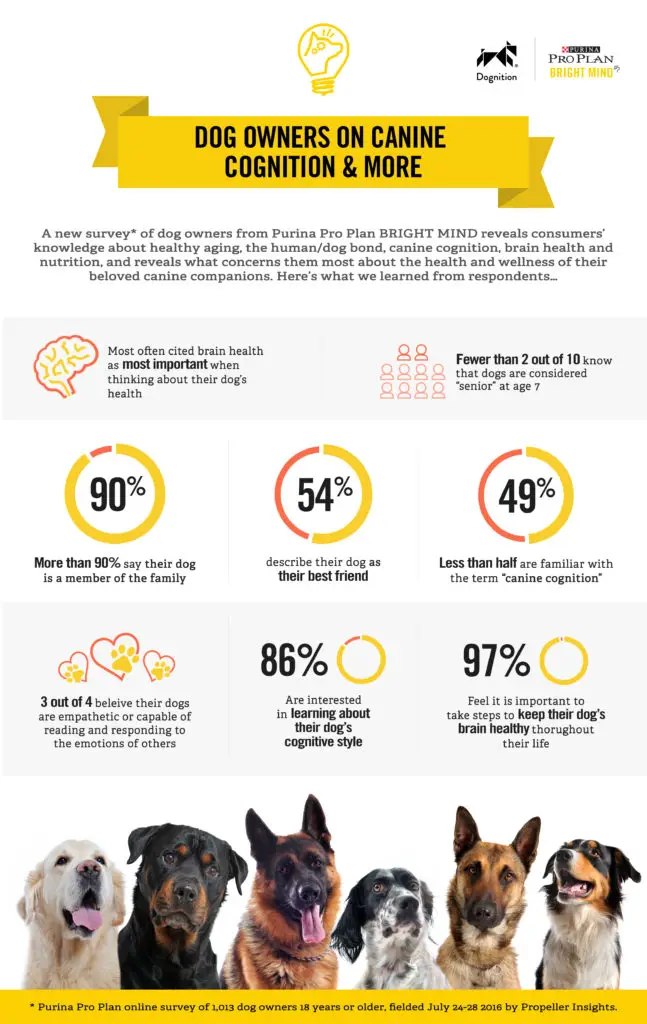 The good news is that we're learning more all the time about the science behind these cognitive changes. For example, dogs' aging brains don't metabolize glucose as well as they once did. This leads to changes in behavior, including lowered cognitive functions such as memory, learning, awareness, and decision making, and I'm sorry to say that it starts earlier than you might think.
The survey found that more than 40% of dog owners surveyed mistakenly believe that the label "senior" applies to dogs over 10 years old … when it actually applies to any dog over age 7.
Seriously.
I know that I also tend NOT to think of 7-year-old dogs as OLD at all, but that's how early the changes in brain metabolism of glucose can start.
That's where Purina Pro Plan BRIGHT MIND comes into play.
Through nutritional means, this special food provides enhanced botanical oils (among other things) shown to promote alertness and mental sharpness in dogs 7 and older. 
Learn more about the importance of medium-chain triglycerides (MCTs), which are an effective energy source for the brain.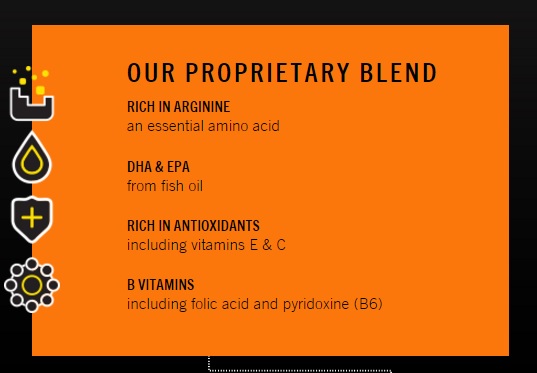 In Ginko's final months, we switched him to Purina Pro Plan BRIGHT MIND, and even at nearly 16 years old, we saw a difference in his mental "brightness."
Once when I was buying BRIGHT MIND at a local pet superstore, the woman at the checkout said that customers RAVED about this new food and its effects on older dogs. No joke.
I do wonder how Ginko's elder years may have been different if this food had been around when he turned 7 back in 2007 … rather than a last ditch effort as he approached his 16th birthday.
While supplies last, purchase any specially-marked bag of Purina Pro Plan BRIGHT MIND dry dog food, and you'll also receive an exclusive access code inside the bag that you can use to do a FREE Dognition Assessment with your dog (a $19 value). Learn more now!

Dognition Giveaway
So, it's very neat that Purina Pro Plan BRIGHT MIND and the canine cognition experts at Dognition are teaming up to educate people about how dogs' minds work — how they learn, how they engage, how they show their unique brilliance.
As a #PurinaPartner, I got the chance to test out the same online Dognition assessments that are available to people who buy the specially-marked bags of Purina Pro Plan BRIGHT MIND.
I have 5 more access codes to GIVE AWAY. Here's the 2-step way you can enter for your chance to win one:
Subscribe to the blog to receive email updates when new blog posts go live (if you haven't already). 
[I get alerts about each new subscriber, so I'll be able to match your subscription to your comment.]
Post a comment on this giveaway blog post before midnight (Mountain Daylight Time) Monday, September 5, 2016.


[If you are already a blog subscriber, please say so in your comment, and I can double check in the database.]
After the giveaway entry deadline, I'll simply assign a number to each blog post comment, and use a random number generator to choose the winners.
I will use the email you include in the comment form (only shows to me, not to anyone else) to let you know if you win and to provide the access code you can redeem on the Dognition site. Each code only works once, so they can't be shared.
One entry per person, please.

Clover's Dognition Results #MySmartDog
Thanks to the FREE code that Purina Pro Plan BRIGHT MIND and Dognition gave to me (as part of my compensation — in addition to getting paid actual cash — for doing this #PurinaPartner #Sponsored post), I got to play some of the Dognition games with Clover.
Dognition has developed canine cognition games for:
Empathy
Communication
Cunning
Memory
Reasoning
In many of the games, it helps to have a human partner, but there are ways to do the games alone. That's what I did for Clover's games. See how her results came out … so far.
It is a little time consuming to play the games, so sketch out a block of time and don't rush through them. I've only done Empathy, Communication, and Cunning games so far because I didn't want to speed through them poorly.
It may seem silly or like a gimmick to test your dog in these ways, but think about it. If you really KNOW about how your dog thinks and how those thoughts affect behavior, then later in life *if* your dog's cognitive behavior changes … you will be LESS likely to think it's a "normal" part of aging.
It's sort of like pain. Pain is NOT normal — at any age, yet a lot of people almost accept it in older dogs. Let's be the first generation NOT to think that lower cognitive function is a given in older dogs. Solidarity!
Clover's Results From Dognition Empathy Games
Honestly, it makes me laugh that she is referred to as a "small" dog. I consider her a medium-sized dog.  Also, I'm surprised that her results show her high on the bonded scale because, in many ways, she is much more independent than Lilly was … but then Lilly was SO fearful that I was her lifeline in the world. Clover doesn't need me as much (in public, for example).
I couldn't get a good graphic of the whole page of results that would work, so here is just the top summary part. The page you will actually see after playing the games explains your dog's results compared to what Dognition knows about certain cognitive characteristics of all dogs.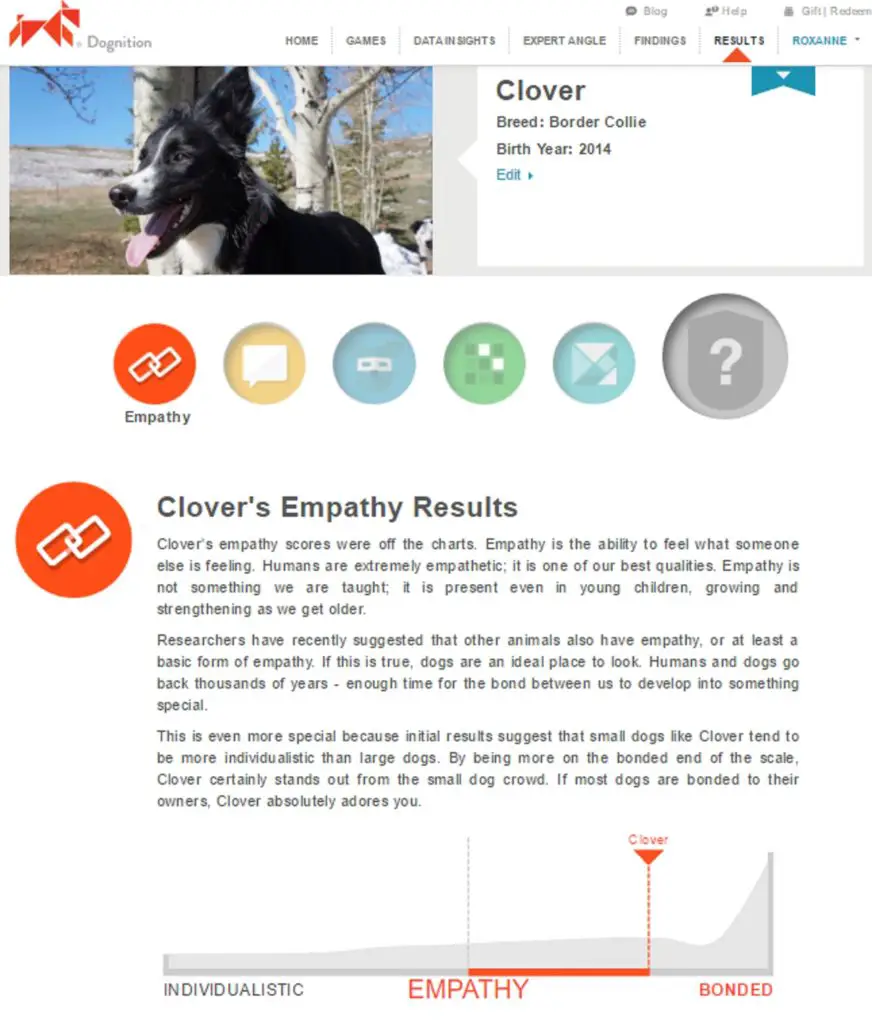 Clover's Results From Dognition Communication Games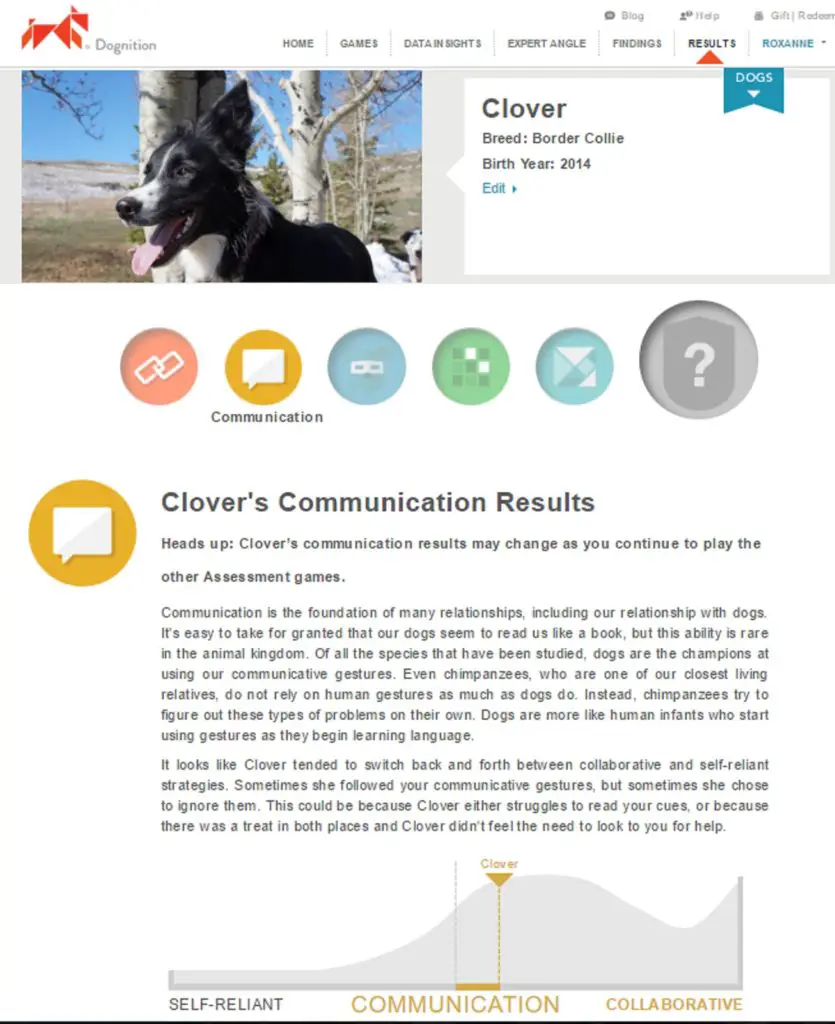 Clover's Results From Dognition Cunning Games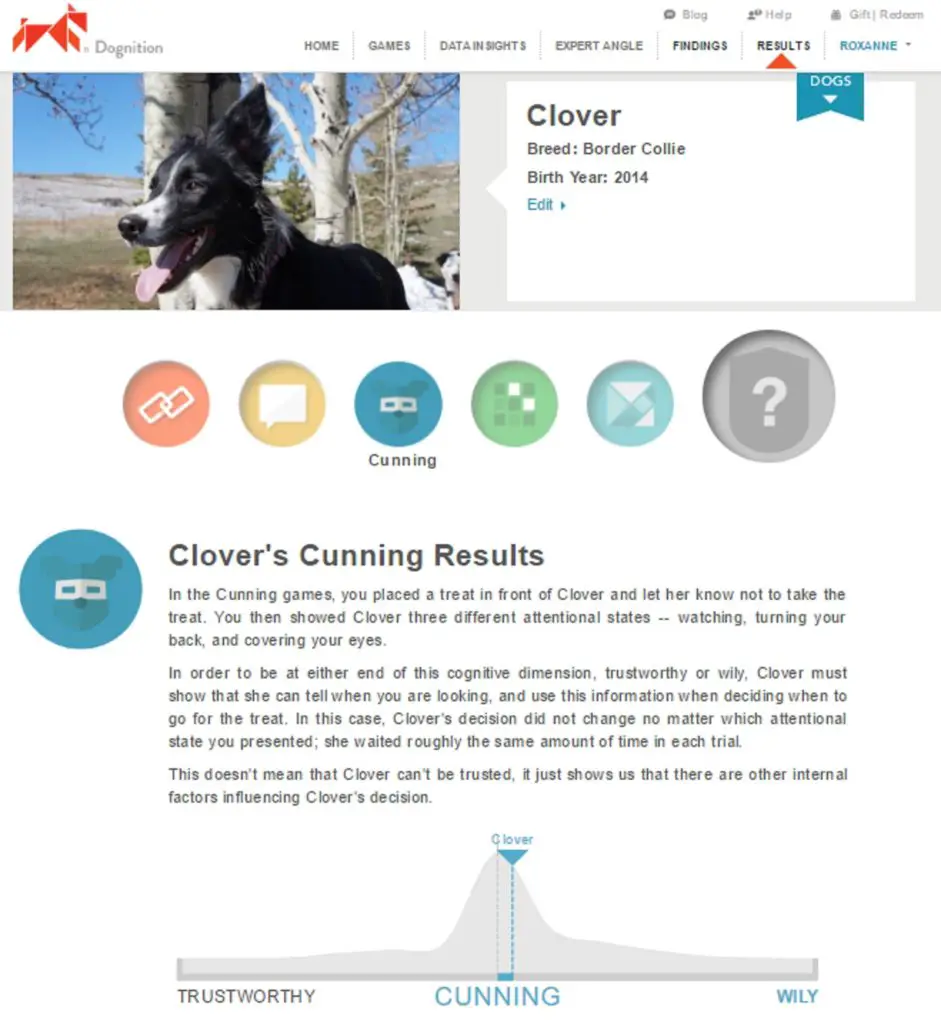 Once I finish playing all the games, I might report back again on Clover's results. There does already seem to be a trend where she always tests just a bit to the right of center. The shaded area shows results from other dogs who've played the Dognition games and recorded their results online. Pretty neat, yes?

Don't forget to subscribe to the blog (if you haven't already) and leave a comment on this post, if you'd like to enter for a chance to win one of the 5 Dognition prizes.