Another (Unwelcome) First – Accidental Chemo Overdose
Honestly. Every time I think Lilly's medical saga cannot get any worse, something else that's unexpected / unwelcome happens. On top of the not-good kidney news from earlier this week, on top of figuring out Lilly still has high blood pressure (even though she has been on BP meds since February 2012) … Lilly received an accidental "overdose" of cytarabine (a chemo drug) Wednesday night.
I won't bog you down with dosage calculations for cytarabine's use in non-cancer neurology cases. Here are the plain numbers:
34 mg ~ Lilly's normal sub-q cytarabine injection dose
58 mg ~ Dose Lilly got Wednesday night because of a mistake
It turns out there was another dog coming into the hospital for an injection Wednesday night. That dog's dose had already been drawn into a syringe. It was accidentally given to Lilly instead.
Lilly got 24 mg MORE cytarabine than she should have.
58 minus 34 = 24
24 divided by 34 = .705
About 70% too much
That's the bad news.
The good news, however, is that cytarabine is used (obviously) in canine cancer patients in MUCH higher doses. Whereas Lilly gets 4 injections in each cycle, canine cancer patients get 6 injections of much higher doses in each cycle.
In other words, the one mistake dose Lilly got is NOT way out of safe ranges for how this drug is commonly used in dogs.
Is it more than she should have gotten? Absolutely.
Is it going to cause problems? We don't think so. We hope not.
Now, in my imagination — of course — Lilly does seem off. She is sleeping a lot. She seems to be breathing heavily and panting more.
Is Lilly really off from the accidental overdose? No idea.
Cytarabine doesn't reach full effect for about a week, so we'll keep a close eye on Lilly until then. If I think she needs an exam, if I'd feel better if they drew a CBC next week to make sure her red cell count is still OK, they'll do that for free.
So, we'll see.
I am keeping Lilly close, and I am checking her temperature once a day, just in case. Thursday, she spent most of the day in her crate looking like this.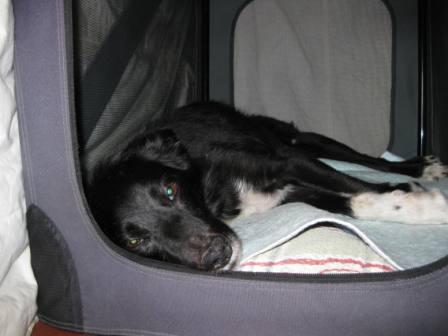 Friday, so far, she has spent more time sleeping under my desk. Though, as I write this … she is back in her crate.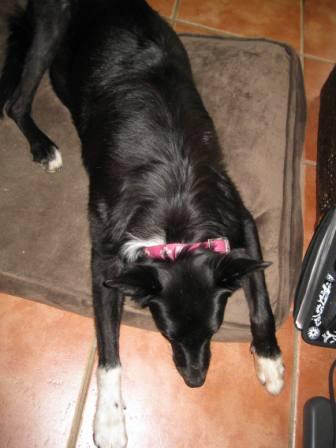 The Back Story
I didn't learn about the medical mistake until about an hour after it happened. Here is how the encounter looked from my vantage point.
As always, we arrive a few minutes before Lilly's 7 pm "technician appointment" to receive her injection. As always, even though the front desk team seems to recognize us, I announce, "Lilly Hawn, here for a cytarabine injection."
When the technician (who has given Lilly injections before) comes out, she asks for Kelly, not Lilly. The conversation goes something like this.
Me: "You mean Lilly."
Her: "For an injection?"
Me: "Yes, cytarabine, but it's Lilly not Kelly."
I go on to ask if she has the time to check Lilly's blood pressure. Since high blood pressure could be a contributing factor in Lilly's new kidney trouble, I wanted to know what her BP was. I honestly don't remember anyone ever checking Lilly's blood pressure since the night it was so high in February 2012 that we started BP meds.
As we walk back to an exam room to take Lilly's BP, the technician again says something like, "I must have heard it wrong. Kelly instead of Lilly."
I say something like, "Well, they both have 2 L's in them," and we laugh.
We spend several minutes on the floor together, taking Lilly's blood pressure several times so that we can calculate an average. Both of us pet Lilly and talk to her in soothing tones — using her name again and again — hoping she will calm down so that we can get an accurate reading.
When we're done, the technician takes Lilly to the back (as usual) for her injection, and I wait out in the lobby.
A veterinary assistant brings Lilly back out to me, and I put her in the car, while I go back in to pay.
Now, the hullabaloo about how these appointments get scheduled and how they get invoiced is a story for another day. Suffice it to say that when almost everyone I encounter is stumped about it, it's easy to assume that Lilly is the ONLY dog getting a treatment like this. Honestly, the invoice is almost never ready, so we've taken to putting a credit card on file at the hospital, and the billing department charges me later.
BUT, while we're waiting / hoping that the invoice will be ready, I'm told that the technician is making me a blood pressure chart, if I could just wait a bit.
So, I wait … and wait … and wait ~~ while listening to the heartbreak of a family in the ER who brought in their kitty who had been hit by a car (and was euthanized).
I'm getting tired. Remember, Lilly gets us up around 4:30-5 am every day. I've written / worked ALL day. It's getting close to 8 pm, and I'm exhausted and still have a long drive back up the mountain.
I ask at the desk, if maybe they could email me the blood pressure chart and as before just charge my card when the $$ part gets worked out. They say, "Yes."
But, then the technician is right there and says one of the ER doctors wants to talk to me about Lilly's blood pressure results.
So, back into an exam room I go to wait. I call Tom to let him know what's going on so that he doesn't worry. We should have been home by now.
Indeed, an ER doc I'd not yet met comes in. We bond over her experience losing her heart dog, after a complicated 5-year illness. We talk about what Lilly's blood pressure results mean, etc.
Then, that's when I hear the news about the medical mistake.
Honestly, it came as such a surprise, and I was so tired, and I knew I had a monster work day coming up Thursday, and I knew I needed a good night's sleep.
My theory was that if I understood the extent of the overdose that I wouldn't sleep, so I didn't ask. Considering the last 18 months, considering the last week, considering the news of the error, my confidence was shaken.
I waited to ask those questions until Thursday morning. That's how I got the details you see above.
What's the lesson?
If anyone ever comes out and calls your dog by the wrong name,
throw a flag on the play.
Don't assume it's just a name mistake.
It could be an actual patient mix-up.
Obviously, the hospital is putting some changes in place to prevent a mistake like this from happening again.
I'm not sure what the solution is, but I:
May make Lilly a bandana with her name on it
May start telling the person taking her back what her normal dose is
Other ideas?