After the Crying: Our Way Forward
I am humbled and honored by your continued devotion to our troubled journey. Thanks to YOU and your chip-in help, we've been able to pay our bills this month. In a way, we're starting with a cleaner slate. Not much money, but not much debt.
Sort of.
If you can ignore the nearly $16,000 we've spent and all the emotional and physical angst.
Amid all that, we've made some big decisions about Lilly's future in consultation with our veterinarian.
I'll preface this announcement with links to the two most helpful research items that provided background and a framework for these decisions:
The first is a lecture note summary from a board-certified veterinary neurologist from Cornell University on the drugs currently used / recommended for treating various forms of brain inflammation in dogs. (If you click the link, I believe it'll download automatically. It's a MS Word document that I've highlighted and such.)
The second is a study published in 2006 in the Journal of Small Animal Practice that looked at the effectiveness and safety of the steroids + chemo treatment for 10 dogs with brain inflammation of unknown origin. (This link is a PDF file.)
The treatment is the same as what is currently underway for Lilly. It's important to know that cytosine arabinoside and cytarabine are the same drug. Typically, when I talk about Lilly's chemo treatments, I'll use the term cytarabine.
I also went through my own notes about Lilly's case and found the following patterns / details about Lilly's past relapses — of all sizes (a total of 3): 
She didn't have any trouble until we got the dex dose down to 0.375 mg, especially when we tried to go to every third day or every other day.
Right now, Lilly is taking 1.5 mg of dex every day. We hope to wean her down to a very low dose of dex or completely off the steroid by using the cytarabine injections as a bridge.
We do NOT know if it will work. The study essentially found that the 5 (of 10) dogs who survived until the study was published required long-term, ongoing use of cytarabine to maintain "remission." The other 5 died, including one Italian Greyhound with a history of adverse vaccine reactions.
The study also gave us some sort of framework for an initial "trial" of this treatment because it began with cytarabine injections (2 a day, 2 days in a row, every 3 weeks … just as we are doing) over 4 months, while weaning the steroids over 3 of those months.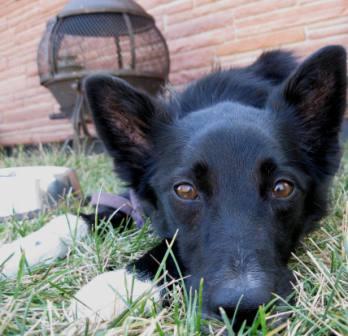 Lilly's Treatment Plan
Cytarabine injections (2 a day, 2 days in a row, every 3 weeks) for 5 months, so that means a total of 8 cycles.
Wean steroids slowly over that time, as Lilly's clinical status allows.
Reassess after that (early February 2013).
If you missed the news earlier, our neurology team has agreed to do the 4 injections for $50 / each or $200 per cycle (instead of the $400 per cycle). So 8 treatments will total a $1,600 commitment from us.
(We spent $1,600 from the chip-in for Sept bills. That leaves just over $400 from your help, which will pay for 2 of Lilly's cytarabine cycles. Thank you!)
During this trial period, we will continue to have the neurology team give the injections.
If, in the future, we move to a maintenance dose with longer time intervals, then our family veterinarian may take over those duties.
In addition to the $1,600 in cytarabine, I've roughed out other costs for those 5 months, and with meds, diapers, recheck appointments, and blood work … it's a total financial commitment of approximately $3,000-$3,500 … to give this treatment a chance to work (or not).
Many of the dogs in the study suffered relapses and were either euthanized or required additional medical intervention, including stepping up treatments to a higher level.
While we reserve the right to change our mind, Tom and I agree that if Lilly suffers another major relapse that will likely be the end of this journey. That's potentially too much to ask of her amazing brain … and my heart and budget. Ooph!
Lilly's next cytarabine cycle is scheduled for Sept 22-23. We meet with the neuro team Oct 15 to assess her progress. We will probably reduce her steroid dose sometime in that window, assuming she remains clinically stable.
Having done all this research, having worked through Tom's concerns about the cytarabine (all studies show very few side-effects of major concern), and having taken a hard look at our budget, I feel pretty good about these decisions.
As always, we'll keep you posted.
Lilly is doing OK. Not great. She isn't making huge gains day to day, week to week, but she is good and steady and mostly herself.
Though she does sleep a lot … except at night when often keeps us awake. Silly!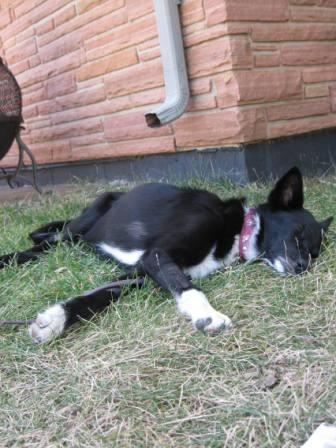 Have a nice weekend. We'll try to post soon about our various dog diaper solutions, how exactly I express Lilly's bladder, and other functional and maybe helpful-to-you topics.
Again, thank you!