I sometimes wonder if I'd ever deliberately adopt a truly fearful dog again. Truth? I didn't know what I was getting myself into with Lilly. Still, I cannot imagine missing out on all the amazing things she taught me about not just dogs and dog training / dog learning theory but also about life and love, relationships, and finding (perhaps) my true calling.
Fearful Dogs Require Work
It is, indeed, a lot of work to help Lilly cope in the world, starting with the tedious-but-necessary Relaxation Protocol that teaches dogs how good calm can feel. Living with a fearful dog is often a heartbreaking, frustrating, and slow exercise of daily life — with progress measured in the smallest possible increments. Yet, after reading some of the adoptable dog profiles during last week's big Petfinder anniversary celebration, I understand how lucky Lilly was to be rescued and quickly placed at such a young age (around 6 months old).
Fearful Dogs Deserve Better
Many other dogs currently in animal shelters and dog rescue groups face a much longer road. Take, Breezy, the dog in Maryland that we championed for Adopt the Internet Day. After being saved from a hoarding situation as a pup, she spent THREE years in a shelter while the ensuing legal case ran its course. Since then (15+ months), she has lived in a foster home … which clearly is a MUCH better situation for her, but still … she needs her own family. She deserved that 4 years ago, and she certainly deserves that now. I really, really hope she gets one soon and enjoys the best summer of her life in 2011.
Consider Adopting a Fearful Dog
So, in hopes of encouraging others to consider adopting fearful dogs or shy dogs, I offer this list of ways a fearful dog will:
Improve your life
Make you a better person
Teach you important life lessons
5 Ways A Fearful Dog Improves Your Life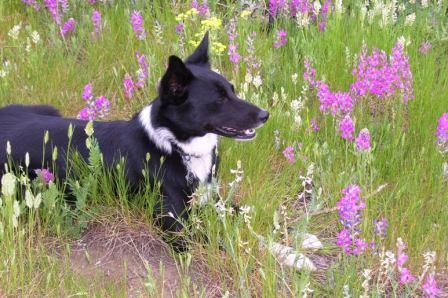 1. Fearful dogs teach you compassion … because you often have daily, if not minute-by-minute, chances to recognize suffering and to do something to help.
2. Fearful dogs hone your awareness and attention to detail … because it takes focus to find and understand what exactly your dog fears. You'll truly WAKE up to the world around you and realize just how much is happening every second. (Fair warning, you'll also suddenly find an untold amount of rude and/or clueless behavior … in that case see # 5.)
3. Fearful dogs demonstrate the real meaning of trust … because they don't just give it away for free. You must earn it every day not only with your good intentions but also through your actions, your words and yes, sometimes, your cheese. Not just in the beginning. Not just some days. Every day.
Think about it like this. Do you know people who kind of treat their loved ones like crap most of the year, then make a big production of giving lavish gifts on certain holidays? Yeah, well … fearful dogs don't buy that kind of "love." They need, expect, and deserve real love … which in many cases involves tiny gestures all the time that other people won't even notice.
4. Fearful dogs persevere, many times in the most unlikely situations … and, that's a lesson people should internalize because most of the time the best things don't just magically happen without any effort. Keep at it (whatever "it" is for you) because your dog surely would.
5. Fearful dogs teach perspective on ugly behaviors between people … because when you understand what triggers set your dog's fears off, you also learn how to read even the most horrible behaviors between people for what they truly are. This gives you the chance to practice the dog training cue LEAVE IT in your own life.