5 Mistakes People Make With Fearful Dogs
Let's continue our discussion about fearful dogs from a broader perspective. It'll be VERY clear next week why I'm revisiting some of these key points. I promise, but for now, let's talk mistakes.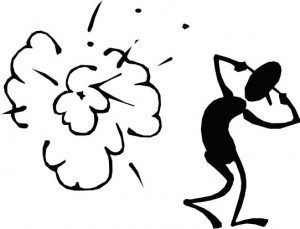 1. Assuming that kindness and intention are enough.
Truly, clinically, abnormally fearful dogs don't "get" our brand of compassion. They're so scared 99% of the time that they cannot even think straight, let alone interpret our "good" intentions that to them just look like scary @#$@# threats.
2. Not giving fearful dogs enough time to adjust, build bonds, or relax.
I'm always amazed and saddened by how many people assume a new-to-them dog can be trusted off leash or in intense situation in a matter of weeks or months.
Many fearful dogs have extreme FLEE responses. They will run … away from you … and not come back for love or money.
For many, many months after we first adopted Lilly in 2004, she wore TWO collars and TWO leashes when we were out in public, just in case she slipped out of one. My friends in the rescue community have MANY tales of newly adopted dogs getting loose, lost, injured not long after going "home."
3. Not recognizing and honoring a dog's fear cues and behaviors.
These are not crazy dogs. These are not stubborn dogs. These are not willful dogs.
Sometimes they cannot respond to our requests — even for a simple SIT — because they are too scared.
4. Punishing fear-based behaviors.
Trust me. I know it can be frustrating to work with a fearful dog, but hollering at them or punishing them only makes things worse.
5. Pushing dogs too far, too fast.
Because I didn't realize just how fearful Lilly is, I indeed spent the better part of a couple years thinking we could work out way through it with action.
The Big Picture
If you learn ANYTHING from us, please let it be this:
You cannot change how a dog behaves, until you change how she feels.
And the best way to do that is through classical conditioning. Our behaviorist told me that I'd done FAR too much operant conditioning with Lilly and not enough classical to get her over the fear hump.
***
For much more info on fearful dogs, please visit our friends at FearfulDogs.com.