5 Days of Lethargy, 5 Hours in the Veterinary ER
Thanks to some medicine heroics in response to Lilly's neurological setback Saturday, October 12, 2013, Lilly did seem to stabilize and improve slightly. Starting Thursday, October 17, however, she seemed exhausted and as if she felt like crud — often hunkering down on her bed, not moving, even if cajoled. Tom decided that she looked like a barnacle on the hull of a ship.
Lilly also sometimes cried or groaned — almost imperceptibly — under her breath, and her steroid pot belly seemed worse.
So, while we visited our primary care veterinarian Friday for Lilly's latest urine culture, I had her check Lilly for pain. She found none, but she agreed that Lilly looked worse than the last time she'd seen her, as if she just wasn't quite herself.
The timeline of events looked like this:
Saturday, Oct 12, neurological setback began with Lilly becoming increasingly wobbly and weak.
Sunday, Oct 13, we doubled Lilly's steroids and gave her cytarabine injections 2 days early.
Monday-Wednesday, Lilly started to look steadier and a little better.
Thursday, Lilly started acting like she feels icky.
Then, things got weird.
(The photos are kind of gross, so if you want to look, click through above. If not, I didn't want to subject you to them.)
I was worried. There was a new distance in Lilly's eyes that scared me. I truly feared we were seeing the beginning of the end. I sobbed a lot, thinking that some BIG decisions would have to be made in the coming week.
Keep in mind that I was emailing our veterinary neurologist with updates and photos the whole time. He would have me check this or that and report back, and my answers always meant that Lilly was OK.
5 Hours in the Veterinary ER
But, when Lilly still seemed not good Monday morning, word from the neurology team came, telling me to get Lilly in for some urgent blood work.
Unfortunately, they were already booked solid and had a couple new emergency transfers coming in, so Lilly and I headed to the ER — in the same hospital as our neurologist — for help.
The ER team (and others) checked the following things:
Lilly's vitals (all normal, except for higher than usual blood pressure). Lilly has taken blood pressure meds since February 2012, but sometimes it's still higher than we'd like it to be. Not scary high, but high.
Lilly's complete blood count (CBC) because we feared bone marrow issues, which can be a side-effect of cytarabine, and we feared low platelets (since bruising could mean not-good clotting and therefore bleeding). Again, red cells and platelets normal, though signs of possible infection (white cells).
Lilly's neurological status (nowhere near normal, but seemingly stable)
Lilly's blood chemistry to check her vital organ function (all good, except for high liver values across the board). Lilly's liver values have been steadily climbing due to the strain of her treatments.
To cover ALL our bases, I also OK'd them to do an abdominal ultrasound to:
See what Lilly's liver and other organs looked like
Check for blood or fluid in her abdomen
Make sure there were no ugly surprises looming (like a tumor anywhere).
The liver looked "bright," which typically means it's stressed from steroids not infection. Otherwise, everything looked normal. Completely normal. No tumors, no bleeding, no fluid buildup. Nothing.
What All That Means?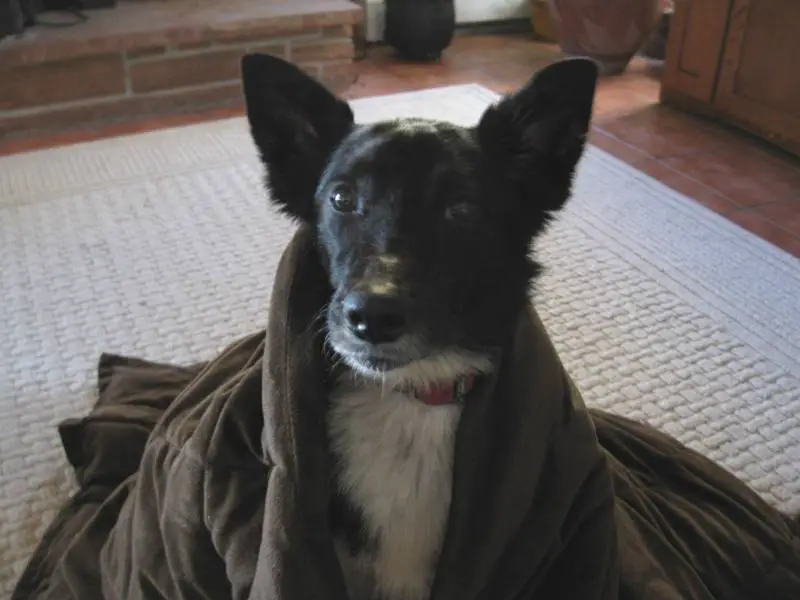 Simply put, that means our worst fears were NOT realized. Lilly's bone marrow was NOT damaged. She was NOT bleeding internally. She was NOT suffering total organ failure. She was NOT in any imminent danger … despite feeling like crud.
It was easy to assume that perhaps Lilly still feels icky from these ongoing bladder infections. BUT, then, her urine culture results from Friday's tests came back clear.
So, where is the infection the CBC hinted? No idea. Maybe the liver, despite what the ultrasound shows, but the antibiotic they would use for that is the same one Lilly has been taking for weeks.
We're all kind of stumped about possible infection and about why Lilly seems to feel not her best. In a complex case like this, there are just SO MANY moving parts.
Sometimes, there are signs — head chattering, head bobbing — that indicate inflammation in the back of Lilly's brain. That alone can make dogs feel barfy or dizzy. One working theory is that when Lilly hunkers down on her bed, she may simply be trying to get the room to stop spinning. 
Action Plan
Since steroids are making her liver issues worse, we will VERY carefully wean her back down to her normal dose and see where that gets us. I'm on HIGH alert, however, for any signs that she begins slipping neurologically.
A Bit of a Rant
Let me be clear on a few things:
Lilly continues to eat, drink, and eliminate normally (for her).
She is happy to see us every morning and to engage with us throughout the day.
She is happy to play with toys (though, until the swelling in her mouth improves, she cannot have any food-stuffed KONGs).
She often seems mostly herself.
Since last Thursday, however, she has hunkered down on her bed and looks like she doesn't feel well. I'm constantly aware of possible pain or "suffering" … as is our entire veterinary team.
I will not let her suffer. I will not let this go on "too long," if things truly become dire.
So to the people who sometimes accuse me of being selfish for "keeping Lilly alive" or who question my motives, I'll say simply this:
While I appreciate your interest and concern, the most polite word I can muster for asking me such things is RUDE.
No one knows this case or Lilly better than I do. No one. I have not, nor will I ever, make any decision that isn't in Lilly's best interest.
I spend all day, every day, giving her the BEST LIFE possible — despite her illness. She has FAR more good days than bad days. When that changes or when we have proof that Lilly has passed into a new stage of her illness, my conversations with our amazing veterinary team will shift.