Fans for Food: Luv K9Cuisine.com
K9Cuisine.com (the online pet food retailer that sponsors my Dog Food Dish Blog) recently posted a challenge. If K9Cuisine.com can get up to 5,000 Facebook Fans on their page, they'll donate 5,000 POUNDS of food to a couple of needy animal shelters. It doesn't cost you a thing, all you have to do is click the LIKE button on their Facebook page. The goal is to reach 5,000 by October 31.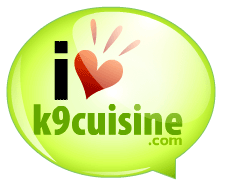 You can read more about K9Cuisine.com's Fans for Food campaign on Rescue Me: Tails of Pet Rescue written my friend Kerri Fivecoat-Campbell, who also writes a terrific blog about living in a tiny house. It's called Living Large in Our Little House.
At our house, we HEART K9Cuisine.com for MANY reasons. We hope you'll HEART them too.