What Dog Fears Look Like
We like to use all kinds of euphemisms to describe our fearful dogs. Shy, reactive, aggressive are common ones, but what exactly does fear look like when it isn't necessarily obvious that it's fear?
Hiding or getting in your face
Going catatonic or going wild
Barking or being totally silent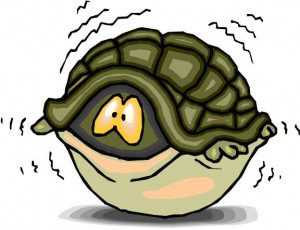 The answer is that it really depends on the dog.
Some dogs will bark and growl and lunge. Others will simply let loose their bladders or bowels. Some even vomit. Some might do any of the above, depending upon the situation.
While there are some classic fear behaviors, some of them are just plain unique.
I'm trying to think of the strangest thing Lilly does… I guess it would have to be the nibbling we've been talking about. What kinds of unusual fear behaviors have you seen in dogs?