Squee Alert – Video – Border Collie Puppies
These tri-color, smooth coat border collie puppies were born at Valdemar Farm in Fort Lupton, Colorado (where we take herding lessons). The litter is jokingly known as "Big Head Todd and the Monsters."
This is Big Head Todd. His head really isn't *that* big. It just looks bigger because it's all white.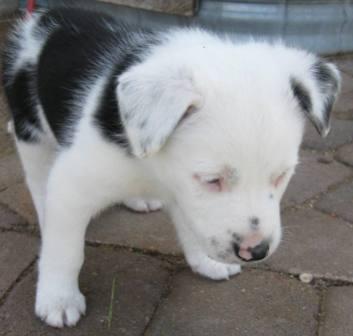 We made a little puppy tribute video to all the "monsters" (5 boys, 1 girl). I should have been more methodical in my picture-taking. I'm not sure I show each puppy individually, and I'm pretty sure I show some more than once in the video. BUT, I just picked the pictures I liked best.
It's pretty hard to photograph puppies who are always on the move. I have more video clips of the pups running and such, but I haven't had time to mess with them yet. Stay tuned.
Without further ado … I present our newest puppy friends. Thanks to Cathy Balliu for letting me hang out on such a busy day!
If you know anyone looking for a border collie puppy from real working stock dog lines, please share the video.