Pet Care Cost Calculator
Lilly is fairly famous for her expensive veterinary dramas. Actually, all of my dogs proved rather expensive at one point or another. That's one reason (among many) two dogs is my limit. Two dogs is what I can afford.
So, I was intrigued and then amused when the social media team from Time Inc. Lifestyle Group, which partners with VPI Pet Insurance, contacted me about VPI's new pet cost calculator. Essentially, you put in some information about your pet, breed, where you live, etc. and it generates a list of costs associated with the most likely veterinary expenses you'll face.
The report generated for Lilly made me LAUGH. Why? Because the costs seem so mundane. Seriously, I often spend more than this for routine veterinary visits … forget the dramatic ones like paintball poisoning, rattlesnake bites, spider bites, and the many other things that seem to happen to Lilly every six months or so.
The highest one listed is $480. Is it just me? I can practically sneeze and run up a bill like that.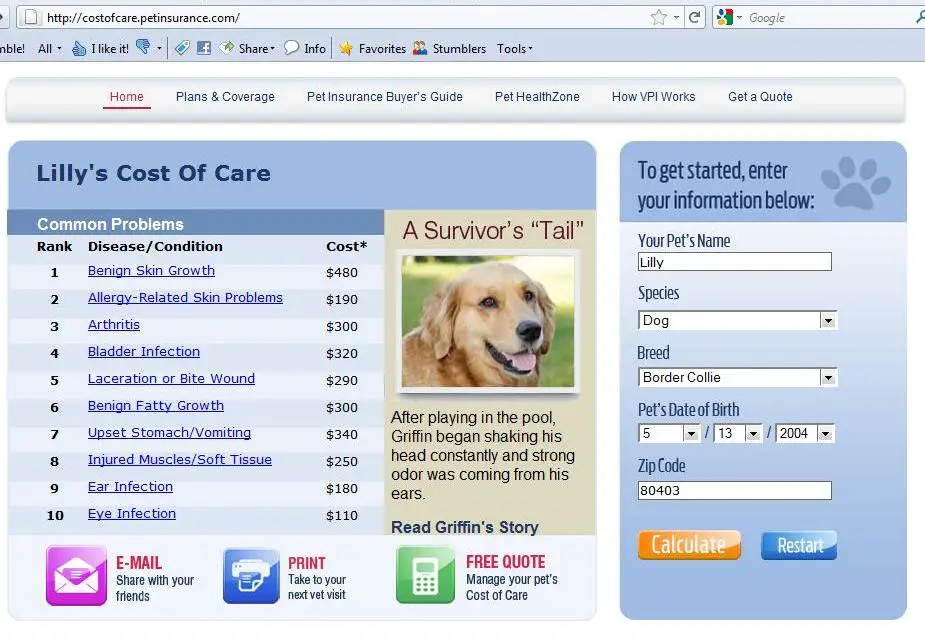 I would LOVE, LOVE, LOVE for you guys to give this tool a try and report back. Everyone who does that by:
Using the pet cost calculator
Reporting your impression of the results in a blog comment here
… will be entered to win either a collapsible water bowl or a pet first-aid kit from VPI. I'll do a random drawing of those who comment, and VPI will send out the prizes. SO … be sure you include a valid email address so that I can ask for your mailing address, if you win.
Prize giveaway entries CLOSE at midnight Sunday, July 10, 2011. I'll number all the comments and use Random.org to choose the winners. VPI has offered 10 total prizes (5 bowls, 5 first-aid kits) as giveaways to Champion of My Heart readers.
Pet Insurance Disclosure
If we're being honest here, I do have pet insurance for Lilly (from a company other than VPI). I do not have any on Ginko because he would likely have so many pre-existing conditions (at his age, etc).
While I am a pet insurance customer, that doesn't mean I'm some super pet insurance advocate. I've written about the pet insurance debate before. I've also written about the logistics of perhaps changing pet insurance companies.
I worry that the limits are too low for things like cancer treatments, and I often feel like I'd be in essentially the same shape financially, if I socked away what we spend on premiums each month instead.
BUT, every time I think about cancelling our policy, Lilly has another medical adventure.
P.S. If you're looking for spots to look up pet health info, try these ideas … 20 online sites for healthy pet info (assembled by a veterinary technician site).
***

Champion of My Heart is a finalist in the 2011 Petties (DogTime Media pet blog awards). Voting in each category is open July 5 through July 29. You can vote 1-2 times per day.
If you cannot see the VOTE button on this linked page, hold down your SHIFT key and click the page reload icon in your browser.