My #MeetPurina Adventure – 7 Things I Learned — #sponsored
Yes, this is a #sponsored post about my FREE trip to the Purina HQ in St. Louis for the #MeetPurina event in late June. Here's a recap of the 7 most interesting things I learned. This is a long post. You might want to get a snack.
1. Purina now employs a full-time natural foods TREND spotter in Boulder, Colorado, which is 20-30 miles from my home and where Clover and I take some of our dog training classes. My hometown of Golden, Colorado, is turning into a mini-version of Boulder (or at least some people think so). *Maybe* that makes Golden a spot to watch as well. Look at us, influencing people and setting trends!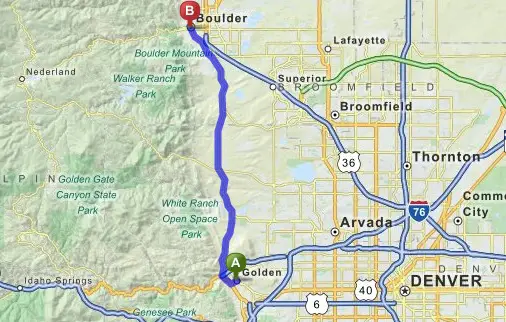 2. Purina now offers "natural" pet food, including several grain-free versions of Pro Plan as well as the somewhat new Beyond brand, which is sold (strangely, it seems to me) in grocery stores. There is a similar brand for cats called Muse. So, if you're anti-corn, anti-soy, anti-gluten and all that, you have some options through Purina.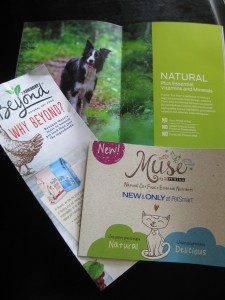 3. Purina is starting to make their veterinary prescription diets in natural formulas as well. To me, this is important because MANY people refuse veterinary prescription diets because they prefer to feed natural foods. Personally, I hate to see someone turn down a prescription diet, if it's needed, so I'm hopeful these new options fix that problem.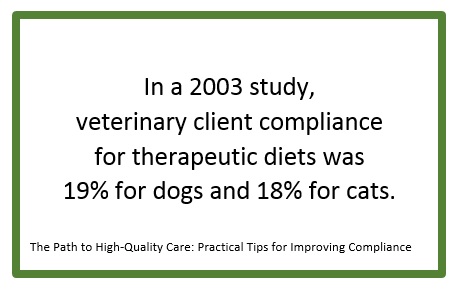 ~~~
Time out for a HUGE CAVEAT. While I find these first 3 points newsworthy, you need to know that the term "natural" does NOT really mean much about pet food quality or pet food nutrition. Emphasis mine below.
According to the FDA, "From a food science perspective, it is difficult to define a food product that is 'natural' because the food has probably been processed and is no longer the product of the earth. That said, FDA has not developed a definition for use of the term natural or its derivatives. However, the agency has not objected to the use of the term if the food does not contain added color, artificial flavors, or synthetic substances."
AAFCO (Association of American Feed Control Officials) defines natural as "…derived solely from plant, animal or mined sources, either in its unprocessed state or having been subject to physical processing, heat processing, rendering, purification, extraction, hydrolysis, enzymolysis or fermentation, but not having been produced by or subject to a chemically synthetic process and not containing any additives or processing aids that are chemically synthetic…"
[The AAFCO site is terrible, so I couldn't find a link / page where the definition of natural is posted. A friend of mine who is a veterinary nutritionist gave me that definition. I'm sorry I don't have a link to share.]
Colloquially, natural has become shorthand for foods that don't contain one thing or another, but that's not really what natural means technically in the regulations.
And, remember, natural and organic are NOT interchangeable words. Plus, organic is a term used to talk about food processing not product quality, according to AAFCO (Association of American Feed Control Officials).
There are a LOT of natural things in our world that you would NEVER want to feed a pet.
~~~
4. Purina *is* looking at raw / dehydrated pet foods and at offering organic and non-GMO foods. Their main questions, though, are ALWAYS:
Is it safe?
It is nutritious for pets?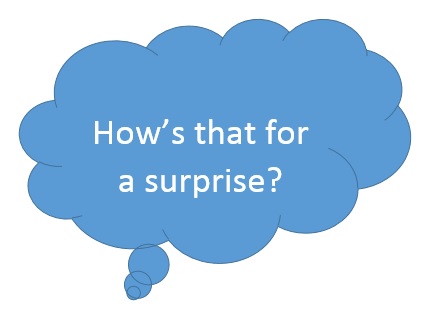 5. Purina employs a full-time chef (named Amanda) who helps inspire new ideas in pet food. She made us an incredible lunch one day. Seriously. Amazing. Food. I think she may have the best job at Purina.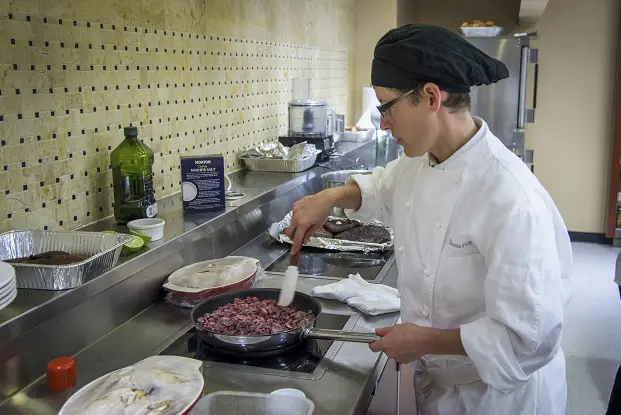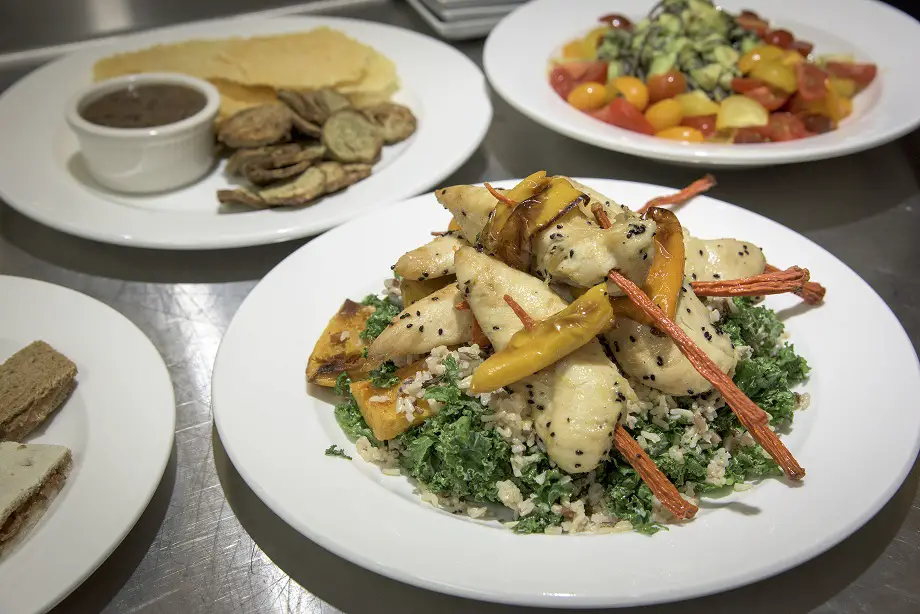 I had a good giggle when one of the dishes included chicken hearts — gasp, a "byproduct." I ate some. They were good.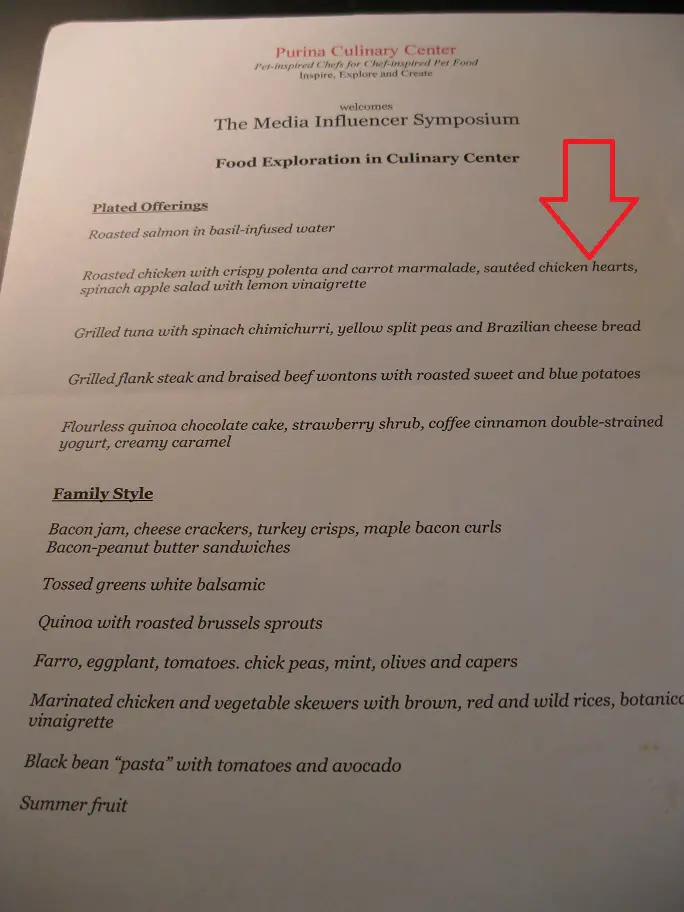 6. Purina employs a team of dog trainers who perform several shows each day out at Purina Farms with several rescued dogs. It's an honest-to-goodness attraction — 346 acres, 84,000-square-foot event facility, 74 RV spots.
My favorite part … yes or no?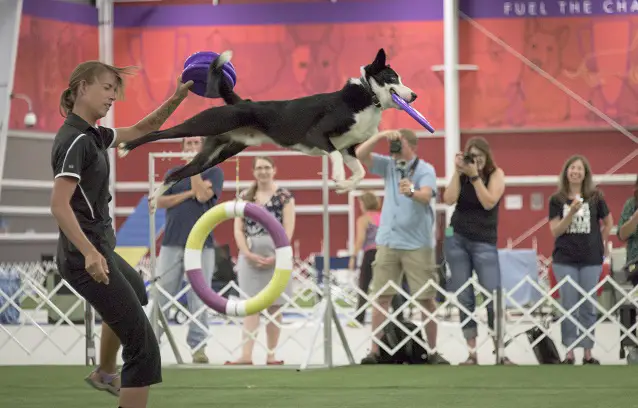 Yes, of course. Performance dogs are my FAVS.
These are my PEEPS, my crew, my friends.
Let's hear it for all the people doing DOG SPORTS!!!
Alas, in my experience,
a LOT of people in this demographic feed raw.
I'm one of few who feeds kibble. Is that true in your circle of friends as well?
7. My reasons for doing what I do with the blog and elsewhere online are different than other digital influencers who also attended the #MeetPurina event. I think it's partly that I'm a professional journalist. I think it's partly due to the demographic I serve — top 2% pet people, mostly women age 30 and up. Those differences became apparent a few times during my time at the Purina HQ.
Example? I shared this photo with friends online, using the Sesame Street refrain:
"One of these things is not like the others / One of these things just doesn't belong…"
The 2 Biggest Questions …
I went on this #sponsored #MeetPurina trip hoping to get answers to my own #1 question and to the #1 question that YOU — Champion of My Heart readers — wanted me to ask. Both are going to take more research. But here is what I can say …
Me: What differences are there *really* between the various Purina brands of dog food?
I'm hoping the answer will help inform my decision about what to feed Clover now that she is technically an adult. I did have a some time to talk to the teams from Purina brands of interest to me, but honestly, in the moment, it felt a bit less like it was about product formulas or quality and more about demographics.
For example, people who feed Beneful really, really like the colored pieces of food and, no joke, think the green ones are peas, yellow ones (are there yellow ones?) are cheese, etc. Which, frankly, seems really silly to me. All I see is food coloring, and I'm not keen on food coloring.
But, the Pro Plan Puppy I fed Clover had "shredded" pieces that are made to look like shredded chicken, and they have chicken in them, but aren't actual pieces of straight-up shredded chicken. Also, I squealed like a KID and took (when offered) a bag of Beneful dog treats because they look like cookies my Grandma used to make. So … you know … who am I to judge?
Pro Plan, specifically, I believe, is targeted toward people like me, but I don't know if that means it's truly "better" quality than the other Purina brands. I like to think so. The professional skeptic in me wonders if it's all marketing hype and that I'm paying more per bag of dog food because it somehow makes me feel better about the food (and myself).
You: What about ingredients from China, products made in China, and overall Purina product safety? 
There was a session about quality control, and we got to tour a pilot pet food plant, but it didn't provide the level of detail I'd like to give you. I can say Purina takes product safety seriously. Nothing gets into the market without going through quality checks, but I can't really tell you more without doing some more detailed 1-on-1 interviews with their experts.
One Last Note of Thanks …
Big thanks to my main contact at Purina, Dan Koehler, for his crazy-hard work for the #MeetPurina event and for the invitation to attend.
Purina had photographers and videographers following us around the entire time. Most of the photos in this post come from their pro photographers and are used with permission. I've not seen the video footage yet. I may appear in the background here and there, but I was not interviewed individually as many / most / all of the others were. I have a few theories on that. (wink)
Schwag!
I didn't get many good photos with my little camera and because I was taking lots of notes, but here are a few, including an overview photo of all the loot I brought home. I could have grabbed MUCH more, but I always try NOT to be greedy at events like this. (When I toured Kong HQ in my hometown, years ago, they were SHOCKED at how few toys I requested.)
Purina HQ and Campus Grounds in St. Louis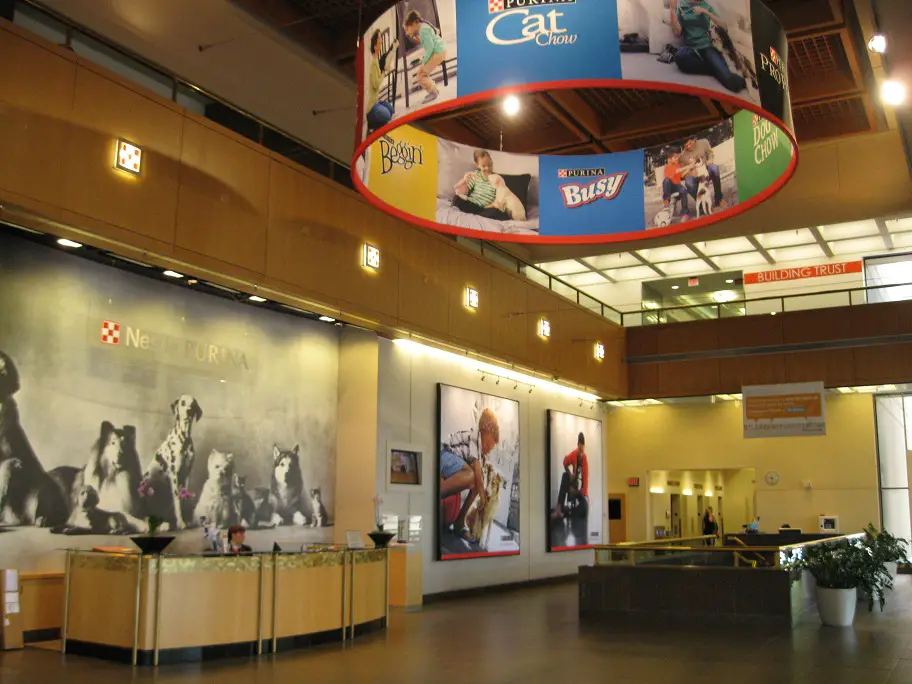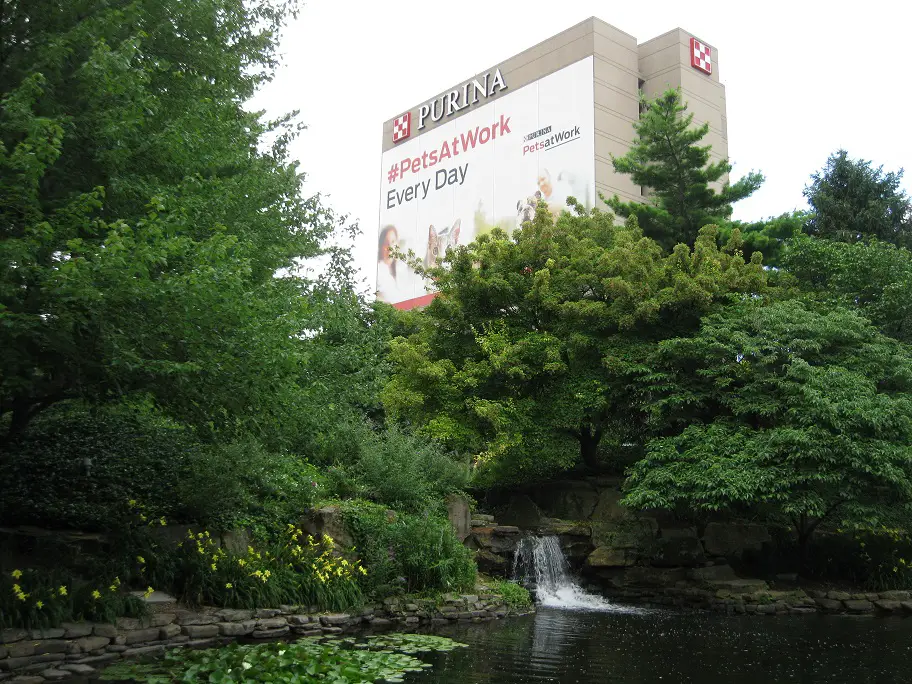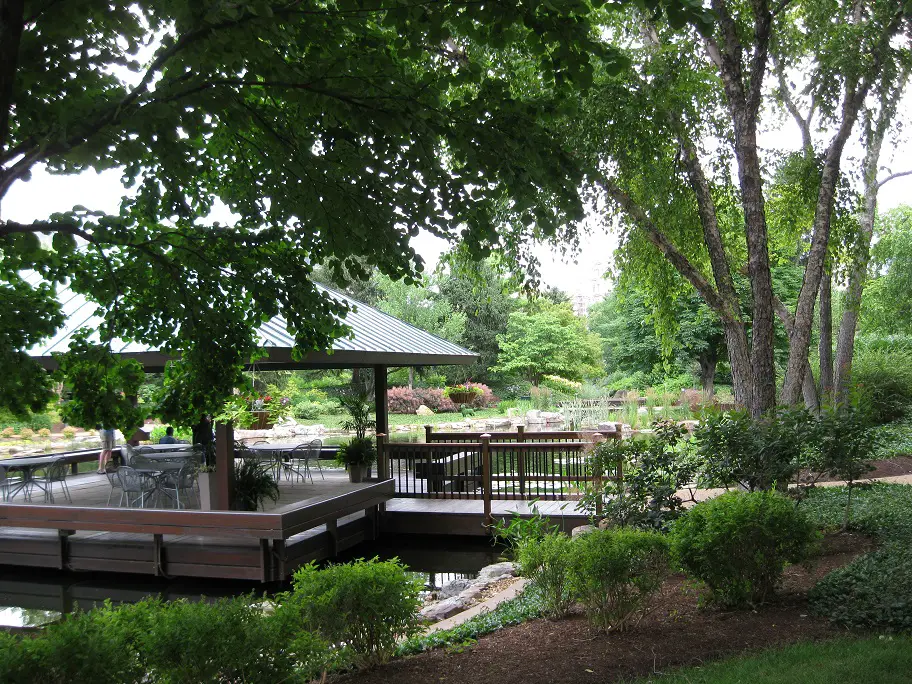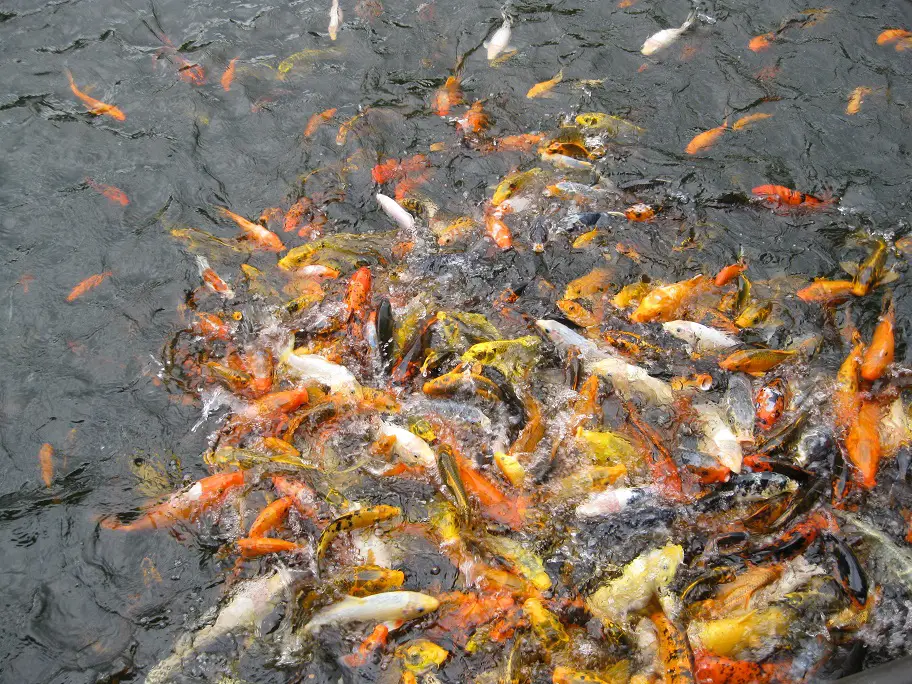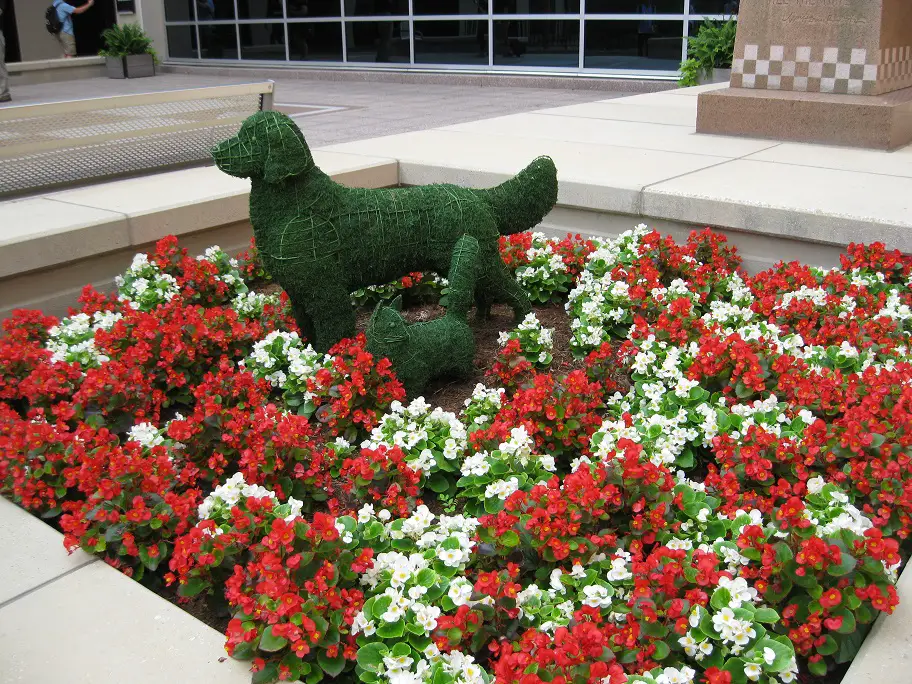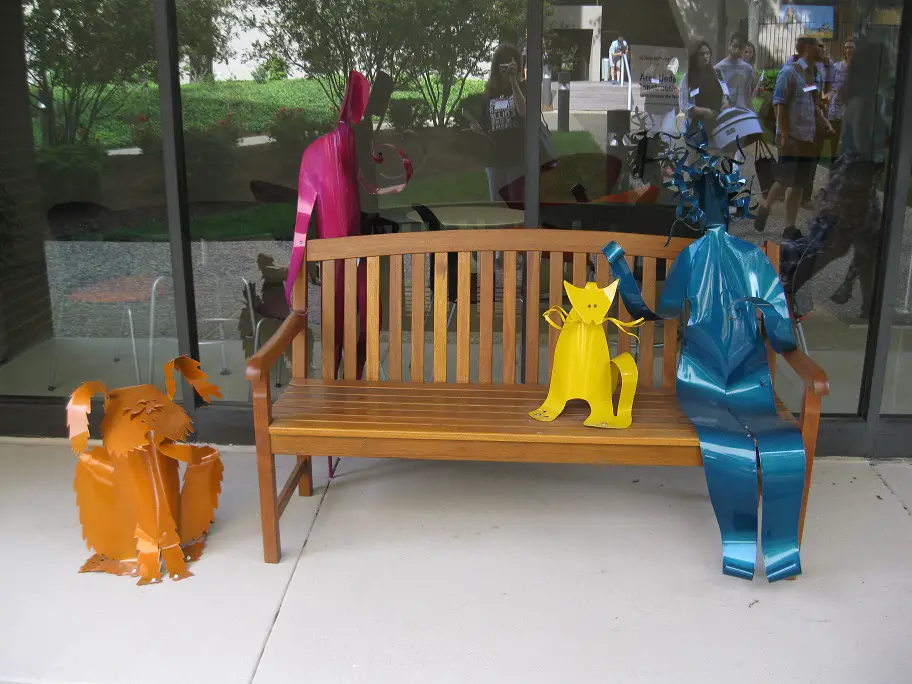 Me, Your Trusty Reporter, On the Job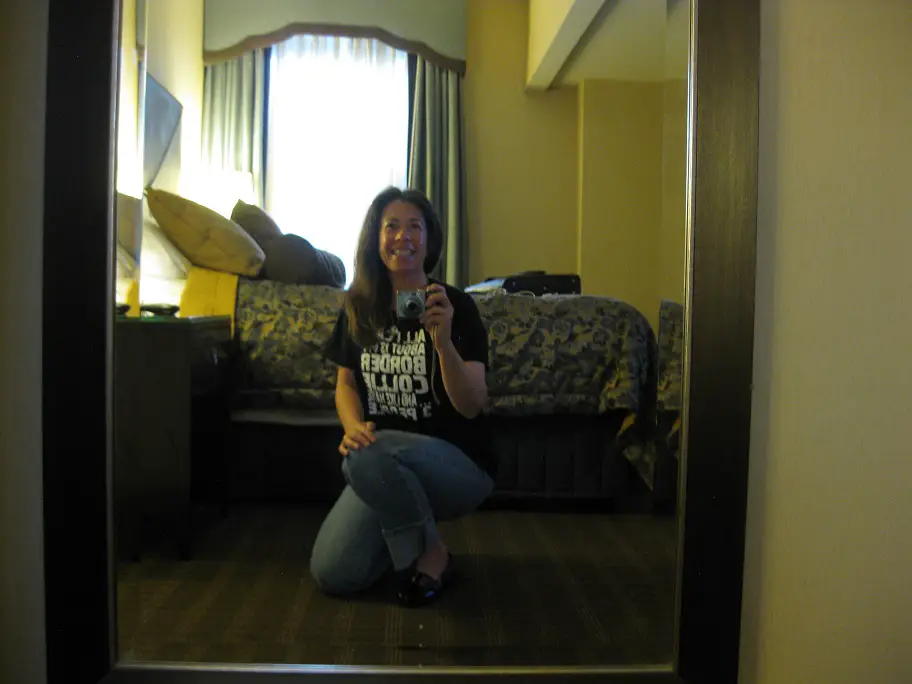 Questions? Feedback?
Any and all feedback about my trip and this recap of it welcome.