ALL DOGS GO TO KEVIN – Everything Three Dogs Taught Me (That I Didn't Learn in Veterinary School) is the debut memoir by veterinarian Dr. Jessica Vogelsang of veterinary blog fame — Pawcurious. The biggest compliment I can give the book is this … it's so funny that I read parts of the book aloud to my husband. We'd both giggle and gasp, then I'd keep reading to myself.
These days, Dr. V (as she's called) works as a hospice veterinarian — handling palliative and end-of-life care for pets. Knowing that and seeing the title of the book, you might think … "Uh-oh, this is going to be sad."
And, it is … at times, but it's also quite funny.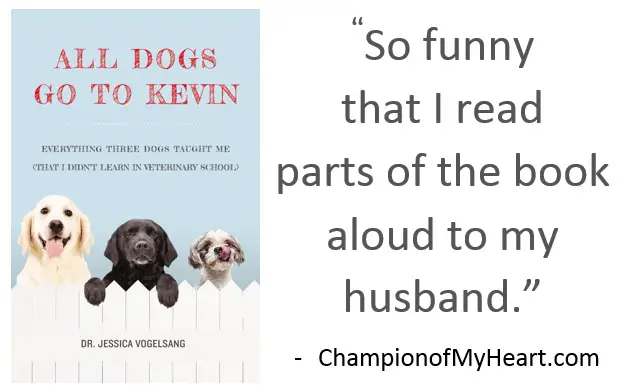 Being a big fan of veterinarians, I appreciated the glimpses inside:
What veterinary school is really like
Just how tricky the female dog spay surgery actually is (and the unfair ways veterinarians are judged on their skill at doing this common surgery)
How some corporate veterinary practices work behind the scenes
Just how many people outright LIE to their veterinarians (bald.face.lies.seriously)
It's a brave thing to allow readers into the all-too-real parts of your life — the pain, the struggles, the tough decisions, and the brutal people who seem bent on being deliberately hurtful.
Dr. V delivers on the promise that is memoir writing — with All Dogs Go to Kevin —
by showing the ups and downs and admitting to her own challenges
with making medical decisions and even with less-than-ideal dog behaviors.
Along the way, you'll meet Taffy (Lhasa), Emmett (Golden), and Kekoa (Lab)
and learn about the roles they played at various stages in Dr. V's life.
Yes, they're all gone now. Yes, reading about their deaths isn't easy —
especially Emmett because I know he was Dr. V's Heart Dog.
I totally bawled sometimes while reading the book, but in a good way. It helps knowing that Brody, another Golden, is currently doing his canine duty in the Vogelsang family.
A diverse cast of characters pepper Dr. V's stories. Some you'll love. Some you'll loathe. But, that's real life … yes?
Simply put, Dr. V deserves every ounce of success this book will bring. And, it will. Trust me on that.

All Dogs Go to Kevin

is storytelling beautifully done. 
Help a first-time author out, would you? And, go buy a copy of the book now.
I have ONE FREE COPY of All Dogs Go to Kevin to GIVE AWAY.
To enter for your chance to win a hardcover copy of All Dogs Go to Kevin, post a comment to this book review blog post before Midnight (Mountain Time) Sunday, July 26, 2015. Tell me your most embarrassing veterinary story in your comment.
For example, I once forgot to change my footwear and showed up at a veterinary appointment in bedroom slippers.
Next week, I'll use a random number generator to choose the winning entry. I'll contact the winner via email to get shipping details. 
Sound good?! Let's go! Make me laugh.
***
DISCLOSURE: I was NOT PAID to write this review. I did, however, receive TWO free copies of the book — a signed copy from Dr. V to keep and a copy from her publisher to give away. I also purchased a Kindle version of the book for myself … because it's fun to pre-order books, then have them magically show up on your Kindle on the publication day.
You should also know that I know Dr. V in real life, and that she was kind enough to "blurb" (write an advance review) of *my* book.