Lilly's Neurological Relapse
We're still reeling and consumed by mourning and mourning-related tasks, but I wanted to post a quick update for those who haven't been following the news on our Champion of My Heart Facebook Fan Page.
Starting Friday, May 11, Lilly suffered another relapse. The following symptoms got worse and worse over the weekend:
Increased wobbly walking, both front and back
Lethargy
Trouble getting on / off furniture
Trouble holding herself up to potty
Trouble standing up from a sit or a down position
Tripping or falling up or down stairs
Falling down if she turned too quickly
Swaying in the rear as if her feet get stuck / twisted when she stands
Locking her knees when she stands
Symptoms seemed worse left than right (For example, while going down stairs, Lilly would panic, then turns her body so that her right side was facing down. Luckily, I caught her several times, or she would have taken a major tumble.)
Left vision seemed impaired (Her menace response seemed really slow, and she walked right into the fridge door several times.)
Restless, would not lie down – almost like she was in pain
Sometimes cried out from pain if we picked her up, as if her chest / belly hurt
Often tipped her head way back and closes her eyes with a "tight face" for no apparent reason
Rather than make yet another emergency room run Saturday night, Tom and I decided to give Lilly an "extra" steroid dose. Even though Saturday was already a steroid-on day (on her every-other-day schedule), we gave her second dose Saturday night.
I called Lilly's veterinary neurology team Sunday morning and was instructed to return Lilly to an everyday steroid schedule and to get her in this week for a fit-her-in-somehow appointment.
We already have a real, scheduled, recheck appointment for May 25, but our neurologist wanted to see her sooner than that. SO, Monday morning, we made one of those show-up, recheck appointments for Tuesday morning.
We arrived around 10:15 am, and the veterinary neurologist was able to squeeze in an exam between surgeries and MRIs and such around 12:15 pm. Lilly got to see him. I did not. He called me later in the afternoon to answer my questions.
Lilly waited in the car, which was in the shade with windows open, for a couple of hours, then she hung out in the little, glassed-in "office" in the veterinary referral hospital lobby before and after her exam … when we ran out of shade.
By Tuesday morning, Lilly had improved, but I still wanted the neurologist to look at her. He also decided to draw blood to check her:
Potassium bromide levels (anti-seizure med)
Cyclosporine levels (immune-mediator med)
The neurologist wants to keep Lilly on steroids every day, until we get these test results back. The potassium bromide might come back this week. The cyclosporine test is done at Auburn University, so they sent her blood overnight to them, and we don't really expect to hear anything on that until early next week.
I specifically wanted to ask him a few things, and I got these answers. I'll try to get more answers next week as well.
Why a relapse?
No clue. Something caused the inflammation to increase, but we don't know what.
I asked about seasonal pollen, and he said, "No." I asked about me potentially screwing up and handing Ginko Lilly's medicine the other night. I wasn't sure, but I think in my grief I made a mistake. I didn't want to give her two doses, just in case I'd done it right. He said there is no way missing a single dose of cyclosporine would cause a relapse.
Is Lilly still in danger? And, I mean … could she still tank and die on me?
He said that he didn't think so.
In fact, he said, "We're still OK," which is what he says when he thinks I'm being too pessimistic.
SO FOR NOW … we'll keep her hopped up on steroids daily until we are told otherwise.
We had tried going to steroids every third day, and she relapsed in April. At that point, we went back to every other day, but she still relapsed in May.
So, we might try cutting back on the dose, but giving it every day for a while … before we try skipping days.
I took this picture Monday, when Lilly was resting somewhat comfortably.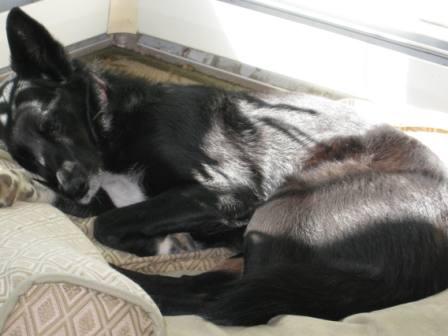 We literally came home from Friday's private burial to TWO phone calls about my mom not doing well medically and to a very sick Lilly. It was simply too, too much.
At first, I thought my mom and Lilly — who are both neurologically compromised — were just having a tough time because of a drastic weather change … 85 degrees Thursday, cold / snowy Friday.
But, Lilly got worse over the weekend, and I got worried. I try not to freak out if she has a single bad day, but when there is a trend over several days, then it does cause concern … and I call for help.
We spent another $462 this week on Lilly, but I'm glad to say she really does seem to be feeling better because of the steroids. As long as they continue to work (even if the long-term consequences of these and other drugs she needs … perhaps for life … are scary), I can hang in there for my sweetie girl.