After taking a break, during which Lilly smiled and panted wildly but refused to drink any water, we took her back into the training pen. EXCEPT, this time I got the chance to be the shepherd. Goodness help us and the goats.
Clearly, I could not muddle my way through my first attempt at herding with Lilly AND shoot video footage at the same time. A friend who had hoped to meet us out on the farm for Lilly's herding lesson ended up stuck in a meeting, so there is no video coverage of what came next.
I'll do my best to paint the tableau.
Up On a Hill Lived a Clueless Goatherd
I did NOT expect to be working inside the training pen with Lilly any time soon. Honestly, what do I know about herding?
Um, pretty much nothing.
BUT, Cathy thought perhaps the sniffing and walking away we saw in yesterday's video might stem from Lilly simply NOT having a bond with her, so she wanted to see how Lilly and I worked together.
Her advice was essentially this: Walk toward something with purpose.
So, I tried, and I tried, and I tried.
The goats did indeed follow, with Lilly bringing up the rear, but she didn't keep the requisite distance, so the whole herd kept bunching up around me, making it hard to move.
Many, many times I found both legs completely penned in by nervous goat flesh. I'm happy to report that my balance held out and that I did NOT (despite my fears) go ass over tea kettle on top of any young goats.
Though, at one point, because I had Lilly's leash in my hand, I managed to get tangled in the horns of one goat. While I apologized to the goat, for getting his entire head ensnared, Lilly continued to move and push the goats. We looked like an ameba of movement in the smallest possible space.
I needed a plan:
Step one: Get the leash loose
Step two: Skate my way through the goats, using my shins as minor battering rams
Step three: Attempt to get Lilly to balance my movement (stay on the opposite side of the goats)
Mosh Pit Along the Fence
Once I broke free, I continued walking from one side of the large training pen, praising Lilly for her work and sometimes hollering at her for nibbling, following too close, etc. It did not feel good to bellow "HEY!" or "ACK!" at my girl, so I quickly gave up on any corrections since my timing sucked anyway … because it was hard to walk in front of goats and see exactly what Lilly was doing.
I considered walking backwards so that I could see her better, and I tried it here and there, but I was convinced I would stumble and get run over … spurring headlines like "Blogger Trampled by Wayward Goats."
Except, every time, we got to the fence, Lilly piled the goats right into me, leaving me trapped against the mesh. I couldn't move my legs. I couldn't get her to back off. I couldn't convince the goats to move.
I had no flag to flap at her, so I was stuck.
Cathy suggested NOT getting so close to the fence. D'oh. Good idea, so I began zig-zagging around, swooping here, turning there, and things got a little better … except Lilly seemed to want to be at MY SIDE, rather than balancing the goats.
So, we took another break, where (again) Lilly refused to drink even though she looked and seemed tired and thirsty.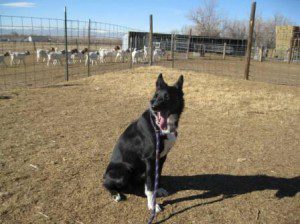 If you've come to our herding stories already in progress, you can catch up via these posts:
Lilly's Herding Instinct Test, Part 1
Lilly's Herding Instinct Test, Part 2
Lilly's Herding Instinct Test, Part 3
Lilly's Herding Instinct Test, Reflections
Lilly's Herding Lesson #1, Part 1
Lilly's Herding Lesson #1, Part 2